Ron DeSantis Spoke at Event Hosted by White Race War Theorist
Representative Ron DeSantis (R-Fla.), the gubernatorial nominee who was recently accused of using racially charged language, has a track record of speaking at events organized by a conservative activist who has been labeled an "anti-black" extremist by the Southern Poverty Law Center.
DeSantis has spoken at least four times at conferences organized by the David Horowitz Freedom Center (DHFC), according to The Washington Post. The center's namesake, David Horowitz, has previously asserted that black people owe their freedom to white people and that the "real race war" in the U.S. is against white people.
Horowitz also referred to former President Barack Obama as an "anti-American radical" who he accused of being "a pretend Christian in the same way he's a pretend American," in an August 2014 interview on Today's Issues. "I'm actually sure he's a Muslim," Horowitz said at the time, accusing the former president of driving an agenda "to defeat America."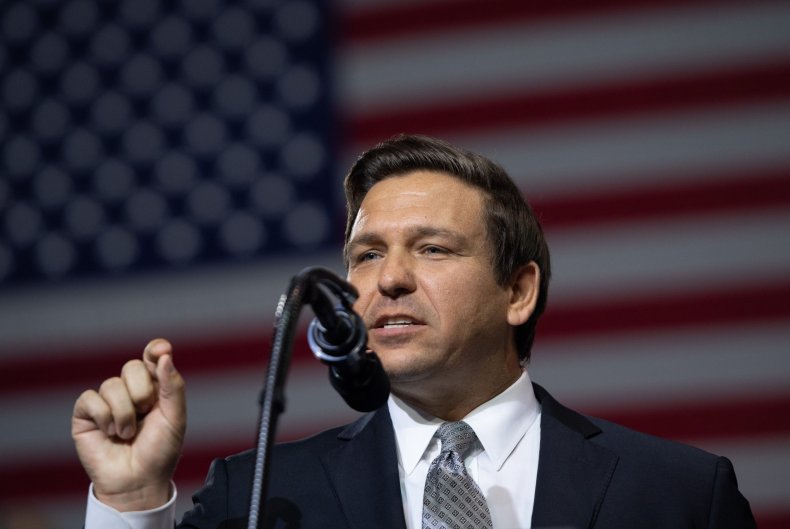 The SPLC states on its website that while Horowitz was a founding intellectual member of the New Left in the 1960s, who was once regarded as an advocate for civil rights and equality, he has gone on to become a "driving force of the anti-Muslim, anti-immigrant and anti-black movements."
SPLC says DHFC started out in a bid to establish a conservative voice in Hollywood, but in 2006, turned its focus towards "the efforts of the radical left and its Islamist allies to destroy American values."
The SPLC has said that the events organized and sponsored by the DHFC "range from single day presentations given by anti-Muslim fearmongers in Horowitz's network to extravagant weekend getaways that convene government officials with far-right thought leaders and activists."
In a videotaped 27-minute speech at a 2015 event in Charleston organized by the DHFC, DeSantis reportedly can be heard singing Horowitz's praises and declaring what "an honor" it was to speak at one of his events.
"I just want to say what an honor it's been to be here to speak," DeSantis said, according to The Post. "David has done such great work and I've been an admirer. I've been to these conferences in the past but I've been a big admirer of an organization that shoots straight, tells the American people the truth and is standing up for the right thing."
Video shared by the DHFC shows DeSantis also spoke at the foundation's most recent "Restoration Weekend" in 2017, speaking alongside right-wing political commentator Milo Yiannopoulos, Turning Point USA head and conservative activist Charlie Kirk, and others.
In the video, DeSantis appears to echo views long espoused by President Donald Trump, calling for politicians to "drain the swamp," and accusing some of seeing Washington as a "hot tub to enjoy."
He also discussed terrorism, asserting that the U.S. should kill terrorists, but also needs to focus on killing the ideology "that fuels terrorism."
Read more: Gillum urges DeSantis not to "weaponize race" after Floridians get anti-Gillum robocalls from white supremacists
DeSantis said the U.S. must do more to crack down on extremism, calling on the government to "pull the trigger" on The Muslim Brotherhood by branding it a "foreign terrorist organization."
The gubernatorial candidate recently sparked outrage after telling Floridians not to "monkey this up" by electing his competitor Democratic nominee Andrew Gillum.
Many have accused DeSantis of clear racism over the comment, which Gillum addressed head-on, urging his rival not to "weaponize race."
"I want to make sure that we don't racialize and, frankly, weaponize race as part of this process, which is why I have called on my opponent to really work to rise above some of these things," Gillum said.
"People are taking their cues from him, from his campaign and from Donald Trump… And we saw in Charlottesville that that can lead to real, frankly dangerous, outcomes," Gillum said, accusing DeSantis of having taken a page "directly from the campaign manual of Donald Trump."