Ron DeSantis Suffers Blow As Court Rejects 'Dystopian' Anti-Woke Law
A federal court in Florida has denied an attempt to block an injunction issued against Governor Ron DeSantis' flagship "Stop WOKE Act" which prevents it from being implemented at universities.
On Thursday, a three-judge panel of the 11th U.S. Circuit Court of Appeals rejected a request from the DeSantis administration to overturn a previous ruling which blocked the Individual Freedom Act, also known as the Stop the Wrongs to Our Kids and Employees Act, being used in higher education institutions.
The legislation is a continuation of DeSantis' battle against the "woke agenda" and education, which has also seen the governor introducing the "Don't Say Gay" bill and banning the teaching of critical race theory in K-12 classes. Critics have accused the Act of violating the First Amendment, as well as having the potential to harm race relations.
DeSantis' hardline education policies have resulted in his stock rising in GOP circles, as well as copycat legislation in other states, with the governor soon expected to announce he is running for president in 2024.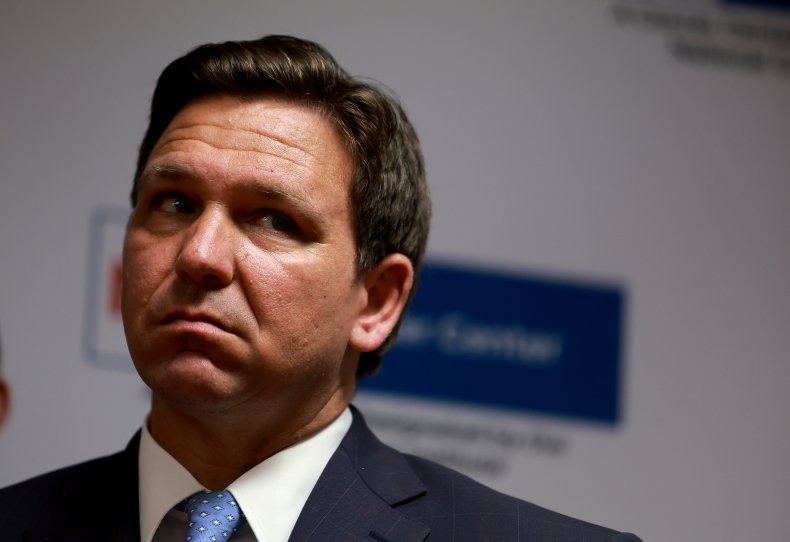 DeSantis' office said they still expect the policy will be fully passed into law.
"The Court did not rule on the merits of our appeal. The appeal is ongoing, and we remain confident that the law is constitutional," Bryan Griffin, DeSantis' press secretary, told Newsweek.
The Stop WOKE Act, which DeSantis signed into law in April 2022, prohibits the teaching of lessons or business practices such as diversity training sessions, which could make people feel "guilt, anguish, or other forms of psychological distress" because of historic wrongs due to their race, sex or national origin.
In November 2022, U.S. district court judge Mark Walker halted part of the Act which would have restricted what colleges and universities can teach students about racism and sexism.
In his ruling, Walker made a reference to George Orwell's novel 1984 while condemning the legislation as "positively dystopian."
"'It was a bright cold day in April, and the clocks were striking 13,' and the powers in charge of Florida's public university system have declared the state has unfettered authority to muzzle its professors in the name of 'freedom,'" Walker wrote.
"Defendants argue that, under this act, professors enjoy 'academic freedom' so long as they express only those viewpoints of which the State approves. This is positively dystopian."
Walker had previously blocked the law from affecting businesses in Florida in August 2022.
The law was further challenged in several lawsuits on behalf of students and educators, including one by the Foundation for Individual Rights and Expression [FIRE], and another by the ACLU, ACLU of Florida, and Legal Defense Fund.
Greg Gruebel, an attorney for FIRE, said on Thursday: "Thanks to the injunction, professors at public universities in Florida can still teach subjects like race and gender without fear of state reprisal or intimidation.
"Any law that limits the free exchange of ideas in university classrooms should lose both in the court of law and the court of public opinion."
Leah Watson, a senior staff attorney with the ACLU Racial Justice Program, added in a statement: "The court's decision to leave in place the preliminary injunction is a recognition of the serious injury posed to educators and students by the Stop W.O.K.E. Act.
"All students and educators deserve to have a free and open exchange about issues related to race in our classrooms—not censored discussions that erase the history of discrimination and lived experiences of Black and Brown people, women and girls, and LGBTQ+ individuals."
Update 3/17/23, 9:35 a.m. ET: This story has been updated with comment from Bryan Griffin.