Ron DeSantis Tells Anthony Fauci to 'Pound Sand' in New Re-Election Campaign Ad
Florida Governor Ron DeSantis recently released a new campaign ad targeting Dr. Anthony Fauci, an infectious disease expert and medical chief adviser to President Joe Biden.
DeSantis' campaign ad claims that Fauci is flip-flopping with his COVID-related views, and therefore affecting freedoms. The clip starts with a red flip-flop that has the phrase "Freedom Over Fauci" printed on it
The ad cuts to multiple clips of Fauci speaking about the pandemic and his changing stances about COVID response including whether fully vaccinated individuals should wear masks and if parents should send their children to school as the virus continues to spread.
The ad then cuts to a phrase that reads: "Dr. Fauci... he flips, he flops but he can't stop freedom in Florida."
The end of the ad shows sand with "Fauci can pound sand" printed on it.
The flip-flop merchandise is being rolled out and sold on the governor's online store under the title "Freedom over Fauci" as part of his re-election campaign.
The infectious disease expert has been previously criticized for what some think is flip-flopping on his stand on COVID including its origins. Last year, Fauci faced backlash for changing his stance about the COVID response over the course of the pandemic, but he has responded that information about the virus is evolving and so are his views.
DeSantis also has previously taken a hit at Fauci who said in August during an appearance on CNN's State of the Union: ""whoever is attacking me [is] just the reflection of the politicization of what should be a purely public health issue."
His comments at the time came when other DeSantis' campaign merchandise, beverage coolers, were being sold with the phrase, "Don't Fauci my Florida."
During the State of the Union appearance, host Jake Tapper specifically asked Fauci about the merchandise and the criticism coming from DeSantis.
"Just in the six weeks since the governor's re-election campaign launched those products, more than 5,000 Floridians have died of coronavirus," Tapper stated. "What do you make of the way some of these governors and politicians are attacking you?"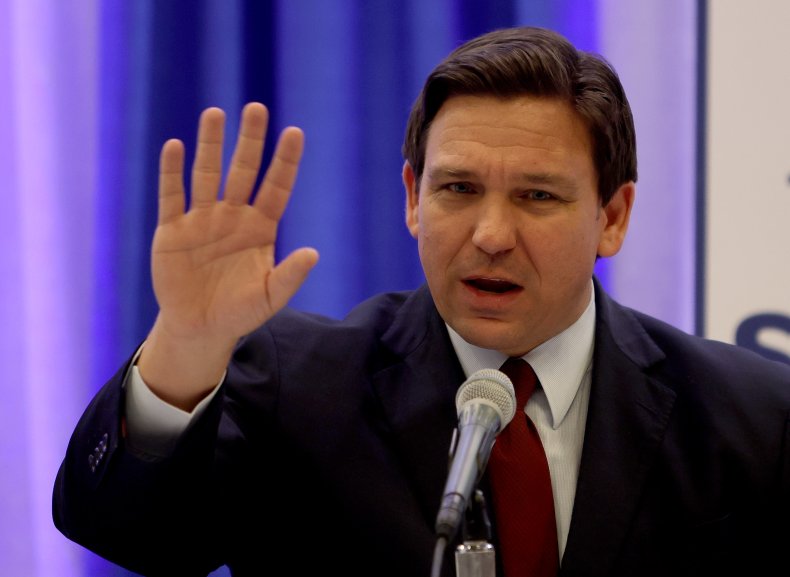 In response, Fauci said that he receives attacks because he's "a visible person," and noted that he's "merely articulating the proper public health practices that are recommended strongly by an organization and that organization is the [Centers for Disease Control and Prevention]."
"So they like to pick out a certain person because they can make that person the personification of political divides, which is so unfortunate. We should put all of that aside," Fauci said.
Newsweek contacted National Institute of Allergy and Infectious Diseases and DeSantis' office for comments and will update the story when a response is received.