Anthony Fauci Criticizes Ron DeSantis Over 'Don't Fauci My Florida' Merchandise
Dr. Anthony Fauci, the director of the National Institute of Allergy and Infectious Diseases, pushed back on the political attacks he's received from Republican politicians—including Florida Governor Ron DeSantis—and said "whoever is attacking me" is "just the reflection of the politicization of what should be a purely public health issue."
On CNN's State of the Union Sunday, host Jake Tapper specifically asked Fauci about DeSantis as well as merchandise being sold that carried the phrase 'Don't Fauci My Florida.'
"Just in the six weeks since the governor's reelection campaign launched those products, more than 5,000 Floridians have died of coronavirus," Tapper stated. "What do you make of the way some of these governors and politicians are attacking you?"
Fauci said that he receives attacks because he's "a visible person," but explained that he's "merely articulating the proper public health practices that are recommended strongly by an organization and that organization is the [Centers for Disease Control and Prevention.]"
"So they like to pick out a certain person because they can make that person the personification of political divides, which is so unfortunate. We should put all of that aside," Fauci said.
He added: "We have an extraordinary problem that's killing people in the United States, killing us and putting us in the hospital. So that kind of politicization that you just mentioned, there's no place for that when you're dealing with a public health crisis."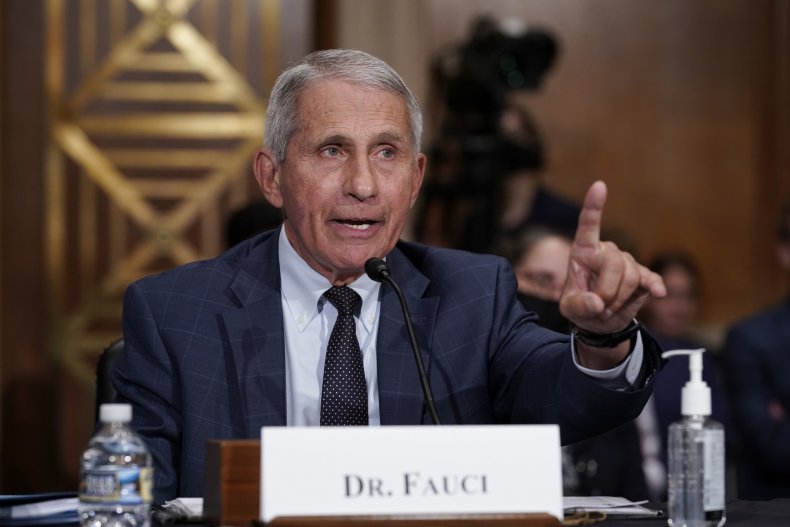 The "Friends of Ron DeSantis" website is currently selling T-shirts and beverage coolers that display the 'Don't Fauci My Florida' motto.
In a statement to Newsweek, Christina Pushaw, DeSantis' press secretary, said: "Not sure why Dr. Fauci, a public figure, seems to think he is above critique."
"His promotion of forced masking children and lockdowns is not grounded in data and does not adequately account for the possible adverse effects of these non-pharmaceutical interventions," Pushaw said.
"Governor DeSantis follows the science and promotes proven tools for saving lives from COVID-19: vaccines and monoclonal antibody treatments," she added.
Pushaw also noted that DeSantis' team is "pleased to see Fauci got on the monoclonal train last week."
On Tuesday, Fauci said monoclonal antibody treatment for COVID-19—which DeSantis helped expand throughout Florida—is "effective" yet "underutilized."
In July, Helen Aguirre Ferre, executive director of the Republican Party of Florida, told Newsweek, that the governor's official staff didn't have involvement with the website selling merchandise.
"While this isn't an official campaign website, as Governor DeSantis hasn't filed papers for his re-election, we view it as a great opportunity to have some lighthearted fun and give his supporters a chance to feel even more connected with his message of keeping Florida free," she said.
After facing backlash over the merchandise in July, DeSantis doubled down on his criticism of Fauci.
"When people [ask] 'What did you do in Florida?'" DeSantis remarked. "I answer very shortly and clearly: Florida chose freedom over Fauci-ism. I wasn't about to let the state get Fauci'd."
On Friday, the Miami Herald reported, based on its calculations of CDC data, that Florida's average daily COVID-19 death counts are the highest they've been since the pandemic began. According to the paper, in the previous seven days, the state saw an average of 243 deaths and 26,496 new cases each day.
As of Friday, more than 16,000 people in Florida were hospitalized with the virus, according to the U.S. Department of Health and Human Services.
The National Institute of Allergy and Infectious Diseases did not immediately respond to a request for comment from Newsweek on Sunday.
Updated 08/30/2021, 3:51 p.m. ET: This story has been updated with statements from Christina Pushaw, Govenor Ron DeSantis' press secretary.