Ron DeSantis Touts Education to Fight Antisemitism as Florida Seeks to Ban Critical Race Theory
Republican Florida Governor Ron DeSantis mentioned Tuesday that he signed a 2020 bill requiring state public schools to teach about the Holocaust. But DeSantis has also been trying to ban critical race theory (CRT) in Florida schools, a field of study that analyzes race and racism, proponents say, as a way to combat modern-day racism.
DeSantis mentioned the 2020 bill while speaking at a Tuesday town hall on antisemitism. The town hall was organized by the Jewish Federations of Florida.
"If you look back 20 years ago, antisemitism is worse today than it was then," DeSantis said in his remarks. "We've seen some of this nasty stuff in Florida. I think we all just need to speak with one voice and say that this is not something that's going to be tolerated here."
In 2019, Florida reported 91 antisemitic incidents, making it the 6th state with the highest number of such incidents that year, according to the data website Statista. Similar incidents have also occurred in Florida this year, including antisemitic graffiti sprayed outside of the state Holocaust museum and a man driving a van proclaiming "Hitler was right."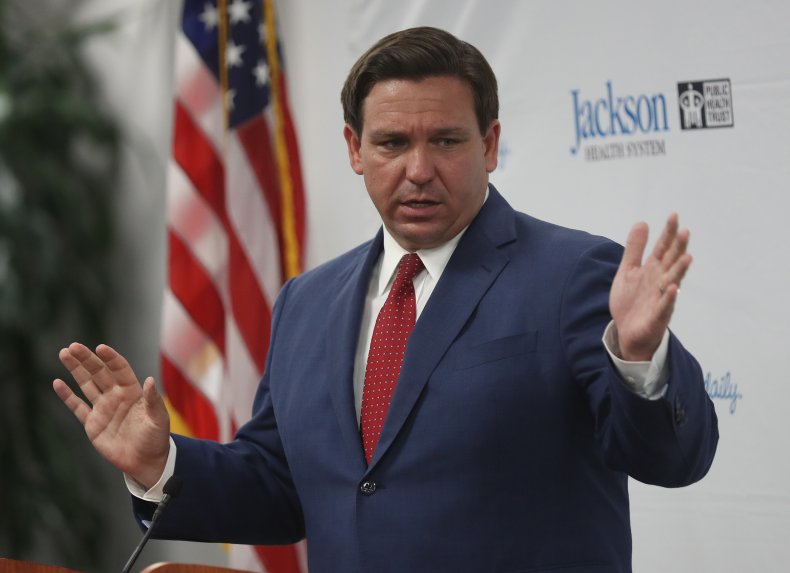 DeSantis then detailed his legislative efforts to combat antisemitism. He mentioned that in June 2020, he signed a bill requiring state schools to teach about the Holocaust as well as the 1920 Ocoee Election Day Riots.
The Holocaust, which occurred from 1941 to 1945, involved Nazis killing roughly 6 million European Jews. The Ocoee Election Day Riots involved white rioters killing three to 60 Black people and burning down Black-owned buildings in response to efforts to organize Black voters.
"Antisemitism is akin to how we would treat racism. It has no place in our academic institutions," DeSantis said in the Tuesday town hall. "We also believe that it's very important that we have very strong Holocaust education... that is telling the accurate story. We cannot have people try to whitewash the Holocaust."
DeSantis has simultaneously opposed efforts to teach CRT in state schools. He has called it a form of "indoctrination" that is "teaching kids to hate their country and to hate each other."
CRT is not an official part of the Florida public school curriculum. Despite that, DeSantis said when the Florida Board of Education meets on June 10, they will address CRT. The board is expected to adopt rules that will limit civics and history classes from teaching anything beyond the state's standards, WFSU reported.
The state's new draft of civics curriculum emphasizes "patriotism and love of country, citizenship, the U.S. form of government and the Constitution," according to the Tampa Bay Times. In a mid-May speech, Florida state education commissioner Richard Corcoran said the rules would keep "crazy liberal stuff," such as CRT, out of state schools.
"We need the constitution back in classrooms, we need to make sure civics is a priority, but it needs to be taught accurately. It needs to be taught in a fact-based way, not an ideological-based way," DeSantis said in comments he made against CRT in late May.
In response, Ted Thornhill, director of the Center for Critical Race and Ethnic Studies at Florida Gulf Coast University, wrote that DeSantis' opposition to CRT was "dangerous, calculated race-baiting nonsense."
"Ultimately, Critical Race Theory is a conceptual framework, a lens through which to view honestly the terrible racial legacy in this country," Thornhill wrote in a March 24 News-Press op-ed.
"[CRT] provides us with important tools to make sense of and hold accountable a nation that pretends itself the quintessence of a post-racial democracy, while simultaneously maintaining a structure that keeps Black, Indigenous, People of Color disproportionately economically disadvantaged, politically precarious, educationally deprived, violently policed, residentially ghettoized, medically disserved and subject to the ever-present disapproving gaze of whites," Thornhill said.
Newsweek contacted DeSantis' office for comment.