Ron DeSantis' Silence on Trump's Potential Arrest Sparks MAGA Fury
A number of MAGA Republicans and right-wing figures have questioned why Florida Governor Ron DeSantis has remained silent over Donald Trump's startling claim that he will be arrested on Tuesday.
DeSantis, who is widely expected to confirm he will challenge Trump for the 2024 GOP presidential nomination, has not posted on social media about the claim or made any public statement after the former president indicated he will be arrested in connection with an investigation into hush money paid to Stormy Daniels in 2016.
Trump and DeSantis used to be close allies within the Republican Party, but the former president has turned on DeSantis amid suggestions he could be the one to lead the GOP into 2024. While Trump has launched a barrage of attacks and insults toward DeSantis in recent months, the Florida governor has largely decided not to fire back.
Trump went public with his arrest claim in a Truth Social post on Saturday. He says he will be arrested as part of the Manhattan District Attorney's office probe into the $130,000 Trump is said to have arranged to be paid to Daniels to keep an alleged affair secret prior to the 2016 Election.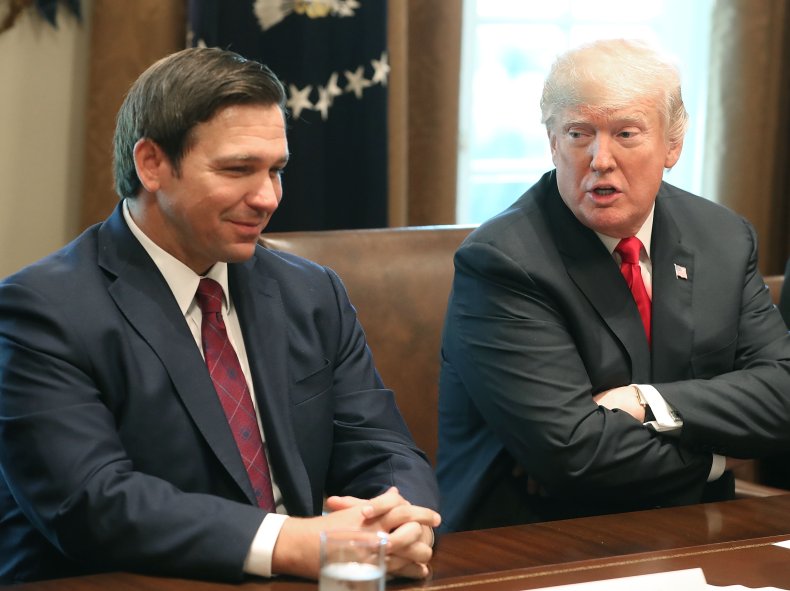 Prosecutors are looking into whether the money which Trump attorney Michael Cohen paid and was later reimbursed for amounted to a campaign violation, or if any records were falsified when the money given to Cohen was listed in company records as legal fees.
A number of Trump loyalists have spoken out about the potential arrest of Trump, with others questioning why DeSantis has not.
Trump adviser and former Gettr CEO Jason Miller noted there has been "radio silence" from DeSantis and 2024 hopeful, former South Carolina governor Nikki Haley.
Miller made the remark on Twitter while sharing comments from former Vice president Mike Pence, another rumored 2024 GOP candidate, who said he was "taken aback" by the claims of an upcoming Trump arrest.
Conservative radio host Sebastian Gorka posted on Truth Social "so is DeSantis going to say anything? Curious," while far-right figurehead Mike Cernovich suggested that the governor should make it clear he would not extradite Trump from Florida without a "proper legal review."
"DeSantis is making his first unforced error by not denouncing this lawless act. He should say he will only extradite if there's proper legal review. This is one of those pivotal moments in your life. If he gets this wrong, then he's better off not even declaring," Cernovich tweeted.
"'I will not extradite a presidential candidate to a Soros DA who allows violent criminals to roam free until there has been a proper legal review conducted under Florida law. If lawful, then extradition may occur, but not one day sooner.' DeSantis has to say this," he added.
Ben Kew, editor-at-large for political news website Human Events, wrote in response: "I say this as his most fervent supporter, but Ron DeSantis is making a massive mistake by not speaking up on the Trump prosecution issue.
"All he needs to do is put out a statement similar to this suggested by Cernovich. The clock is ticking."
However, others have suggested that DeSantis does not need to come out and make a statement either way yet, seeing as there are no other indications—either from Trump's team or the Manhattan D.A.'s office—that the former president will actually be arrested on Tuesday.
While replying to Cernovich's tweet, attorney and political commentator A.J Delgado said: "He is better off staying quiet. No matter what he says, it'll be dissected and 'wrong' 'too much' or 'not enough.' This has nothing to do with him and extradition isn't even necessary/applicable. It isn't his business."
Crypto influencer Matt Wallace wrote under DeSantis' Saturday tweet about Florida's response to Hurricane Ian: "Everyone in the comments is blasting Ron DeSantis for not commenting on Donald Trump yet. I agree he should anyway... but it's not imperative yet because right now it is still just rumors, if anything actually happens Ron will 100% speak up."
In a statement to Newsweek, a spokesperson for Trump said there has been no official indication from authorities that the former president will be arrested Tuesday.
"There has been no notification, other than illegal leaks from the Justice Dept. and the DA's office, to NBC and other fake news carriers, that the George Soros-funded Radical Left Democrat prosecutor in Manhattan has decided to take his Witch-Hunt to the next level," the spokesperson said.
"President Trump is rightfully highlighting his innocence and the weaponization of our injustice system."
Newsweek has contacted DeSantis' office for comment via email.