The recent appearance of Donald Trump and Ron DeSantis in Iowa shows that the Florida governor is still auditioning to lead the GOP in the next election, with the former president's popularity overshadowing his campaign, according to an expert.
Trump and DeSantis converged on Iowa at the same time again on Saturday as both 2024 hopefuls watched the football game between the University of Iowa and Iowa State University.
Their appearance in Iowa, which will hold the first-in-the-nation caucus in January 2024, also showcased how the two leading candidates in the crowded GOP presidential primary field are being carried out.
Trump, as he so often is, was the star attraction, drawing the biggest crowds as he met supporters of both teams in tailgates outside the stadium, with the clear GOP frontrunner drawing a mix of boos and cheers as he watched the game from a private box.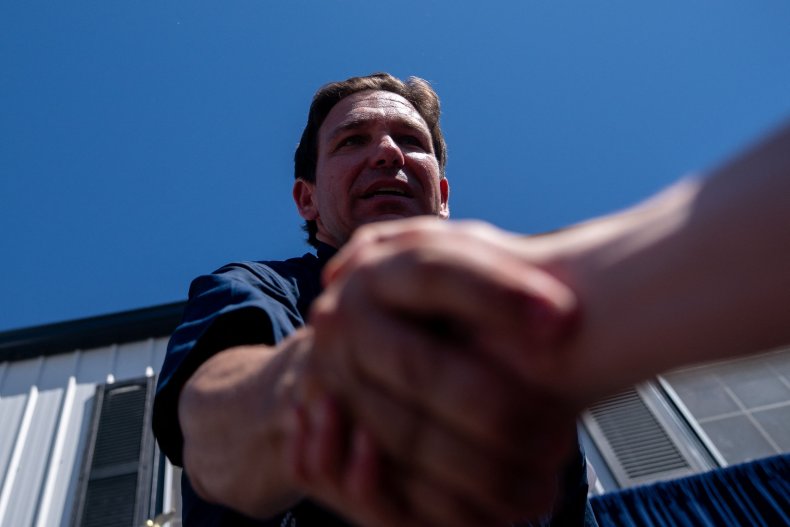 DeSantis, who for months was seen as the ideal replacement for Trump heading into 2024 but has struggled to gain any sort of positive momentum in his campaign, took a more subdued approach and watched the game in the stands alongside hugely popular Republican Iowa Governor Kim Reynolds.
Dennis Goldford, a professor of political science at Drake University in Des Moines, Iowa, suggested that not trying to take center stage on Saturday was a deliberate ploy from DeSantis, who may already be thinking about his performances in other early-state primaries.
"There's nobody better known than Donald Trump. So he shows up here not to introduce himself, but just occasionally to show the flag and to whip up support," Goldford told Newsweek.
"Whereas all the other candidates, including DeSantis, are auditioning for the first time for the party, and they still have to show up to introduce themselves. But you have to remember that every candidate in the caucuses has exactly the same opponent, and that opponent's name is 'expected.'
"If you are expected to finish first, and you finish first, that's a dog-bites-man story. But if you weren't even registering and you have a strong second, let alone coming [in] first out of nowhere, that's a huge man-bites-dog story, and that's what everybody wants," Goldford said.
Goldford's "expected" remarks arrive after DeSantis campaign official recently told Politico that "strong second-place showing" in Iowa would be a good result for the Florida governor as the team is hoping that it will just be a two-person race by the time they get to Super Tuesday in March.
"DeSantis showing up is him trying to gain enough support for the strong second he wants to sort of reduce the race to him and Trump," Goldford added. "He hopes he can do well enough in Iowa to slingshot and propel on to New Hampshire."
Dave Peterson, Lucken professor of political science at Iowa State University, said it was not surprising that Trump drew larger crowds in Iowa as the former president is a much bigger name and a significant amount of people at the game "may only have the faintest idea" who DeSantis is.
One thing that may have played in DeSantis' favor was that, just like at the Iowa State Fair in August, he was accompanied by Reynolds, who hasn't officially endorsed anyone in the race.
"Reynolds has stayed officially neutral in this race so far, but this sure looked like a quiet endorsement," Peterson told Newsweek. "She's very popular here and appearing with her can only help DeSantis with Republicans. The more that message gets sent, the better for him."
However, Goldford suggested that an endorsement for DeSantis from Reynolds will not be enough to boost his White House hopes in Iowa or elsewhere.
"For him, it's personal relations. He just comes across as stiff, wooden and unpleasant, that's his difficulty," Goldford said. "The governor here is extremely popular among Republicans. Can she transfer that to a candidate like DeSantis? I don't know a lot of people who believe she can at this point.
"But it ain't over till it's over. So bear in mind right now it looks likely Trump, and I'd be shocked if that didn't occur, but at the same time it's not a completely done deal yet."
According to a recent Iowa State University/Civiqs poll, more than half (51 percent) of likely Republican Iowa voters said Trump was their preferred choice, with DeSantis a distant second with 14 percent.
FiveThirtyEight's national average poll tracker also shows Trump with a commanding lead in the GOP field (53 percent), with DeSantis second at 13 percent as his poll numbers continue to fall.