Donald Trump is facing calls to be blocked from running for president in 2024 over allegations that his actions around January 6 violated his constitutional oath.
There are currently attempts by advocacy groups and individuals to have Trump's name removed from state ballots next year over claims he violated section 3 of the 14th Amendment, which says that a person who "engaged in insurrection or rebellion" after taking an oath of office to support the Constitution should be prevented from running for office again.
There have also been calls for secretaries of state to block Trump from the ballots over allegations he engaged in an insurrection attempt in order to keep him in power after he lost the 2020 election. In most states, the secretary of state is also the chief election official who can decide if a candidate is qualified to run for president.
Trump, the frontrunner in the GOP presidential primary, has denied all wrongdoing in connection to the riot at the Capitol on January 6, and has described the calls to invoke the 14th Amendment to stop him running for office again as a "trick" to prevent him winning the race next year.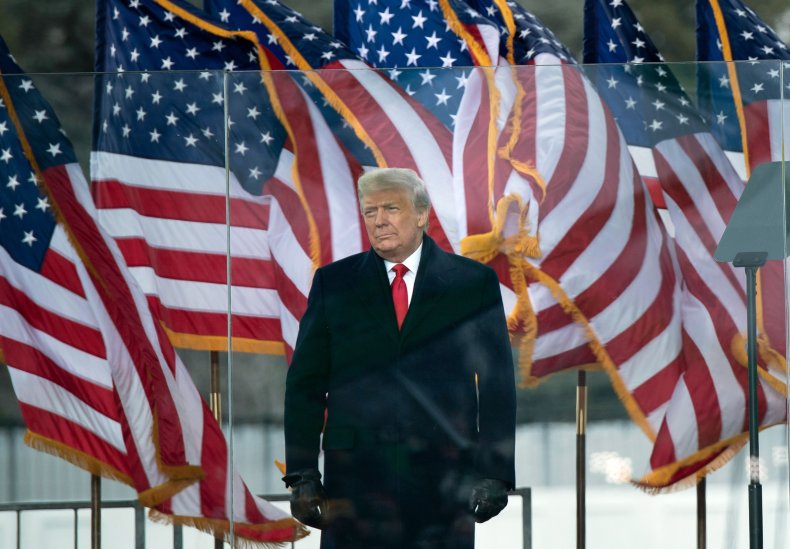 Questions on whether the 14th Amendment can be invoked to stop a president running for office again, and if it could be applied to Trump, has sparked huge debate, with legal scholars offering both sides of the argument on the unprecedented occurrence.
Any move to bar Trump from running as a presidential candidate would almost certainly be met with legal challenges, or an intervention from the Supreme Court.
It is highly unlikely that the conservative majority court, which includes three judges nominated to the bench by Trump, will support the plan to bar the former president from being on next year's ballots.
Below, Newsweek has compiled the states where there are active or potential steps to have Trump barred from running for office next year over claims that he violated the 14th amendment.
Trump's office has been emailed for comment via email.
Colorado
On Wednesday, a lawsuit was filed by the Citizens for Responsibility and Ethics in Washington (CREW) watchdog group and Republican figures, including former congresswoman Claudine Schneider and former Colorado senate majority leader Norma Anderson, to have Trump removed from Colorado's ballots over claims the former president violated Section 3 of the 14th Amendment on January 6.
"If the very fabric of our democracy is to hold, we must ensure that the Constitution is enforced and the same people who attacked our democratic system not be put in charge of it," CREW President Noah Bookbinder said in a statement.
"We aren't bringing this case to make a point, we're bringing it because it is necessary to defend our republic both today and in the future. While it is unprecedented to bring this type of case against a former president, January 6th was an unprecedented attack that is exactly the kind of event the framers of the 14th Amendment wanted to build protections in case of. You don't break the glass unless there's an emergency."
New Hampshire
In a joint August statement, New Hampshire Attorney General John Formella and Secretary of State David Scanlan announced that they are looking into the "potential applicability" of the 14th amendment with regards to the upcoming presidential election cycle.
Both Formella and Scanlan added that they have "not taken any position" regarding whether the 14th amendment can be applied to Trump.
John Anthony Castro, a longshot Republican 2024 presidential candidate, also filed a complaint in a New Hampshire court arguing that Trump should be banned from the state's primary ballot while arguing the former president engaged in insurrection or rebellion against the U.S.
The suit is due to be heard by the Supreme Court, where it is expected to be decided on or before October 9.
Castro argues his suit is justified as he will be directly impacted if the "constitutionally ineligible" Trump is also on the 2024 ballots as it would affect his own White House ambitions
"Castro will further suffer irreparable competitive injuries if Trump, who is constitutionally ineligible to hold office, is able to attempt to secure votes in primary elections and raise funds. Trump's constitutionally unauthorized undertaking will put Castro at both a voter and donor disadvantage," he said.
Michigan
Robert Davis, an activist who is known for frequently attempting to sue political figures in Michigan, also filed a suit arguing that Michigan Secretary of State Jocelyn Benson should bar Trump from office over insurrection allegations in August.
Benson, a Democrat, previously suggested in a radio interview that there are "valid legal arguments being made" for keeping Trump off the 2024 ballot, and has discussed the matter with other secretaries of state.
Arizona
There is also a longshot chance that Trump could end up being barred from the ballot in Arizona, although current state laws are in the former president's favor.
Secretary of State Adrian Fontes said he does not have the authority to bar Trump from the Arizona ballot next year. The Arizona Supreme Court ruled in 2022 that only the state's Congress has such power under what is known as the Disqualification Clause.
In an interview with The Gaggle podcast, Fuentes, a Democrat, described the ruling as "dead, flat wrong" but does not consider the matter settled.
"It's still an open question," Fontes said. "Arizona law is not the only law we have."