Florida Governor Ron DeSantis is rejecting newly approved COVID-19 vaccine booster shots on the basis that they "have not been proven to be safe or effective."
DeSantis, a candidate for the Republican 2024 presidential nomination, on Wednesday warned Floridians against being used "as guinea pigs" by the Food and Drug Administration (FDA) and the Centers for Disease Control and Prevention (CDC).
The new shots were approved by the CDC earlier this week and are recommended for anyone over the age of 6 months. Some have expressed concerns over safety due to limited trial data, although the boosters were updated in a manner consistent with other common vaccines, such as the flu shot.
DeSantis held a press conference on Wednesday to discuss new state guidance on the boosters with Florida Surgeon General Dr. Joseph Ladapo and other experts known for opposing the overwhelming medical consensus that COVID vaccines are safe and effective.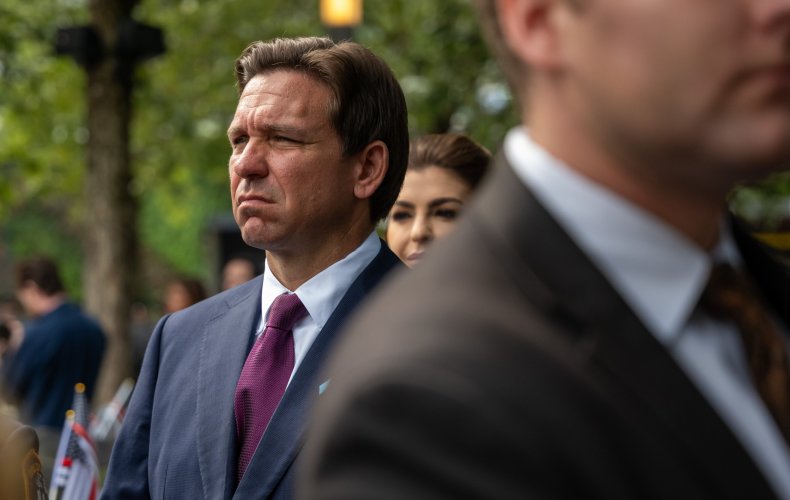 "Today, @FLSurgeonGen Dr. Ladapo is advising caution regarding the use of the hastily-approved mRNA COVID boosters," DeSantis wrote in a post to X, formerly Twitter. "We will not stand by and let the FDA and CDC use Floridians as guinea pigs for mRNA jabs that have not been proven to be safe or effective."
During the press conference, Ladapo recommend against the updated vaccines being used by Floridians under the age of 65. He did not recommend which vulnerable groups, if any, should get the booster shots.
Ladapo argued in a press release that "the federal government is failing Americans by refusing to be honest about the risks and not providing sufficient clinical evidence when it comes to these COVID-19 mRNA shots."
The CDC declined Newsweek's request for comment on Florida's guidance.
The FDA and CDC in March jointly accused Ladapo of spreading information about COVID vaccines that "is incorrect, misleading and could be harmful to the American public."
While the updated COVID boosters did not undergo human trials before approval, the shots were based on earlier versions of the vaccine that have been tested and used extensively in humans, with the update only tweaking the strain of COVID.
William Schaffner, professor of preventive medicine and infectious disease at the Vanderbilt University Medical Center, told Newsweek earlier this week that there is no reason to think that the new shots are any less safe or effective than previous iterations.
"We have precedents for doing this," Schaffner said. "The influenza vaccine is something that we use in millions upon millions of doses around the world on an annual basis. And we update that vaccine using the same process each year."
"Those updated vaccines are not tested in people, but their manufacture is under the very intense scrutiny of the FDA," he added. "We're doing the same thing with [COVID] vaccines."
The vast majority of data shows that COVID vaccines are significantly effective in reducing the risk of severe disease and death. The vaccines are less effective in preventing infections, although they do still offer some degree of protection.
Evidence also overwhelmingly shows that COVID vaccines are safe. Serious side effects often touted by anti-vaccine activists—such as myocarditis, or inflammation of the heart—occur very rarely.
"Side effects are real and they happen, but at an exceedingly low frequency," Dr. Ziyad Al-Aly, senior clinical epidemiologist at Washington University in St. Louis, told Newsweek. "Most if not all cases of myocarditis after COVID-19 vaccine are self-resolving."
"The critical question people should think about is benefit versus risk," he continued. "We know vaccines reduce the risk of severe illness, hospitalization and death, and the risks of adverse events are exceedingly low."
The updated booster shots are expected to start arriving to pharmacies and other health facilities across the country by the end of this week.