Ron Johnson Calls on GOP to Run Candidates for Local Office: 'Take Back Our Culture'
Senator Ron Johnson of Wisconsin has urged Republicans to run candidates for every level of public office so that party members can "take back our culture."
In his address to the Wisconsin Republican Party state convention on Saturday, Johnson expressed his belief that Republicans have focused too heavily on federal elections and neglected the need to run candidates for local office.
"Trickle-up elections," he said, according to the Capitol Times. "Take back our school boards, our county boards, our city councils. We will take back our culture. We don't have to fear this anymore."
Johnson stressed a need to block Democrats from fundamentally changing the country, saying that he's "more panicked" than ever about the state of America.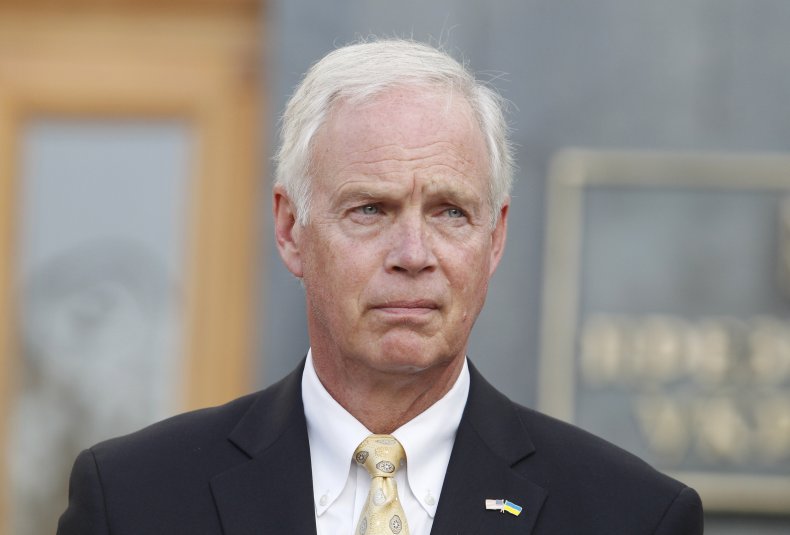 "The leaders of the left talk about fundamentally transforming this nation," he said. "Do you even like, much less love, something you want to fundamentally transform? America's not perfect; we had that original sin from slavery, but we've made progress. We've continuously improved. That's not good enough for the left."
Johnson also dedicated a significant portion of his speech urging party unity and railing against Democrats, who he framed as an angry party seeking to impose their progressive values on reluctant conservatives.
"We're not going to do that by being angry. We're not going to do that by imitating what [liberals] do, by being nasty," he said. "We're going to do that by allowing light to pierce the darkness."
The senator revisited several recent in-person confrontations with his "incredibly profane and nasty" critics.
A crowd of people in Milwaukee celebrating Juneteenth booed and heckled Johnson last Saturday as he spoke to reporters at an event. The incident came after Johnson objected to Juneteenth becoming a federal holiday in a bipartisan bill last year.
Johnson said he supports the holiday but doesn't think federal employees need another paid day off. "I don't want to make this speech about me, I just want to talk about what's happening to our culture," he added.
Philip Shulman, a spokesperson for the Democratic Party of Wisconsin, criticized Johnson's speech in a statement. "Ron Johnson once again showed Wisconsinites that he's only concerned with fulfilling his personal ambitions, not doing what is in their best interests," Shulman said.
Last week, Johnson—a vocal critic of vaccine mandates who previously supported unproven coronavirus drug treatments—faced backlash from health care experts after he announced plans to conduct a news conference to discuss adverse reactions caused by the COVID-19 vaccine. Critics said such an event would become a platform for spreading misinformation about the safety and efficacy of vaccines.
Newsweek reached out to the Democratic Party of Wisconsin for further comment. This story will be updated with any response.