Ron Johnson Says Many January 6 Rioters 'Weren't Violent' and 'Stayed Within Roped Lines'
Republican Senator Ron Johnson on Sunday said that January 6 didn't look like an "armed insurrection" because many people weren't violent and stayed "within the roped lines in the Rotunda."
During an appearance on Fox News, Johnson told host Mark Levin that an eyewitness of the Capitol riot said people were in a "jovial mood, they were serious, but they weren't violent."
Johnson explained that he believes "it's extremely important to create an accurate historical record of exactly what happened so the false narrative—that there were thousands of armed insurrectionists—doesn't last."
"This is why I have my staff going and reviewing the relevant parts of the 14 hours worth of surveillance and we're finding out some pretty interesting things," he said.
Five people were killed in the violent Capitol riot, including one Capitol police officer. Roughly 465 individuals have been arrested on charges related to the incident since January 6, including over 130 individuals charged with assaulting or impeding law enforcement, according to the Department of Justice.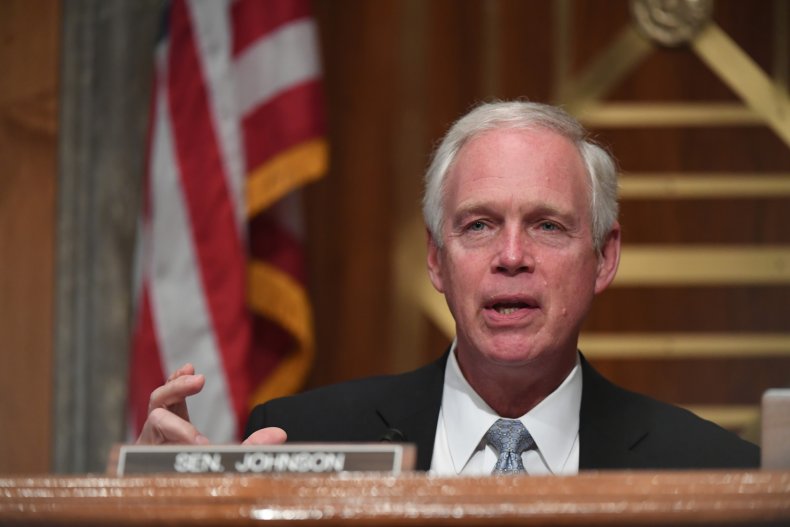 Asked by Levin to describe some of his findings, Johnson said they observed the West Terrace doorway being opened from the inside by people exiting the building.
"Once it was opened, we counted up to about 309 people entering that door," Johnson continued. "I think five police officers met them. There was no violence from what we could tell but that's about 38 percent of the approximately 800 people that entered the Capitol. No confrontation. They just basically walked through the door."
Johnson went on to insist that the footage doesn't indicate that the incident was an "armed insurrection."
"We've seen plenty of video of people in the Capitol and they weren't rioting, it doesn't look like an armed insurrection when you have people that breach the Capitol, and I don't condone it, but they're staying within the roped lines in the Rotunda," he said. "That's not what an armed insurrection would look like."
Johnson is just one of several Republican lawmakers who have attempted to downplay the Capitol riot. During a hearing in May, Rep. Andrew Clyde said "to call it an insurrection in my opinion is a bold-faced lie."
In a statement to Newsweek, a spokesperson for Johnson repeated the senator's condemnation of January 6: "We all condemn, by the way, what happened in the Capitol. I wasn't happy with that. I found the violence repugnant."
"He condemned the grotesque violence, repugnant racial slurs, and other illegal acts that occurred on January 6," the spokesperson said. "He has continually said all those engaged in those repulsive acts should be prosecuted to the full extent of the law. Staff continues to review footage that has been made available by Capitol Police and as we have said there was violence that occurred at the Capitol that day."
Authorities accused only a few Capitol rioters of welding firearms during the insurrection. Additionally, 39 defendants have been accused of carrying "deadly or dangerous weapons, such as a knife, tomahawk axe, stun gun, baseball bat and fire extinguisher, according to a CBS News review of court documents in late May.
Most suspects were arrested in the days, weeks and months following January 6 so it's unclear exactly how many were carrying weapons.