Former Texas congressman Ron Paul said Silicon Valley social media giants like Facebook and Twitter are suspending and banning "antiwar activists and libertarians" because tech companies are just extensions of the U.S. government.
Paul ridiculed this past week's "Twitter Purge" and tech crackdown on so-called "hate speech" that ultimately led to Ron Paul Institute Executive Director Daniel McAdams and several other libertarian figures being suspended from their social media accounts. The longtime Republican lawmaker and libertarian leader told RT that social media networks under the control of Google, Apple, Twitter and Facebook are working with the U.S. government to silence dissent.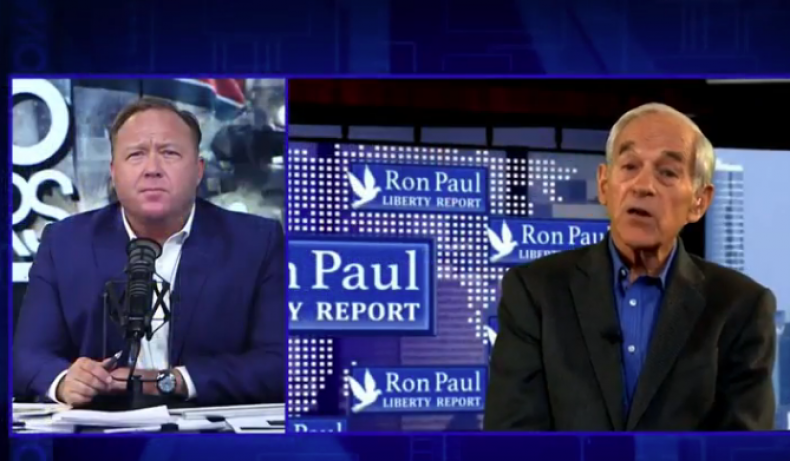 "You get accused of treasonous activity and treasonous speech because in an empire of lies the truth is treason," Paul told the Russia-based news outlet. "Challenging the status quo is what they can't stand and it unnerves them, so they have to silence people."
The Silicon Valley tech companies are drawing fire from right-wing pundits and politicians after announcing broad violations of hate speech policies that saw Facebook, Apple and YouTube remove the pages of Infowars conspiracy theorist Alex Jones on Sunday. Jones, who shared Paul's thoughts on his Infowars website and previously brought the congressman on as an Alex Jones Show guest, has been a leading voice in accusing tech companies of censoring right-wing views.
Paul pointed to the temporary Twitter suspensions of McAdams and Antiwar.com editorial director Scott Horton as evidence the U.S. government is indirectly regulating speech by having tech companies blocking such accounts. Horton, whose Twitter account has since been reactivated, posted screenshots showing he'd violated "hate conduct" rules after calling journalist Jonathan M. Katz a "boo hoo little bitch" for backing another user's suspension. Paul dismissed the notion that tech companies should be able to block accounts expressing unpopular opinions or commentary.
"Some of us tell the truth about our government, they call us treasonous and say we're speaking out of line and they'd like to punish us, and I think that's part of what's happening with social media," Paul told RT, adding that he hopes anti-government or anti-war voices can eliminate their "dependency" on the current social media platforms.
"I'm just hoping that technology can stay ahead of it all and that we can have real alternatives to the dependency on Twitter and other companies that have been working hand in glove with the government," Paul added.