Ronan Farrow Leaves Publisher Because It's Releasing Woody Allen's Memoir
Ronan Farrow announced on Tuesday that he's parting ways with his publisher, Hachette Book Group, because a division of the company is planning to release a memoir by his father, Woody Allen.
Farrow tweeted about his decision hours after his sister, Dylan Farrow, also publicly denounced the upcoming book and called its publication "an utter betrayal" of the work that Farrow has done to publicly expose sexual abuse. In 2019, Little, Brown and Company, another division of Hachette, published Farrow's book Catch and Kill, which follows the reporter and writer's journalistic investigation into Harvey Weinstein.
Allen's memoir, titled Apropos of Nothing, isn't set to hit shelves until April 7, but the book is already causing controversy. In her statement on Tuesday, Dylan Farrow also said that she was never contacted by fact checkers for the book—a surprising reveal, considering that she has alleged for years that Allen, her adoptive father, molested her when she was 7 years old. Allen has repeatedly denied the allegations, and remains estranged from both Dylan and Ronan Farrow.
In the statement announcing his departure from Hachette, Ronan Farrow also invoked his work for Catch and Kill. "I was disappointed to learn through press reports that Hachette, my publisher, acquired Woody Allen's memoir after other major publishers refused to do so and concealed the decision from me and its own employees while we were working on Catch and Kill—a book about how powerful men, including Woody Allen, avoid accountability for sexual abuse," he wrote.
Farrow also echoed his sister's statement that she was not contacted by fact checkers to verify the book's contents or respond to Allen's denials of sexual abuse. Later in his statement, he encouraged Hachette to do an intensive fact-check of Allen's memoir.
"It's wildly unprofessional in multiple obvious directions for Hachette to behave this way," he wrote. "But it also shows a lack of ethics and compassion for victims of sexual abuse, regardless of any personal connection or breach of trust here."
Farrow's note concluded with his decision to part ways with the publisher. "I've also told Hachette that a publisher that would conduct itself in this way is one I can't work with in good conscience."
Little, Brown and Company did not immediately respond to Newsweek's request for comment.
Farrow also did not immediately respond to Newsweek's request for comment.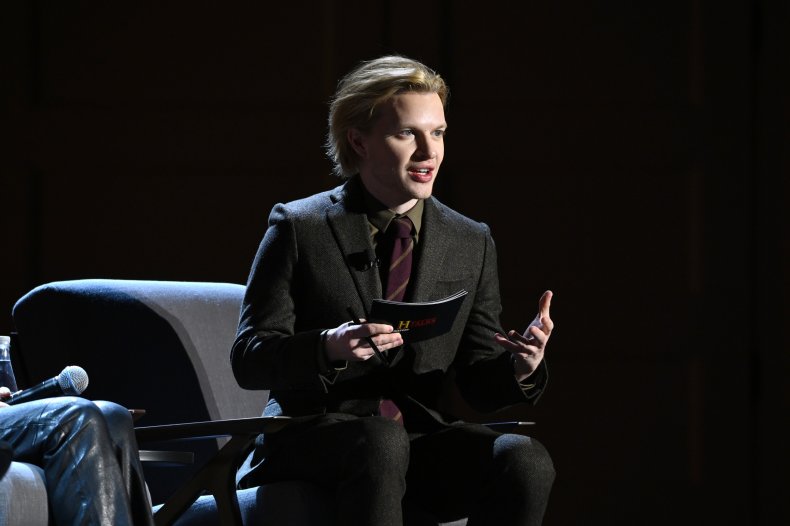 On Tuesday, The New York Times reported on an email exchange between Farrow and Hachette chief executive Michael Pietsch, in which Farrow criticized the company's decision to allow another imprint to publish Allen's book. "Your policy of editorial independence among your imprints does not relieve you of your moral and professional obligations as the publisher of Catch and Kill, and as the leader of a company being asked to assist in efforts by abusive men to whitewash their crimes," he wrote. "Imagine this were your sister."
Pietsch told the Times that they don't allow anyone's publishing program to interfere with another. "Each book has its own mission," he told the Times. "Our job as a publisher is to help the author achieve what they have set out to do in the creation of their book."