Why Did Titus Makin Jr. Leave 'The Rookie'?
Titus Makin Jr. had been a part of The Rookie family since the show began in 2018. He played the role of Officer Jackson West, a rookie police officer alongside John Nolan (played by Nathan Fillion).
The Season 4 premiere aired on Sunday, September 26 and sadly, it looks like Makin Jr. will not be returning to The Rookie after Jackson's life came to a tragic end.
Newsweek has everything you need to know about Makin Jr.'s departure from the series.
Why Did Titus Makin Jr. Leave 'The Rookie'?
The Season 4 premiere of The Rookie began with a twist fans did not see coming.
The premiere picked up from the events of the Season 3 finale, which saw Angela Lopez (Alyssa Diaz) and Jackson West being kidnapped by Sandra "La Fiera" De La Cruz (Camille Guaty). In the opening scene, Sergeant Grey (Richard T. Jones) was reviewing the security camera footage of Lopez and West being bundled into getaway cars.
Filmed from behind, a man who resembled Jackson struggled with his kidnappers and was eventually shot in the back.
The episode then saw the team on a mission to rescue Angela and her unborn baby and to find Jackson's killers.
Makin Jr. has yet to publicly address his exit from The Rookie. However, in conversation with TV Line, The Rookie showrunner Alexi Hawley shared he had no option but to kill off Jackson as Makin Jr. decided not to return.
Hawley said: "It's heartbreaking...but I didn't really have a choice. [Titus Makin Jr.] wasn't coming back, and because of the way we set things up with the [Season 3] finale, there was just no way to tell that story without Jackson.
"But we lean really hard into honoring how he was the heart of the show, and it was definitely impactful for us to have to deal with that."
He has not been active on social media since mid-June and he does not plan to do exit interviews, reported TV Line.
Makin Jr. has a successful music career under the name of Butterfly Ali, so he may have left the series to focus on other endeavors.
Thankfully it looks like Makin Jr.'s character, Jackson West, will never be forgotten on The Rookie, with Angela honoring her lost friend by naming her newborn son after him.
Makin Jr.'s exit may not come as a huge surprise to fans, considering he had been debating returning for the show's third season in summer 2019, let alone Season 4.
Speaking to Entertainment Weekly in January, Makin Jr. shared some of the reservations he had about playing a cop in the wake of the killings of George Floyd and Breonna Taylor, police brutality, and other social justice movements at the time.
He said: "I woke up one morning and I was watching the news, and I was like, 'I can't do this. I can't go play a cop on a show and not talk about the fact that I'm a Black cop.' My character hadn't addressed any of that.
"I had that conversation with Alexi [Hawley], our showrunner, and he was extremely gracious and he totally understood everything I was saying. I did come to that point where I was like, 'If you want to write me out, I politely receive that. I would rather be written out than ignore the reality and not be able to tell the story.'"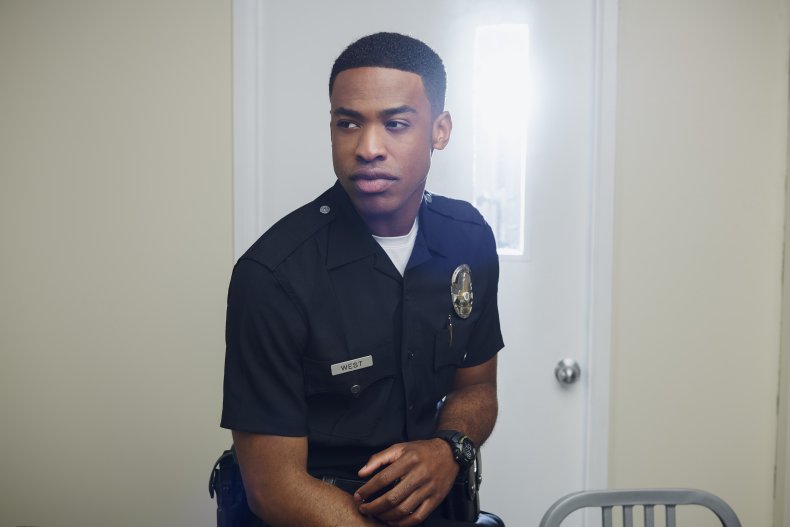 Luckily for fans of Jackson West, Makin Jr. returned for the show's third season and Makin's concerns were addressed in the Season 3 episode, "La Fiera". In the episode, Jackson came to face to face with systemic racism within the LAPD, with things coming to a head when training officer Doug Stanton (Brandon Routh) arrested a young black man who did not remotely match the suspect they were looking for.
Stanton then assaulted the young man and pulled a gun on his entire family as they ran out of the house to defend him. West called for back up and thankfully, the incident calmed down with the help of fellow police officers. West reported the incident to Sgt. Grey and Stanton were placed on desk duty whilst they conducted an investigation.
The Rookie fans have been sharing their sadness about Makin Jr.'s departure on Twitter.
One fan tweeted: "That's it. Rest in Peace Jackson West. You will be missed #therookie" whilst another wrote: "beloved son. faithful friend. fierce protector. that was Jackson west. #therookie"
A third fan added: "You didn't just kill Officer Jackson West #TheRookie Whyyyy????"
The Rookie airs Sundays at 10 p.m. ET on ABC.