Rosario Dawson Impresses 'The Mandalorian' Fans as Ahsoka Tano
The Mandalorian Season 2 introduced a new character from Star Wars lore last night with Rosario Dawson taking on the role of Ahsoka Tano. Spoilers ahead...
Fans have been waiting all season for the character's arrival and she finally turned up in "Chapter 13" this week.
Ahsoka Tano is the main character from Star Wars: The Clone Wars and is a member of the Tortuga species who are recognizable by their orange skin with white markings.
In the mythology of Star Wars, Ahsoka was trained as a Jedi by the legendary Anakin Skywalker (aka Darth Vader) before becoming a commander in the Grand Army of the Republic during the Clone Wars.
The last time the character showed up in the franchise was in the Star Wars animated series, Rebels.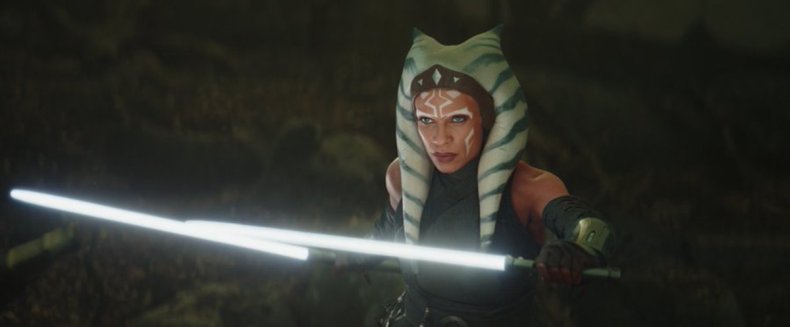 Needless to say, a lot of die-hard fans were pretty excited to see the Luke Cage star portray the beloved character.
"Chapter 13 is some of the best Star Wars content ever created," one fan tweeted. "Finally getting to see Ahsoka Tano (my favorite character) in live-action was everything I wanted and more. Rosario Dawson was just perfect, Ludwig nailed the score and this is Star Wars at its best. #TheMandalorian."
While another added: "#AhsokaTano HOLY S***! I'm going to watch this episode again tomorrow but I fucking can't tell you how happy I am. One of my favorite Star Wars characters of all time and she was done right, incredibly well. #RosarioDawson did an amazing job! <3 I am so happy f***!"
Another fan said the episode and Dawson's appearance as Ahsoka was "monumental."
"This is a monumental Episode of #TheMandalorian. Seeing #AhsokaTano in live action just gave me chills. Thank you Dave Filoni, Rosario Dawson is amazing as Ahsoka and she nailed it."
Dawson herself tweeted to herald her arrival on the Disney+ show.
"May The Force Be With You," she wrote along with the trailer for the episode.
This week's episode was also significant as it finally revealed the name of the real reason everyone is watching The Mandalorian—Baby Yoda.
Baby Yoda/The Child's real name is in fact Grogu.
Din Djarin/The Mandalorian (Pedro Pascal) was sent to find Ahsoka who, as a Jedi, could train Grogu. However, she refuses because she fears Grogu could fall to the dark side based on her experiences with Anakin.
The Mandalorian Season 2 airs Fridays on Disney+.