Rose McGowan Posts Alleged Email From Gavin Newsom's Wife After Governor Disputes Claims
Rose McGowan has publicly endorsed Larry Elder with just days to go before the California gubernatorial recall election.
While announcing she is no longer a "Hollywood democrat" the actress also accused Gov. Gavin Newson's wife—Jennifer Siebel Newsom—of trying to silence her about Harvey Weinstein.
Republican candidate Elder is attempting to unseat Newsom in the forthcoming election.
The former Charmed star, who was a leading figure in the #MeToo movement, made the accusation firstly on Thursday during an appearance on the political talk show, The Rubin Report.
She also elaborated her claims in a lengthy Twitter thread posted on September 12.
McGowan said Siebel Newsom reached out to her in 2017, just months before The New York Times published the explosive report detailing decades of sexual harassment accusations against the disgraced Hollywood producer.
She says Siebel Newsom contacted her on behalf of David Boies, a lawyer for Weinstein.
"So this woman, I don't know, some blonde lady name with the last name of the Newsom, cold-calls me, and was like, 'David Boies wants to know what it would take to make you happy,'" McGowan told Dave Rubin on The Rubin Report.
As part of the lengthy Twitter thread, McGowan shared what she claims is the email from Siebel Newsom.
The alleged email has been retyped onto an orange background with some names removed. McGowan has not provided any further proof of the email's authenticity.
Newsweek has contacted McGowan to ask if she can share the full, unedited alleged email.
Siebel Newsom's spokesperson has said the claims are a "complete fabrication."
"It's disappointing but not surprising to see political opponents launch these false attacks just days before the election. Their limited correspondence has been strictly as fellow survivors of sexual assault and in Jennifer's former capacity leading the Representation Project, an organization that fights limiting gender stereotypes and norms," her spokesperson said in a statement shared with Newsweek.
Newsweek has reached out to the Governor's office and Siebel Newsom's representatives for further comment.
Meanwhile, Gov. Newsom said McGowan's claims were a "last-minute classic hit piece" from one of Elder's supporters.
In comments made to AP, he said that the allegations against his wife "just shows you how low things go in campaigns these days."
Criticizing Elder, Gov. Newsom added that his opponent "doesn't believe that women have the right to their own reproductive freedoms, he's devoutly opposed to Roe v. Wade, doesn't believe there's a glass ceiling, doesn't believe in pay equity laws."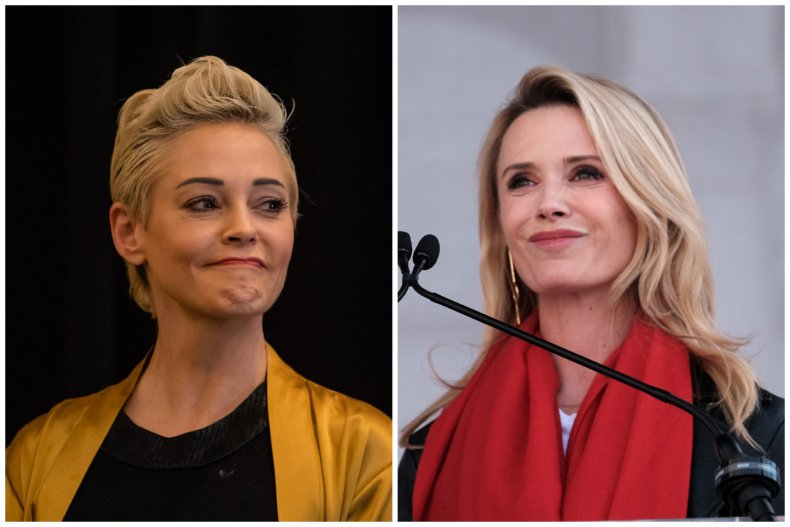 Siebel Newsom made her own allegations about Weinstein in a piece she penned for Huffpost in October 2017.
"Based on my years in the industry and unfortunately, my own personal experience with Harvey Weinstein, I can tell you that I believe every single word that was written in the extremely disturbing, but not all that shocking, New York Times piece published yesterday. Not all that shocking because very similar things happened to me," she wrote at the time.
During her press conference appearance with Larry Elder, McGowan said while she did not agree with the candidate "on all points," she believes he is "the better candidate."
"Do I agree with him on all points? No," McGowan said. "So what. He is the better candidate. He is the better man."