Roseanne Barr Is Ivanka and Trump Family's New Favorite Celebrity
Actress and director Roseanne Barr, who supports President Donald Trump in real life and on camera, is the first family's new favorite celebrity.
The president called Barr on Wednesday to congratulate her on the return of her comedy show "Rosanne," after more than a two-decade hiatus, White House press secretary Sarah Huckabee Sanders told The New York Times.
Trump wasn't the only member of his family to rejoice over the show's first episode Tuesday evening, which scored huge ratings with an average of 18.2 million viewers.
Related: Trump hates NBC so much he's passing up the huge ratings of a Super Bowl interview
First daughter Ivanka Trump started following Barr on Twitter on Wednesday afternoon, according to the Trump family tracking bot @TrumpsAlert.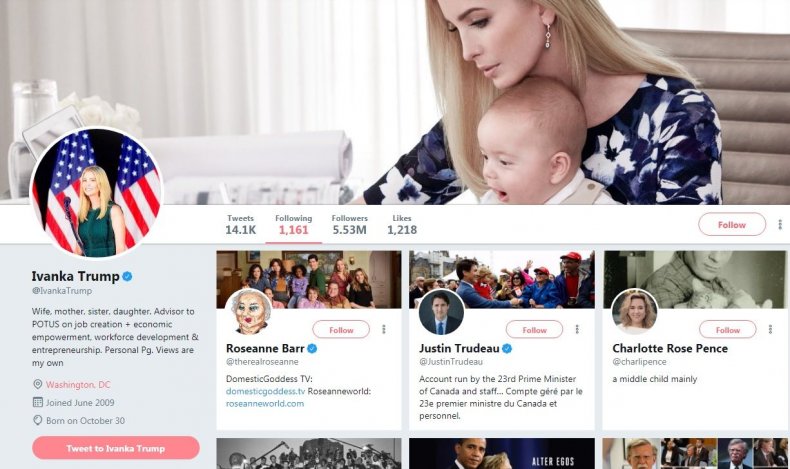 The president's eldest son, Donald Trump Jr., was even more vocal in his support.
"Wow amazing. Congrats @therealroseanne," he tweeted on Wednesday afternoon. "If you're not too busy already maybe work in a late night show too... seems there's some demand for an alternate viewpoint. #Rosanne."
It comes as no surprise that the first family has embraced Barr and her "alternate viewpoint," when many other celebrities have been critical of the administration.
The comedian said she made her character, Roseanne Conner, a Trump supporter to accurately reflect the views of many working-class Americans.
"I just wanted to have that dialogue about families torn apart by the election and their political differences of opinion and how we handle it," she told the Times on Tuesday. "I thought that this was an important thing to say at this time."
It was "pretty exciting" to hear from the president, Barr said during a call with Good Morning America on Thursday.
"They said, 'Hold please for the president of the United States of America,'" Barr said, "And that was about the most exciting thing ever, and it was very sweet of him to congratulate us."