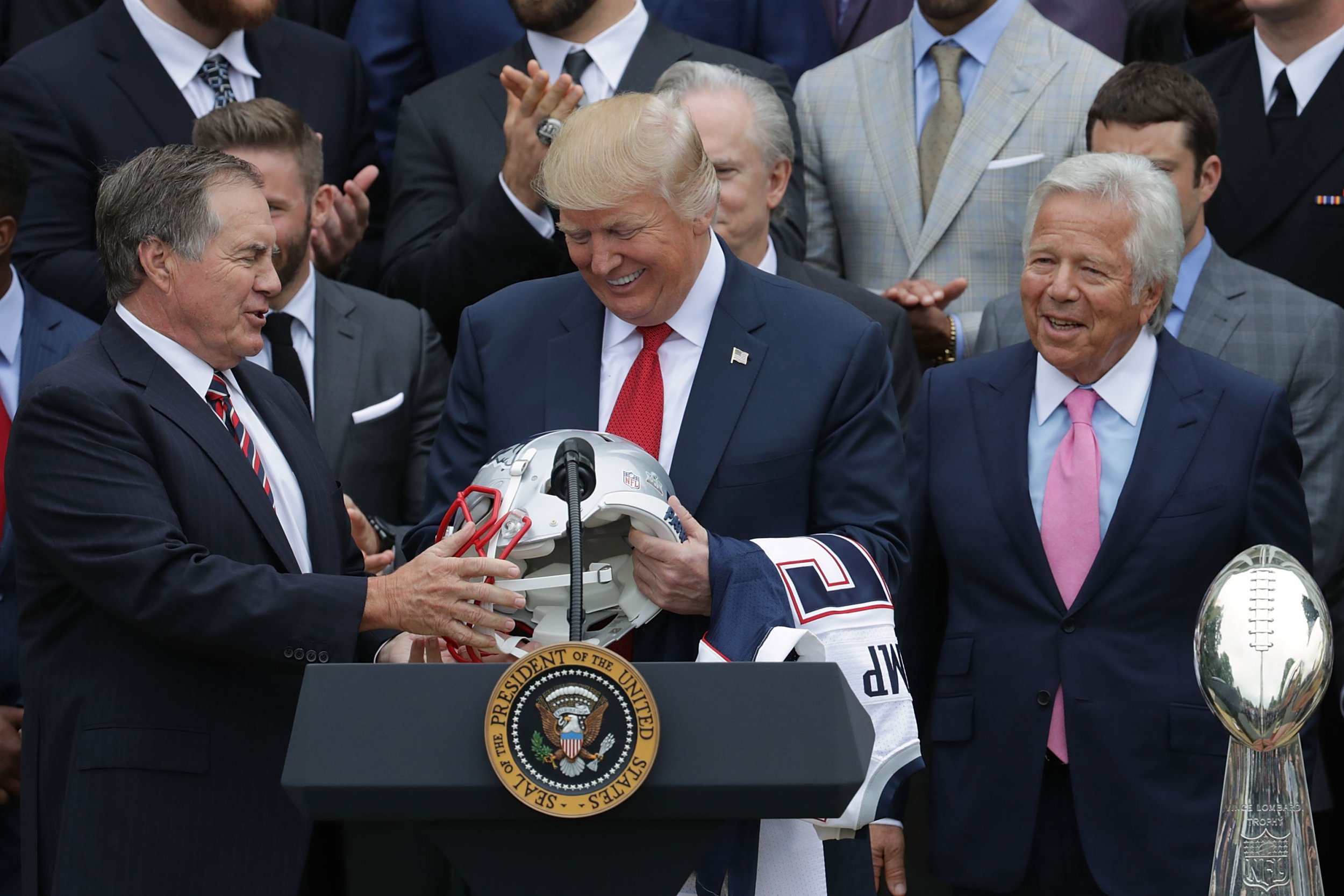 President Donald Trump cares about television ratings—but apparently not enough to do a pre–Super Bowl interview with NBC, the network he's repeatedly called out as "fake news."
Related: Trump's popularity is plummeting—even among Fox News viewers
"He is not doing a Super Bowl interview," a White House official told CNN on Wednesday on the condition of anonymity.
The Super Bowl, which NBC is televising on Sunday, is typically the highest-rated event of the year. The idea of a pregame interview with the president started with George W. Bush, and Barack Obama carried on the tradition each year of his tenure.
Trump already intended to opt out of the interview invitation, but NBC officials pitched it to him anyway, pointing out how highly rated the pregame show is.
Since starring in NBC's The Apprentice, Trump has been seemingly obsessed with TV ratings. Last week, for example, he tweeted that 31 million people watched his inauguration, "11 million more than the very good ratings from 4 years ago!"
Trump sat down with Fox's Bill O'Reilly at the White House last year when the more conservative network televised the Super Bowl. The president has praised Fox News, which frequently sides with him on issues, and attacked NBC journalists with "fake news" tweets. While on the campaign trail, Trump called Katy Tur, an NBC News correspondent who anchors a show on MSNBC, "little Katy."
Generally, Trump has stuck to granting interviews to media outlets that are friendly toward him, and would likely face hardball questions with NBC.
Another possible reason Trump isn't taking the pre–Super Bowl interview offer is his feud with the NFL. Last year, he repeatedly criticized the league and certain players who took a knee during the national anthem in protest of police brutality and racism.
The invitation to Trump for Super Bowl LII remains open, according to sources at NBC.
About the writer
A Los Angeles native, Jessica Kwong grew up speaking Spanish, Cantonese and English, in that order. Her journalism career started at the San Francisco Chronicle and she has also been a staff writer at the San Antonio Express-News, La Opinión, Time Warner Cable Sports, San Francisco Examiner, and the Orange County Register. Kwong earned her bachelor's degree in Comparative Literature in Spanish and English and Mass Communications from the University of California, Berkeley.