Roseanne Barr's Lifetime Show Roseanne's Nuts Begins Wednesday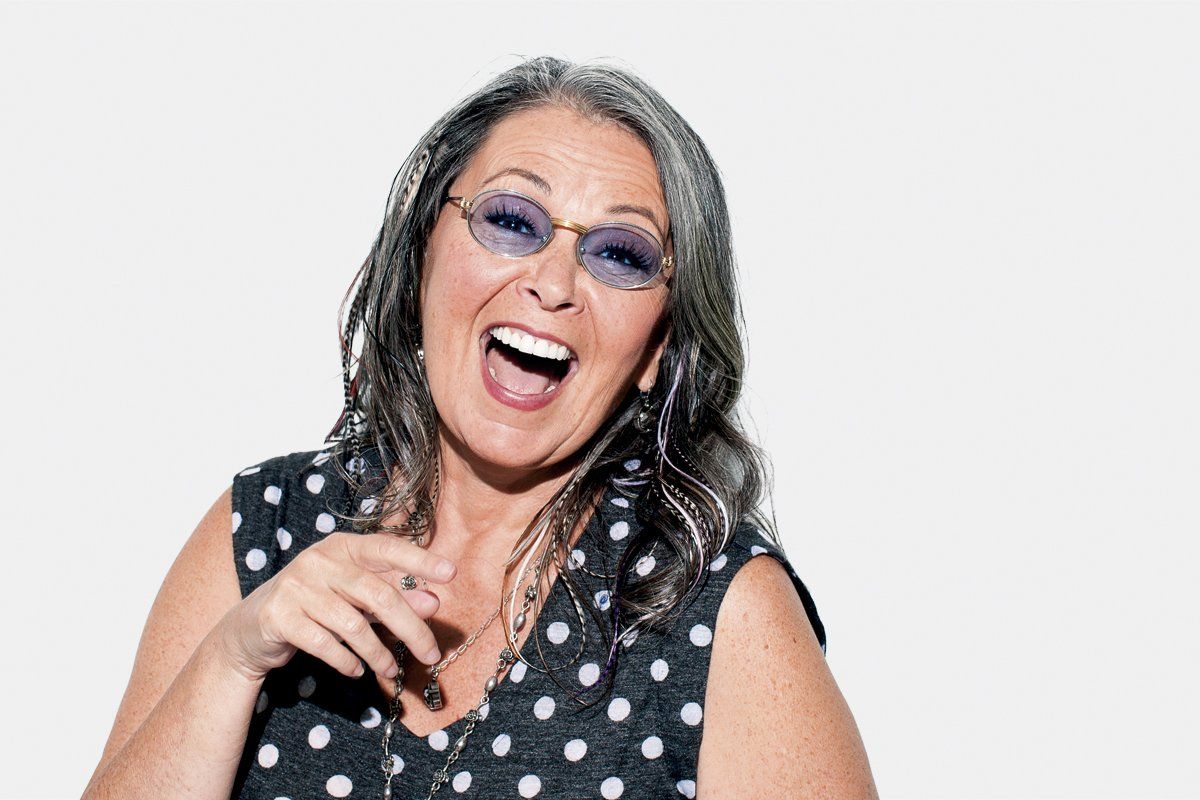 Near the end of our more than three-hour interview, Roseanne Barr cried. She was talking about how all of her five children—from the 40-year-old daughter she gave up for adoption when she was 18, to the three children she had with her first husband, to 15-year-old Buck, whom she had at age 43 with her third husband—have turned out to be good people.
"All my kids, they suffered a lot," Barr said. "The best thing to me is when people at Buck's school, they say—," her eyes filled with tears—"'You know, your son is so wonderful of a person.'" She began crying. "They just say, 'Your son is such a great person.' That's just the greatest thing. And all my kids and my grandkids and stuff. I just have a great life." She cried harder, and wiped her eyes. "They're decent. Despite all of it. And that's, like, man, that's a big victory for me. The biggest. That's the one that matters. When I look in the mirror or whatever, I'm like, 'Whew—dodged a big fucking bullet there.'"
Barr continued, choked-up. "When your kids are looked up to by people you admire, that's better than fucking 10 sitcoms. For me to have my kids come through fire—and they did. Thank God. Thank God, Allah, Buddha, Jesus. Everybody." She composed herself, sniffled, and looked up, brightening. "That's a good ending!"
Let's use it as a beginning instead.
The 58-year-old comedian is launching a 16-episode reality series, Roseanne's Nuts, on Lifetime on Wednesday. It shows her new life on a macadamia nut farm on the Big Island of Hawaii, which she bought in 2007 and moved to fulltime last year. She lives with her boyfriend of eight years, Johnny Argent, and teenaged Buck, with her adult children and grandchildren around, too. They're all on the show, which Barr said is like "Larry David meets reality." Meaning, it's not exactly reality? "It's based in reality," she said. "But it's funny. It's not the Kardashians."
Fellow comedian Sandra Bernhard—who became friends with Barr more than 20 years ago at legendary agent Sue Mengers' house, and ended up being cast on Roseanne as a result—will appear on an episode. The show flew her and Phyllis Diller to Hawaii to hang out with Barr. "It was totally unlike any reality show that I've ever seen—the conversation was at the very highest level, but still really funny and crazy," said Bernhard. "It kind of captured the brilliance of real conversation without being boring, pedantic, and a bummer."
Rob Sharenow, Lifetime's executive vice president of programming, said: "She's not someone who can fake it. I don't think that's within her DNA—I think she has to be who she is." Nor is he concerned that the over-saturated market of celebreality is a genre that hasn't had a hit in awhile. "Roseanne is by far the biggest star to ever do a reality show. She is not a D-lister desperate for fame or looking to make a quick buck."
No, she's not desperate, and God knows she doesn't need the bucks (she made $1 million per Roseanne episode for years, which was only part of her income at the series' height). Strategically, 2011 has been Barr's year of peeking out from behind the wall she had built around her and Buck to normalize their lives. She filmed Roseanne's Nuts; her third memoir, Roseannearchy, was released in January and will come out in paperback in the fall; and in May she wrote a burn-it-all-down essay for New York magazine that tied together the spectacular Charlie Sheen catastrophe, her own war-like TV experiences, sexism, and the mental illness fame causes. The piece has received more than 52,000 "likes" on Facebook to date, caused the Internet to explode in conversation, and reminded a wide swath of people that they had really missed Roseanne's bilious brilliance.
"It really captured it, and was dead-on," said Bernhard. "Hollywood's a fucking mess. It's just the way it is there. It's hard to navigate those waters if you're a sensitive, smart, big thinker like she is, like I am."
Not that Barr had ever pulled a full-on J.D. Salinger and dropped out—she made talk show appearances, she blogs, she's on Twitter and Facebook, she and Argent co-host a weekly radio show on a Southern California station, and she's done plenty of stand-up. "I have that burning thing to get out there and be part of the dialogue and add something," Barr said. "I feel like I'd be disappointing too many people if I ever zip it."
But when Buck was smaller, he said to her, "'I wonder what it would be like to have a real mom,'" Barr said. "So I showed him."
Having Buck, after all, "saved my life," Barr said. "If I didn't have Buck, I probably wouldn't be alive. Or I'd be so fucking mental I would have already moved over into schizophrenia." Her professional life was actively destructive to her sanity. As one Roseanne writer, Joel Madison, recalled: "A million a week—if you're at all unstable, I don't think it helps you. There was a lot of who's-she-listening-to-at-the-moment—all the people who were trying to angle to take over the show, whispering in her ear."
Fathered by Ben Thomas, the chauffeur-bodyguard Barr married after her disastrous marriage to comedian (and Roseanne profiteer) Tom Arnold came to a scorching end, Buck was hard-won: Barr reversed tubal ligation surgery to restore her fertility, underwent IVF, and then was on bed rest for 12 weeks in order to keep the pregnancy. Plus, the most famous screamer of our time was prescribed peaceful thoughts. "They said, 'You can't have any stress,'" Barr recalled. "It's, like, WHAT? The stress of not being able to be stressed—it was, like, 'What, I'm supposed to be, calm?' Luckily for me at the time there was the O.J. trial. I think that's a huge American pastime. Now I'm putting it all on the Casey Anthony trial. Those are good things for us."
So parenting Buck was paramount. What finally drove her to take time off, however, was her first reality television experience. In 2003, Barr signed up for a twofer. She would do a cooking and lifestyle show on ABC Family called Domestic Goddess (the feminist/pro-housewife phrase she had made iconic in her pre-Roseanne stand-up), but before that, an ABC reality series called The Real Roseanne would trace the making of the cooking show from inception to completion.
The Real Roseanne aired for two weeks in August 2003. By that time, Barr had already bailed on both projects, which she blames on the show's executive producer, R.J. Cutler (The September Issue). "I wanted to discuss that now that I knew how to meditate and that I had become a calmer, nicer person, was I going to be able to make a successful show?" Barr said about The Real Roseanne's premise. "That was the show I thought I was doing. And the show he was doing was kind of The Osbournes."
Barr said that Cutler, who was supposed to be hiring staff for the cooking show, "hired actors to be the producers. And they were told to really go out of their way to piss me off and see me explode." On top of that, her oldest son, Jake Pentland, found a notebook in the production office that contained unflattering, one-dimensional descriptions of her family members and then-new boyfriend Argent (Thomas and Barr divorced in 2002). "It said, Jake, 'lazy,' my son-in-law Jeff, 'stupid,' Roseanne 'drunk,' Johnny 'golddigger,'" Barr said. "Thank God I had control. Because kibosh. When we saw the edited version, we were just appalled. We were just fucking appalled."
(Cutler responded by email to the two allegations: "1. False—I don't know anything about this notebook. 2. False—no actors were hired to pretend to be producers or to harm Ms. Barr in any way.")
Instead of going forward, Barr opted to have a somewhat optional hysterectomy, and the public story was that she had to bow out for medical reasons. "I always say I had to choose between giving up an organ or continuing on that reality show. So I chose to give up an organ."
After that calamity, the therapized—and Kabbalah-influenced (since she had become close to the much-followed, controversial Rav Philip Berg of the Kabbalah Centre)—Barr decided to escape. Her hide-in-plain-sight refuge was El Segundo, a middle-class California suburb of L.A. near LAX and the beach that's named after Chevron's second (or "segundo") oil refinery. "I thought I could solve my isolation by just not being isolated," Barr said. "I was like, 'I don't give a fuck. I'm going to move to a regular neighborhood. I'm going to drive a regular car. I'm going to shop. I'm going to go to Ralphs.'" And that's what she did while Buck started going to the local public school.
At first, of course, it was a bit weird for the ordinary citizens of El Segundo to have Roseanne around. She established her work life in a small production studio on the city's Main Street. She would set up a booth and sell her homemade hot sauce at the local farmers' market, which shuts down the street on Thursday afternoons. "I thought they were looking at me as if they were watching TV. Like, it was human television," Barr said. "They'd go, 'Are you Roseanne?'"
"I'd say, 'I used to be.'"
She, Buck, and Argent stayed in the El Segundo area until they moved to Hawaii, and that's where she returns to when visiting Los Angeles. This interview occurred at a conference table in her studio—and since it was a Thursday, the farmers' market began bustling outside as we talked (minus Roseanne's hot sauce booth). Her sons Jake and Buck were both around; Jake, 33, runs the studio and Buck was going to meet a friend down the street for pizza. The only time she employed the high-registered bark of Roseanne Conner is when talking to Buck: "Do you have money? Where's your shoes? Do you have shoes!"
Barr's hair has gone gray and she has feather hair extensions—she looks like a hippie (check), grandma (check), stoner (check: every Friday night for Shabbat from sundown until 2 a.m., she gets high, drinks red wine, and does a meditation Rav Berg taught her). Her left-wing bent is now reflected in her physicality, which includes her choice to put herself on a farm in Hawaii. "I really think that growing your own food is ground zero—the biggest protest," Barr said. "For kids to learn where food comes from, it is a huge revolutionary thought in America." Plus, she added, "I just like it. I feel like a human being there."
It's a more balanced life. One in which her Cassandra-like predictions about the erasure of the middle class ("We're going to go like Mexico—the rich people and the poor people."); Michele Bachmann ("She makes Sarah Palin look sane. Doesn't she?"); her sustained Twitter meltdown after the not guilty verdict in the Casey Anthony trial; and the disappearance of the sort of class mobility that allowed her to go from being a poor Jewish kid in Salt Lake City to a ridiculously rich-and-famous comedian ("It's not going to happen for anyone ever again.") can be tempered by happier thoughts. For instance, she appreciates the rise of female comedians on television, such as Chelsea Handler, Tina Fey, Amy Poehler, and the upcoming season's star Whitney Cummings. "I just like that all these women are coming to TV and they'll have their say," Barr said. "I think that'll be cool."
Her years away from Hollywood's intensity have given her—perhaps more than anything—the perspective to lower her own expectations. Right now, she's applying that broadened view to Roseanne's Nuts. "Nothing I ever do is going to compare to what I've done," Barr said. "Before I always was like, 'I've got to top it.' Make myself fucking crazy and too nervous. You know what? You're never going top it. For so long, too, I'd be, like, 'I can't play that part, it's too Roseanne Conner. I don't want to be Roseanne Conner.' And now, I'm, like, 'Fuck it! Wait a minute—she's me.' "
This is the extended version of a story published in the July 18, 2011 issue of Newsweek.