Game That Kills Trump Lands Rosie O'Donnell in the Hot Seat With Conservatives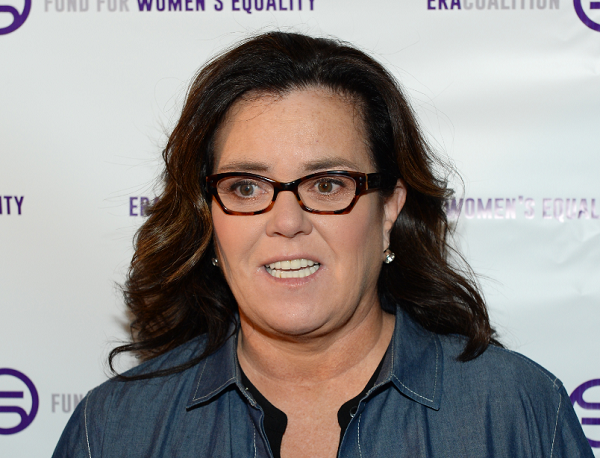 Rosie O'Donnell recently pushed conservatives over the edge when she shared a link to a game that allows players to virtually kill President Donald Trump. Mocking the president's slogan, "Make America great again," O'Donnell tweeted the online game called "Push Trump Off of a Cliff Again," on Saturday.
In the controversial game, players are encouraged to take out their "frustrations with [the] president by pushing him off of a virtual cliff" over and over again, according to the game. Players also have the option to push Trump into a volcano bubbling with piping hot lava or into a dark manhole in the middle of New York City's Sixth Avenue. There's also a setting in which Trump appears in a jungle and gets eaten by a Tyrannosaurus Rex.
O'Donnell's promotion of the game sparked outrage from conservatives. Several right-wing commenters took to Twitter to blast O'Donnell for advertising violence against the president, including Fox anchor Sean Hannity's blog, which called the game "gross" and "sick."
Others called her out as a hypocrite for supporting a game that alluded to the death of Trump after some liberals were upset by the president's recent tweeting of a meme in which he was seen body-slamming CNN.
This isn't the first time O'Donnell has pushed conservatives' buttons with her Trump-related tweets. She caused a firestorm in November when she posted a video speculating that the business mogul's youngest son, Barron Trump, suffered from autism. O'Donnell later apologized to the first lady for the tweet.
O'Donnell and Trump have had a longstanding history of negative exchanges ever since 2006, when O'Donnell called him a "snake-oil salesman on Little House on the Prairie" while co-hosting The View, after which Trump responded in a People magazine interview by calling the comedienne "fat" and a "real loser."
More recently, Trump and Rosie went head-to-head on Twitter in May when he retweeted her "Fire COMEY" tweet, writing: "We finally agree on something Rosie." Trump's agreement with the 55-year-old came following former FBI Director James Comey's dismissal from the department on May 9, just a month before Comey was expected to testify before the Senate Intelligence Committee regarding his interactions with Trump in relation to the ongoing Russia investigation.
O'Donnell responded to Trump's tweet by calling him a "sadistic man."
Check out a few reactions to O'Donnell's latest tweet below: