Woman Admits Ross' Infamous Spray Tan Accident in 'Friends' Happened to Her
Friends spawned infamous phrases, haircuts and fashion choices (hello, leather pants), with various scenes becoming the foundation for pop culture references.
Among them is shouting "pivot" every time you move furniture, and the fierce debate over whether or not Ross and Rachel were on a break.
Ross, played by David Schwimmer, has other notable moments during the ten-year tenure on our screens, from 1994 until 2004.
The lovable divorcee decides to go for a new look in Season 10, Episode 3, aptly called "The One with Ross' Tan." The paleontologist invests in a faux glow after being inspired by Monica's bronzed look.
But it all goes wrong after he's unable to follow the simple instructions in the booth, "spray, count, pat and turn," and ends up getting sprayed four times, at level two, on his front.
In a bid to even out his color, he heads to another salon to finally get his back done, but the same mistake happens again.
Ross ends up with a deep tan on his face and the front of his body, while his back is still his natural skin tone.
While the hilarious blunder was mocked from the safety of our sofas as highly improbable, one woman admitted the exact same thing happened to her.
Eleanor Fletcher shared a clip to her TikTok page, @eleanorkishere, which she captioned: "I accidentally got a triple spray tan on only one side of my body."
"I know what you're thinking, you're thinking there's no way that in that episode of Friends, where Ross goes and gets a spray tan, and he accidentally gets triple sprayed, can that happen in real life.
"I'm here to tell you that it can, and it did," she admits.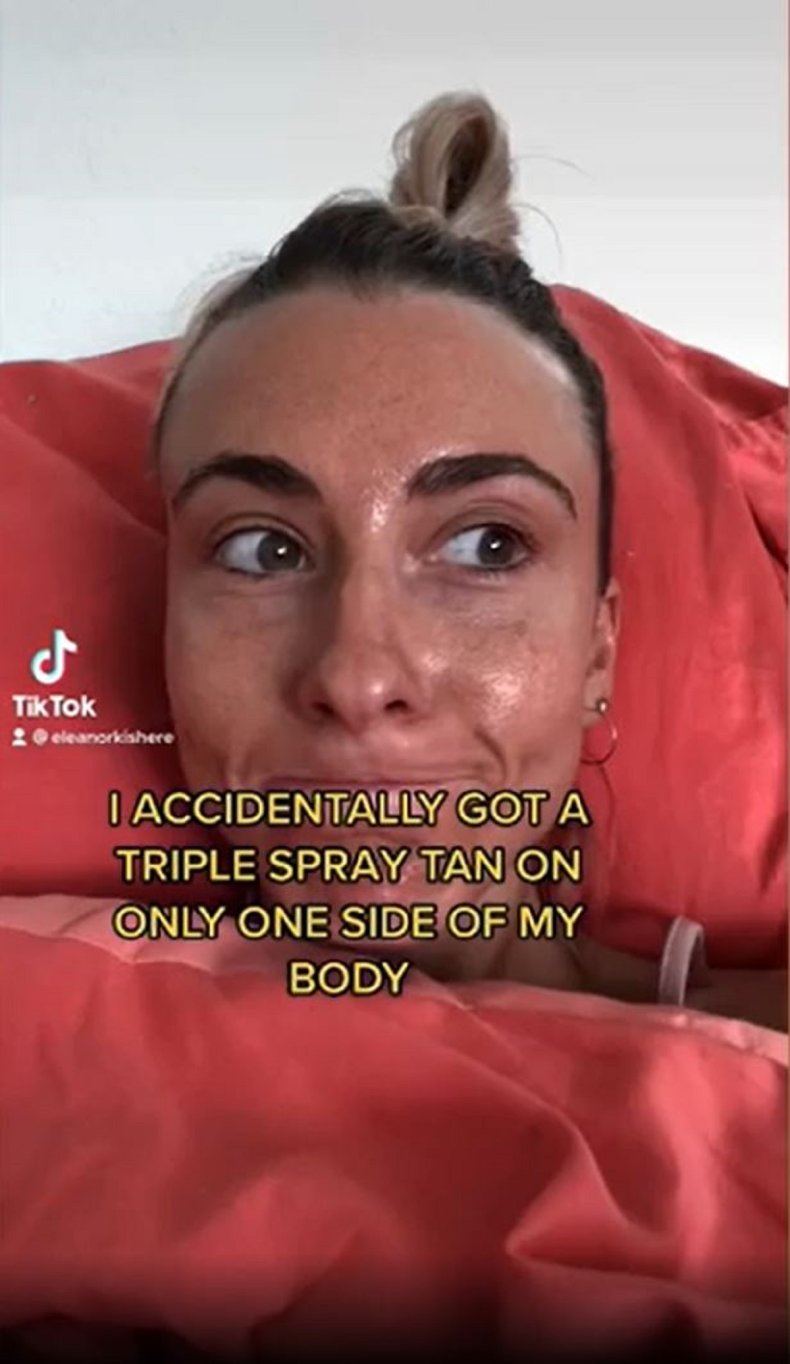 She recounts the tale, explaining it was her first time in the booth, and opted for a level one glow.
Fletcher explains the instructions which were given to her, saying she was meant to "wait for the voice to tell you to turn around.
"You wait for the voice. Not until you hear the voice do you turn around. She made that message very clear."
The 31-year-old revealed she got "totally naked" for an even color and after it sprayed her she said: "I patiently wait to be told to turn around by the machine."
But there's no voice, and the machine sprays her once again—still on her front. "There's a part of me that knows this is going devastatingly wrong," she admits. The machine sprays a third time, then the voice finally says: "Spray tan finished."
After chatting to the worker, and explaining she's been sprayed six times on her front—as the machine went down then back up again—Fletcher claims she was told it was "my fault."
She was advised the "worst thing" to do would be to wash it off, and the "best thing" would be to get sprayed six times just on her back.
The hilarious clip, shared earlier this week, was seen nearly 500,000 times, as people made numerous Friends jokes in the comments.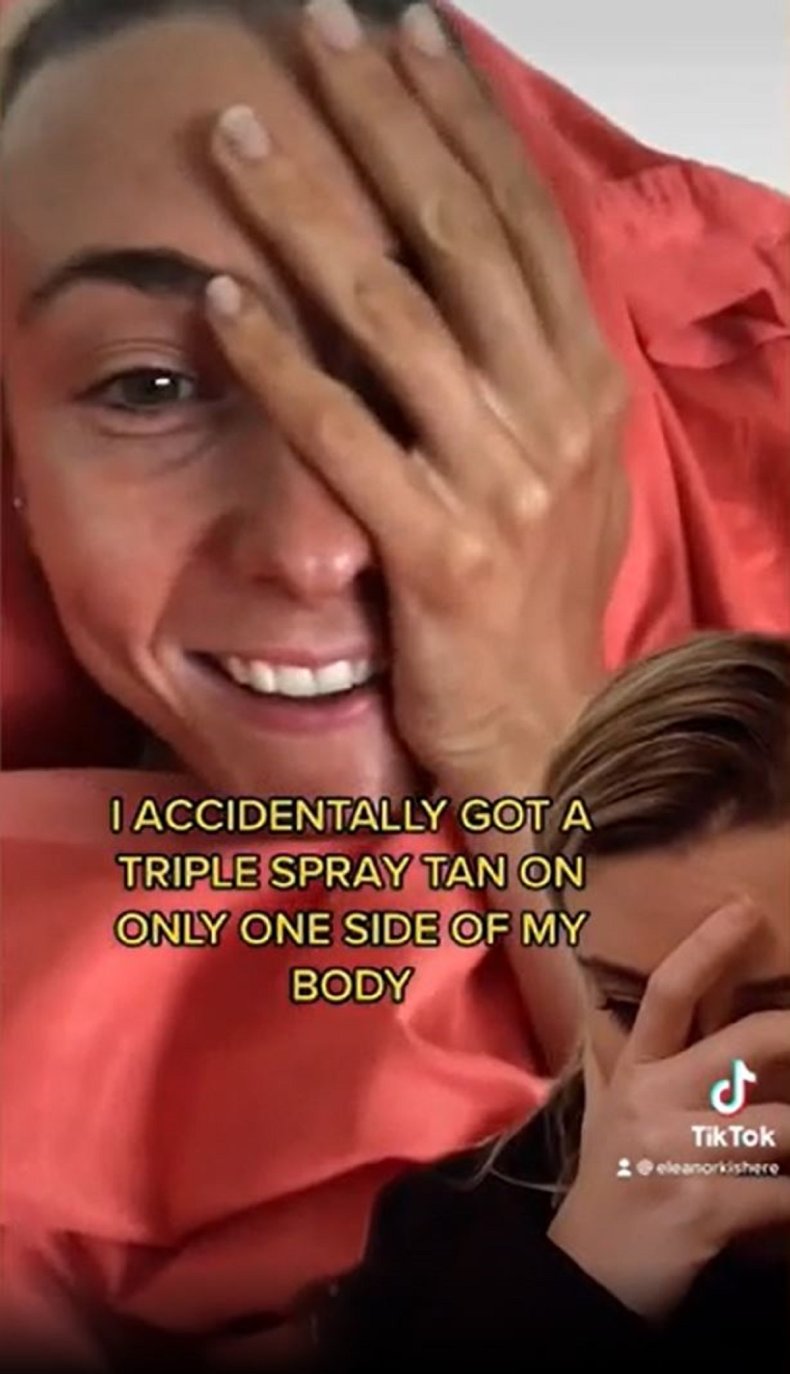 Commenting on the video, Nicole joked: "But did you count? Mississippi-lessly?"
Caro asked: "Was that place the SUN?!
While Kelsey Linda Marie C added: "Pulled a full Ross Geller."
The singer, originally from London, told Newsweek the tanning disaster happened in 2018, when she was living in L.A.
She said: "I had never gotten a spray tan before and the reason I wanted to do it was because we were playing an important show the next day. I couldn't stop laughing though, it was too similar to the episode of Friends for me to be too distraught.
"The colour started showing around just two hours after I had got the 12 spray down and I wish it had stopped there, but alas, it was just the beginning. The tan stayed with me for a powerful three weeks."
Fletcher confirmed she evened out her back, adding: "When it was happening I was trying desperately not to panic.
"However, I am a singer/musician and we had to play a show the next day in Denver at, 'Red Rocks' and so the hours leading up to the flight I was just exfoliating like an insane person and essentially exfoliated off an entire layer of my skin."