Will Roy Moore Still Win Alabama Senate Election After Allegations of Sexual Encounter With 14-Year-Old?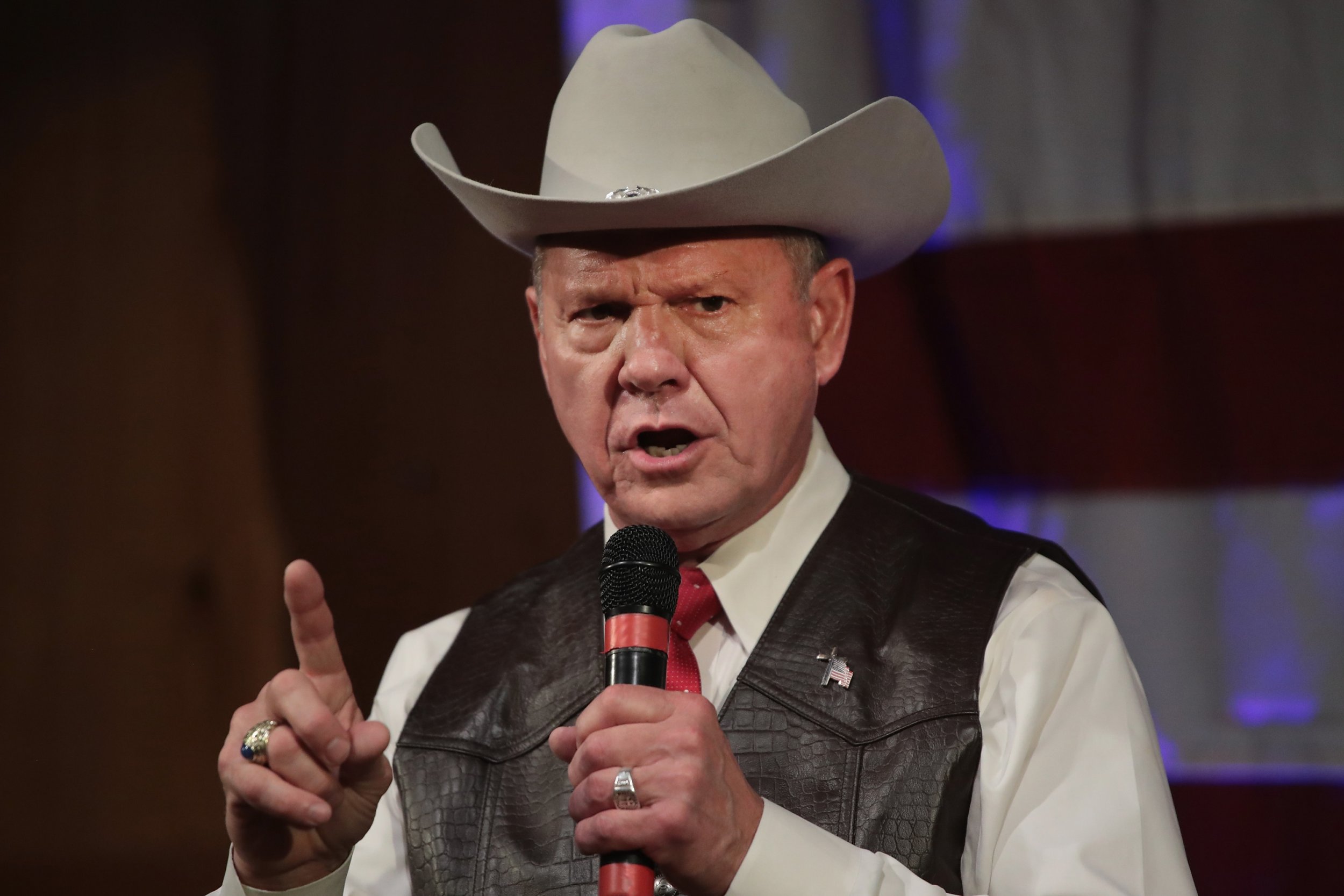 Roy Moore, the Republican nominee who polls show ahead in next month's Senate special election in Alabama, is facing calls for him to step aside after The Washington Post reported Thursday that he initiated sexual contact with a 14-year-old-girl when he was 32 and also sexually harassed three other women aged between 16 and 18.
"If these allegations are true, he must step aside," said Senate Majority Leader Mitch McConnell, who backed Moore's opponent Luther Strange during the Republican primary.
Related: GOP Candidate Roy Moore Initiated Sex With A 14-Year-Old In New Charge, Just The Latest Horror In Judge's Past
Those sentiments were echoed by Utah Senator Mike Lee, who last month endorsed Moore in his race against Democrat Doug Jones, and National Republican Senate Committee Chairman Cory Gardner, who called the allegations "deeply troubling."
But there has not yet been any sign that Moore, 70, is preparing to withdraw. In a statement, Moore vehemently denied the allegations.
"These allegations are completely false and are a desperate political attack by the National Democrat Party and the Washington Post on this campaign," he said. "After over 40 years of public service, if any of these allegations were true, they surely would have been made public long before now."
Aided by a story on Breitbart News, Moore painted the allegations as "fake news" drummed up by his political opponents. Moore, an anti-establishment flamethrower who was twice removed from his position as chief justice on Alabama's Supreme Court, was strongly supported by Breitbart Executive Chairman Steve Bannon during his primary campaign.
Moore's opponent, Strange, was backed by McConnell and the Republican establishment during the campaign. President Donald Trump also supported Strange but immediately threw his support behind Moore following his victory.
Moore now promises to be an even bigger headache for the Republican Party.
With so few days before the December 12 election, the Republican Party could withdraw its nomination of Moore, but the state can't remove him from the ballot under a state law that requires a minimum of 76 days to do that.
If the GOP were to remove its nomination and Moore won anyway, he would likely not be certified as the winner, Alabama Deputy Attorney General Brent Beal told Newsweek. If Moore were to withdraw his name from the race yet still win, the election would be declared null and void and another vote would be held.
There is still hope for Strange to remain in the Senate, where he has been filling the seat since former Senator Jeff Sessions became Attorney General. It is too late for Strange's name to be on the ballot, but if he got the most votes as a write-in candidate, he would be declared the winner.
That, though, would pose further challenges for Republicans, with the possibility of a split vote on the right. And Strange is far from universally popular in the state with plenty of controversy still surrounding how he was appointed to fill the vacant seat in February.
"The primary was not close," Democratic strategist and Alabama native Richard Allen-Smith told Newsweek. "If the path to Republican victory is a guy who pulled 45 percent in the runoff running a write-in campaign two weeks before Christmas—if I'm a Republican strategist that's not a client I want to take on."