Royal Baby Due As Kate Middleton Goes Into Labor With Third Child
Updated | The Duchess of Cambridge, Kate Middleton, is in the early stages of labor and has been taken to hospital, Kensington Palace has said.
She was due to give birth to her third child in April and had been on maternity leave since March 22, when she attended a charity lunch at the Olympic Park for a SportAid event.
She was driven to the hospital from Kensington Palace with her husband, Prince William, and has been admitted to the Lindo Wing at St Mary's Hospital, Paddington, the palace said.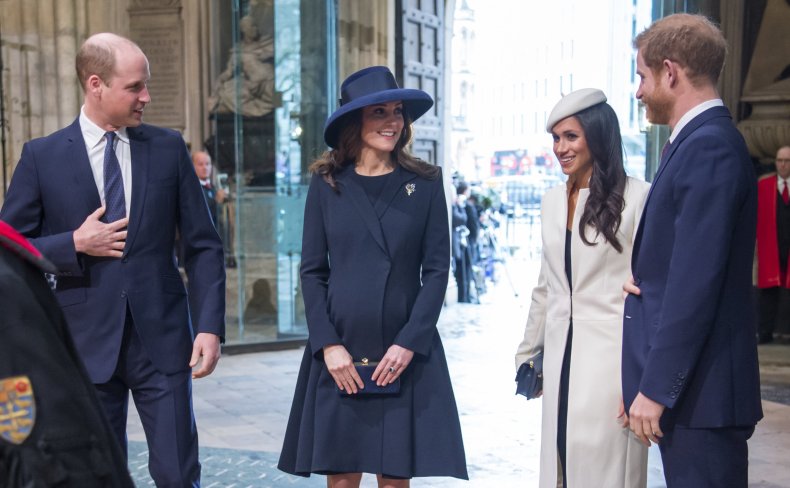 The exclusive wing of the hospital is where Kate's first two children, Prince George, four, and Princess Charlotte, two, were born as were their father, the Duke of Cambridge, and uncle, Prince Harry.
As with her previous pregnancies the duchess suffered from severe morning sickness, known as hyperemesis gravidarum.
The child will be the Queen's sixth great grandchild and will be fifth in line to the throne.
If her previous children are anything to go by, royal watchers expect a relatively swift delivery, with George being born 10 hours after she was admitted to hospital and Charlotte, only two and a half hours after Kate arrived at the Lindo wing.
The Mirror reported that consultant obstetrician Guy Thorpe-Beeston, who is the surgeon-gynecologist to the Royal Household, would be overseeing the delivery. For her previous children she had a 23-strong medical team working or on stand-by from Imperial College Healthcare NHS Trust.
Clare Livingstone, professional policy adviser at the Royal College of Midwives, said, according to The Guardian: "Some women report a quicker labour with their third baby but not everyone. It seems to be though that they do go more quickly. It's a very individual thing."
The latest odds for the name of the new royal baby put Alice (4/1) and Mary (11/2) top the the list with popular possibilities also including Elizabeth and Victoria (both at 6/1), according to bookmakers William Hill.
When Prince William once slipped up that the baby could be a boy, odds were slashed and William Hill has put odds on Arthur (5/1), Albert on (9/1), and Jack (9/1).
Betway previously said: "Alice is a popular early front-runner to be the chosen name of Will and Kate's third baby at 4/1."
The baby's will be known as HRH Prince or Princess of Cambridge. After the birth, the Duchess will take a long time off to recover but is expected to attend the wedding of Prince Harry and Meghan Markle on May 19.
Royal watchers and the media have started to camp at the front of the hospital in anticipation of the birth which will be announced via email to the press, and a tweet on the Kensington Palace Twitter feed.
Correction: An earlier version of this story referred to Kate Middleton as the Duchess of Cornwall.