Archie Harrison Mountbatten-Windsor, the infant son of the Duke and Duchess of Sussex — more commonly known as Prince Harry and Meghan Markle — had his christening on Saturday. The royal newborn is two months old and received the private ceremony led by the Archbishop of Canterbury at Windsor Castle.
The royal family released pictures of the event hours later.
According to CNN, the small, private event included fewer than 25 invited guests, and the media were not permitted to attend.
On Father's Day, the royal family shared a photo of Archie gripping the index finger of his father, Prince Harry, in the first snapshot of the royal baby's face since his birth. Within hours, the Instagram photo garnered over 1.5 million likes and thousands of appreciative comments.
"The Duke and Duchess of Sussex are so happy to share the joy of this day with members of the public who have been incredibly supportive since the birth of their son," a caption below the official christening portrait reads. "They thank you for your kindness in welcoming their first born and celebrating this special moment."
Prince Harry and his wife, Meghan, Duchess of Sussex, had received criticism for keeping baby Archie out of the public spotlight, including conducting the baptism in relative secrecy. For example, some have argued that the couple's decision to withhold the name of Archie's godparents could be a violation of Church of England law.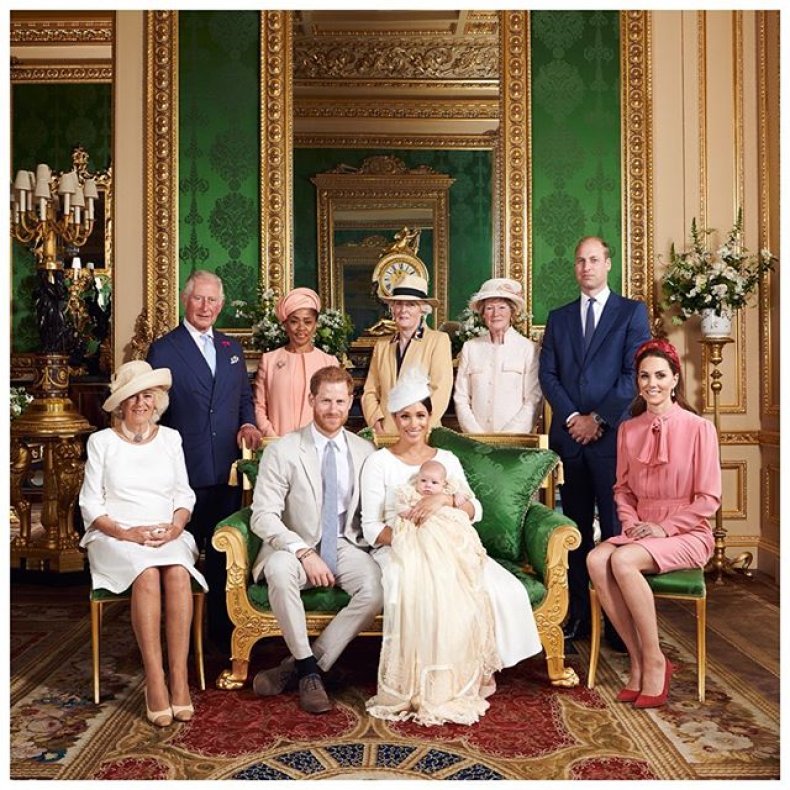 In late June, an annual financial statement from the royal family revealed that the Duke and Duchess spent around $3 million of U.K. taxpayers' money renovating their official residence, Frogmore Cottage, which sits on the Windsor Estate.
According to Saturday's Instagram post, Archie was baptized "wearing the handmade replica of the royal christening gown which has been worn by royal infants for the last 11 years."
"The original Royal Christening Robe, made of fine Honiton lace lined with white satin, was commissioned by Queen Victoria in 1841 and first worn by her eldest daughter," the post said. "It was subsequently worn for generations of Royal christenings, including The Queen, her children and her grandchildren until 2004, when The Queen commissioned this handmade replica, in order for the fragile historic outfit to be preserved, and for the tradition to continue."
The secrecy of Saturday's event has not gone unnoticed even among religious figures.
Nicholas Henshall, dean of Chelmsford Cathedral in southeast England, told the BBC ahead of the baptism that it "should never be private—it's a public demonstration of God's love."
Graham Smith, the CEO of the anti-monarchy pressure group Republic, observed on Twitter that snubbing interest in the royal baby could affect the tide of public opinion about the royal family.
"They're on thin ice," he wrote. "The royals are little more than celebrities in a nation that doesn't care too much about monarchy and increasingly doesn't do deference... Celebrities live and die on media exposure."