25 Stunning Photos of Royals' Wedding Gowns
Royal weddings are national celebrations in Britain with countrywide street parties, public holidays and crowds of thousands.
Bunting and Union flags ordinarily decorate streets across the U.K. when the royals prepare to welcome a new member to the family.
And there is good reason for public intrigue as when direct heirs to the throne are involved, wedding ceremonies effectively appoint a future queen.
As has been remarked in the past, weddings are to royalty what elections are to democracy.
Princess Diana
The Princess of Wales wore a dress by David and Elizabeth Emanuel, famous for its 25ft sequin encrusted train, for her St Paul's Cathedral wedding on July 29, 1981.
The designers had to treat the gown like a state secret, locking it in a safe each night and hiring security in an effort to stop their work from leaking to the media.
They even booked the princess appointments in fake names, including with the surname Cornwall—a reference to Prince Charles' Duchy of Cornwall estate.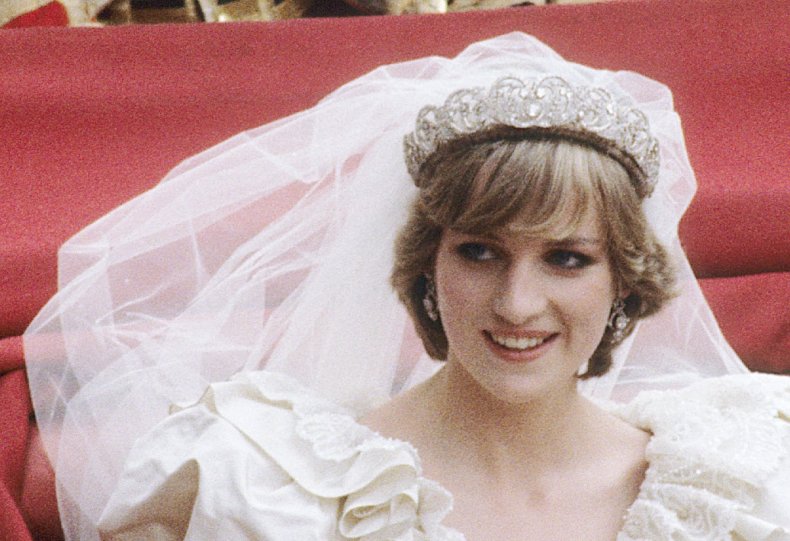 Quoted by The Independent, Elizabeth Emanuel said: "We had lots of names for her and in one diary, she was booked in as Deborah and we made up the surname Cornwall. It was very important to keep things secret so her dress went into the safe every night and we had two security guards sleeping in our salon every night."
During one dress fitting, the princess arrived in roller skates with her bridesmaids—an anecdote that might appeal to fans of The Crown, which depicts a young Diana roller skating through Kensington Palace.
Emanuel said: "She had just been roller-skating with them and we did the fittings with them all wearing their roller skates so there was lots of laughter."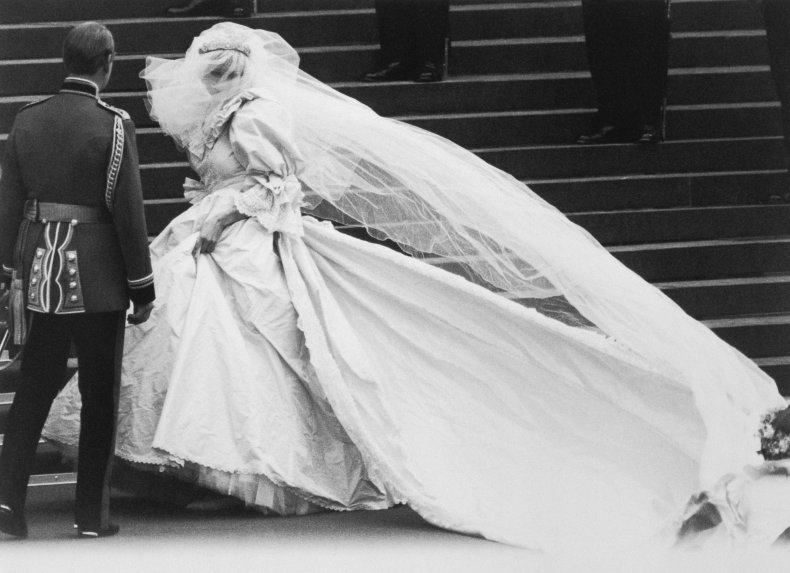 Bridesmaid India Hicks described how as the crowds built on the streets of London on the big day, Diana broke the tension by singing along to an advert that at the time depicted a glamorous carriage not unlike the one the princess was due to ride in that day.
Hicks wrote in the Daily Mail: "Early the next morning, [Diana's sister] Sarah and I were at Clarence House, the London residence of the Queen Mother, saying good morning to a fresh-faced Diana, who was dressed in old jeans with a diamond tiara on top of her head.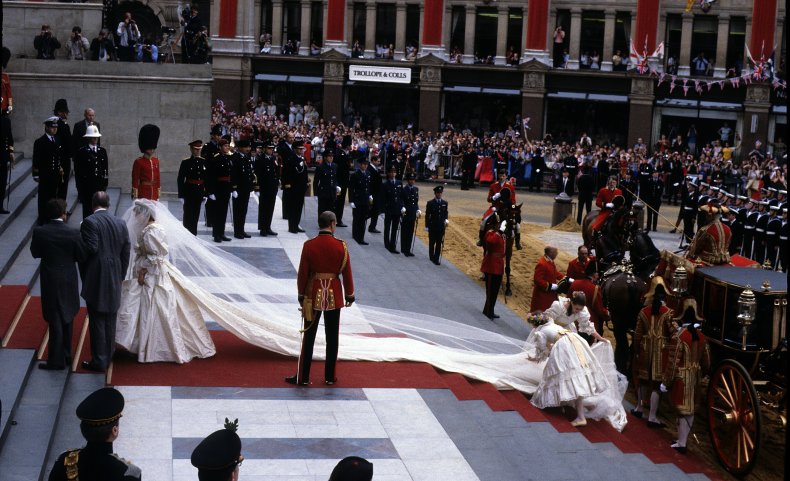 "Diana was amused to watch herself on a tiny television screen that had been found in the nursery; she would flick away anyone who got in the way.
"During a commercial break, the advert for Cornetto ice-cream came on and she started singing. Soon we all joined in. 'Just one Cornneeeettttoooo' could be heard from the top floor."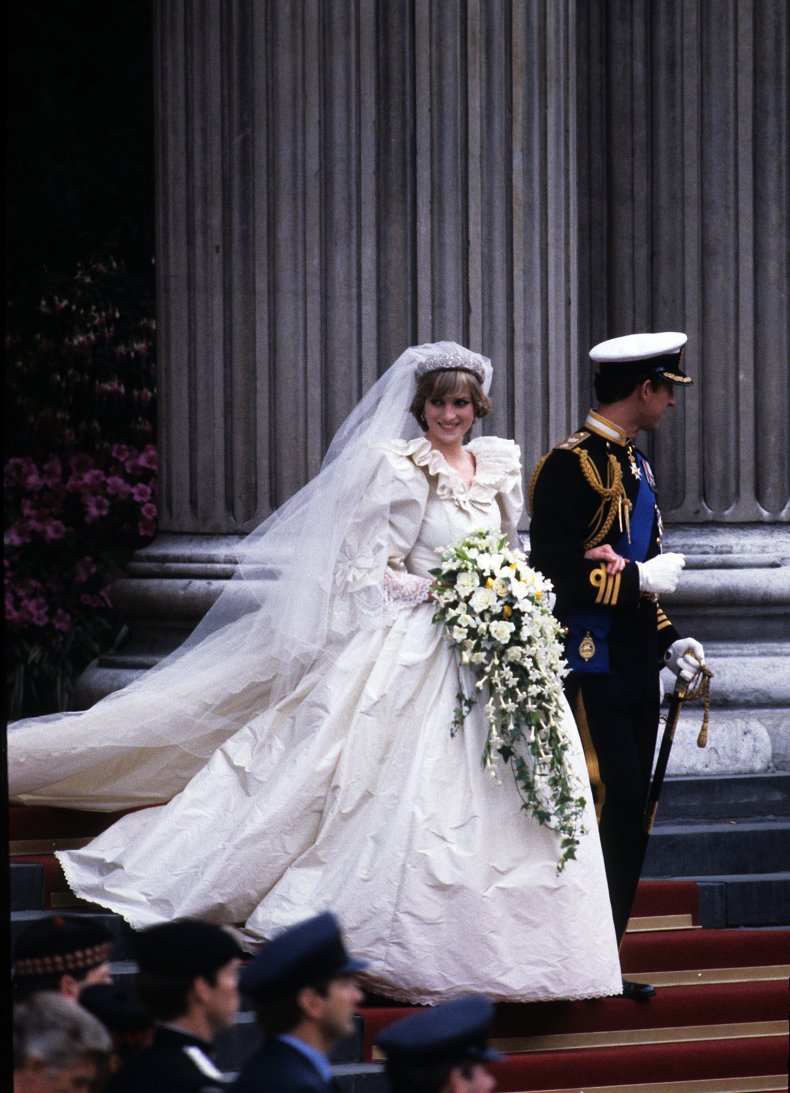 Make-up artist Barbara Daly told 2017 Channel 4 documentary Diana: In Her Own Words how she was still humming the tune when she climbed into her carriage.
She said: "She was looking at the television. It was kind of a very strange thing because you could see the crowds on the small television that was just under the window. And there were all the crowds that we could see on the television, right outside the window.
"And she said, 'This is a lot of fuss for one girl getting married'. We walked down to the carriage and she just sort of gave my hand a little squeeze and then hummed me a little ditty which was from the commercial, One Cornetto."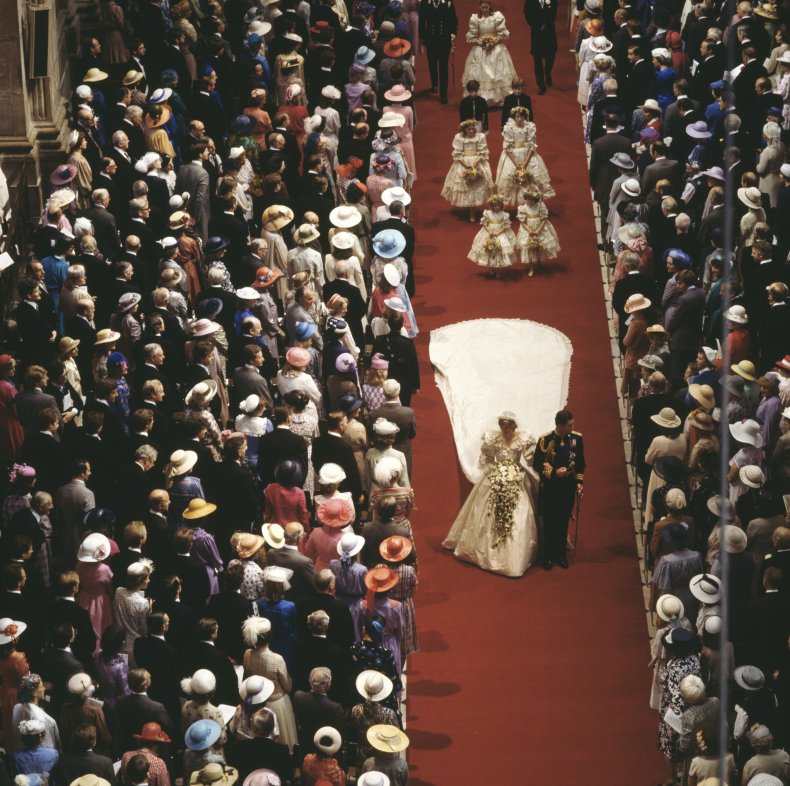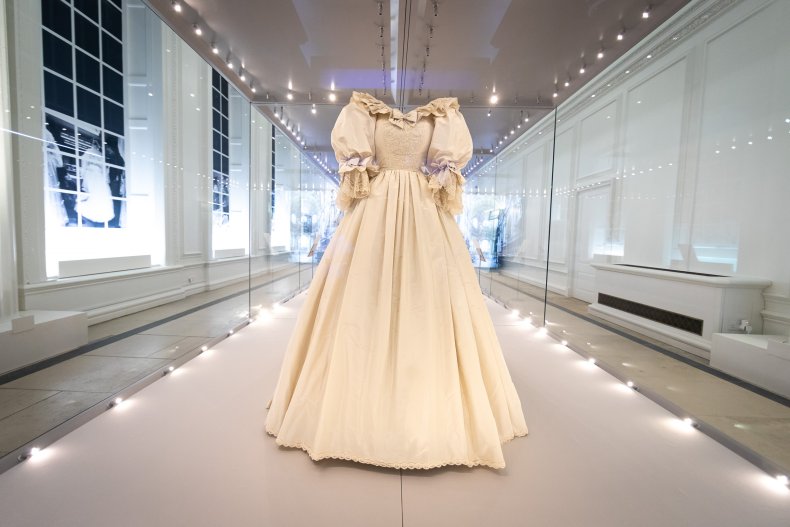 Queen Elizabeth II
Queen Elizabeth II married Prince Philip at 10.30am on November 20, 1947, at Westminster Abbey.
The happy day came just two years after the end of World War II and while Britain was very much still reeling from the devastation it caused.
Rationing was still in place and, in keeping with the law at the time, the fabric for her dress was bought using clothing coupons.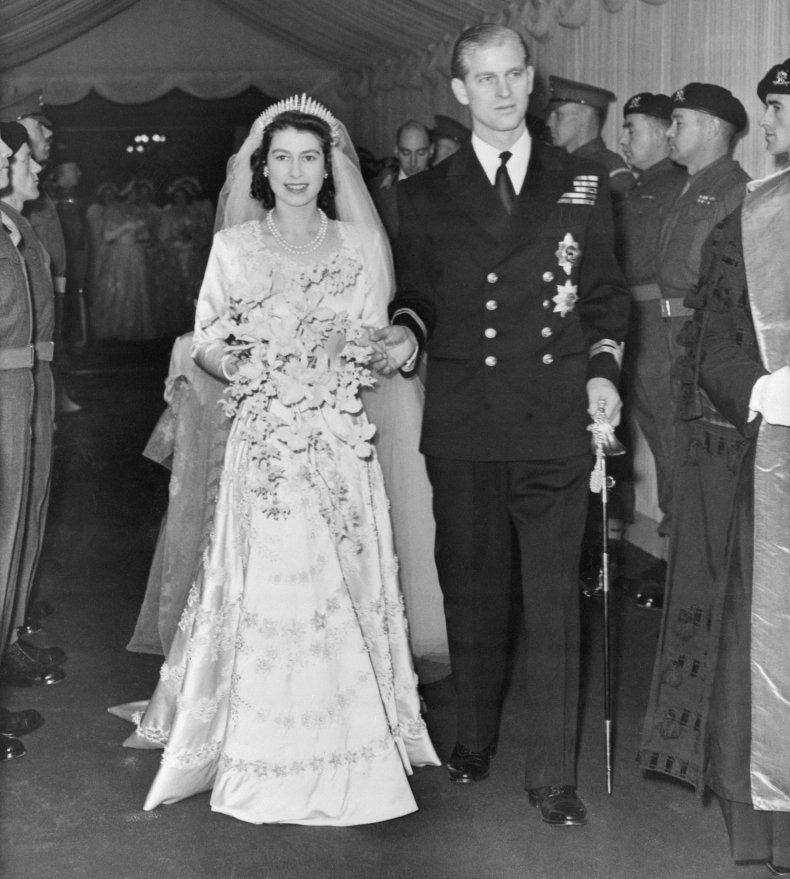 The royal family website states: "Due to rationing measures in place following World War Two, Princess Elizabeth had to use clothing ration coupons to pay for her dress.
"Hundreds of people from across the UK sent The Princess their coupons to help with the dress, although they had to be returned as it would be illegal to use them."
Sir Norman Hartnell designed the dress, inspired by the famous Botticelli painting Primavera.
The queen was known as Princess Elizabeth at the time because her father George VI was still king. She only became queen when he died five years later in 1952.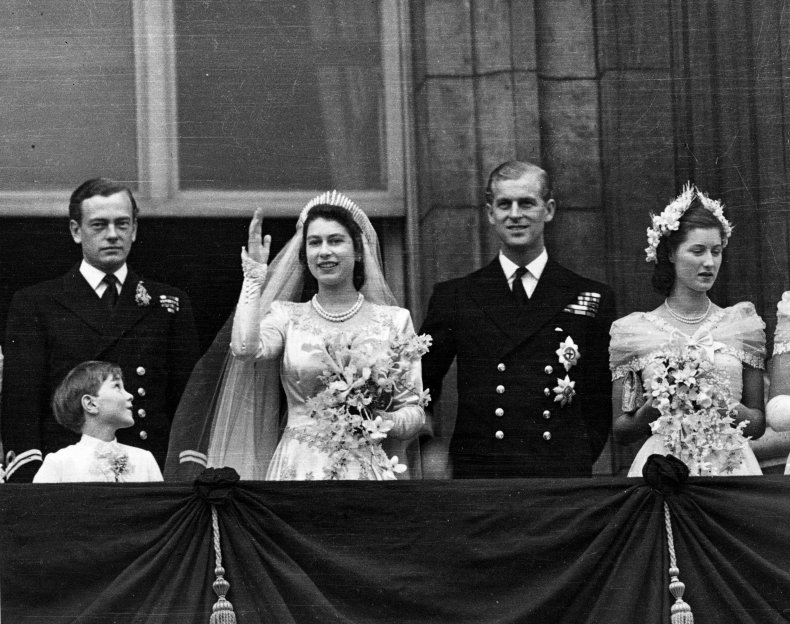 Meghan Markle
Meghan Markle wore a Givenchy dress by designer Clare Waight Keller to her wedding at St George's Chapel, Windsor Castle, in May 2018.
Her 16.5-ft-long veil was made of silk tulle and embroidered with flowers representing the countries of the Commonwealth of Nations, made up mainly of Britain's former overseas territories.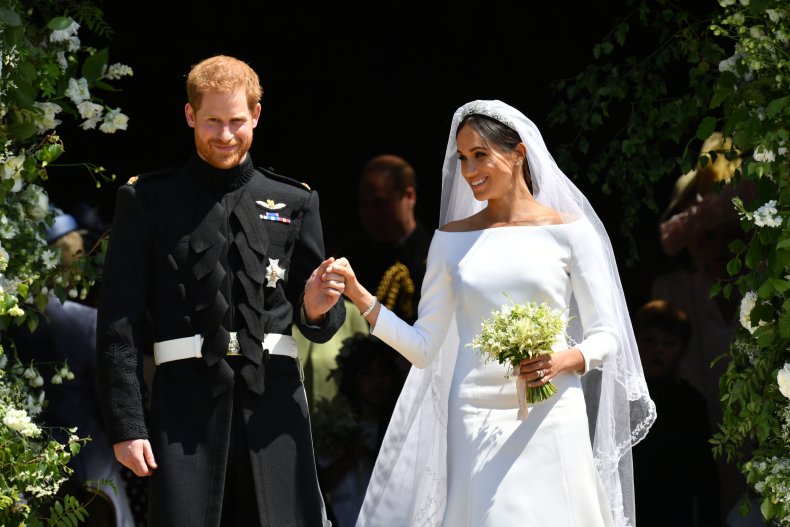 And Meghan paired it with the rarely seen Queen Mary Diamond Bandeau tiara, made in 1932 and left to Queen Elizabeth II in Queen Mary's will in 1953.
On Harry and Meghan's second wedding anniversary, Keller wrote on Instagram: "Two years ago today I was in the final fittings for a very secret dress.
"So many emotions were running through me during those months leading up to the big day. A wedding dress is one of the most exquisite and beautiful moments for a designer, but also personally as a woman artist, creator, there is a lot of sensitivity that flows through the process from the knowledge and understanding of the feelings that you have as a bride."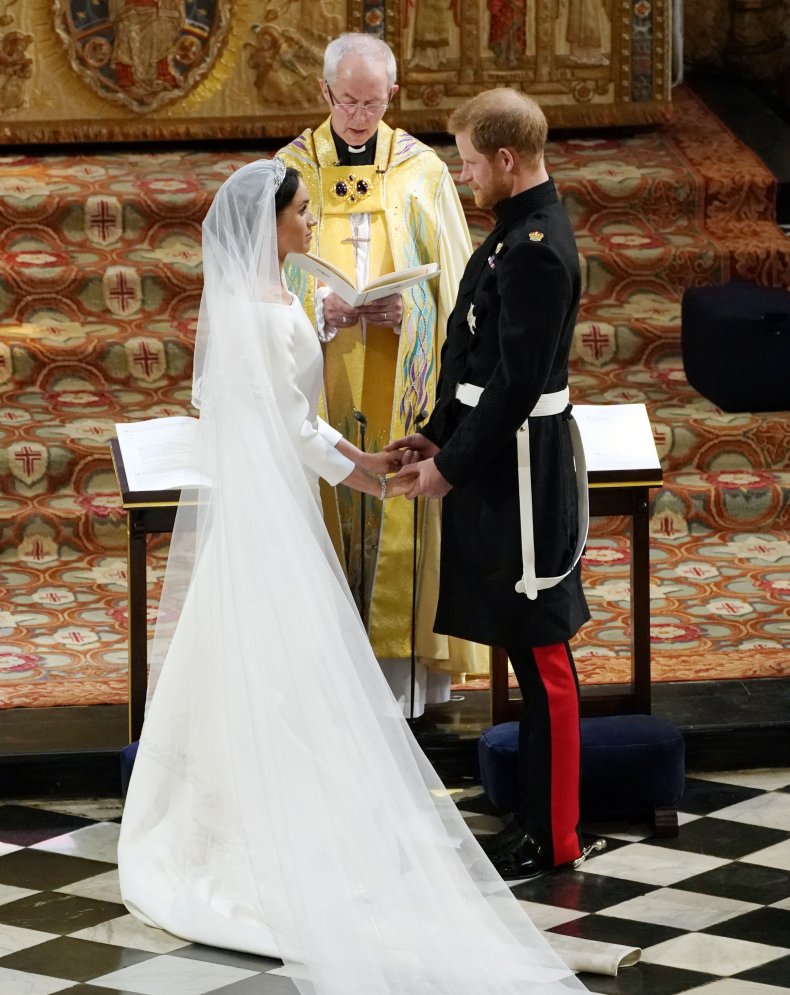 She added: "Purity and simplicity were the guiding principles, a narrative of nature through the 53 florals of the Commonwealth to bring the world into the journey of the ceremony and subtlety bringing the lines of Givenchy and the history of the Maison to capture the classical timeless beauty I knew she wanted to achieve.
"It was obvious the significance of this occasion was more than any other, it would be a very personal ceremony with so many choices that would reflect both the bride and groom's heritage and their unique way of being incredibly inclusive, genuine and generous."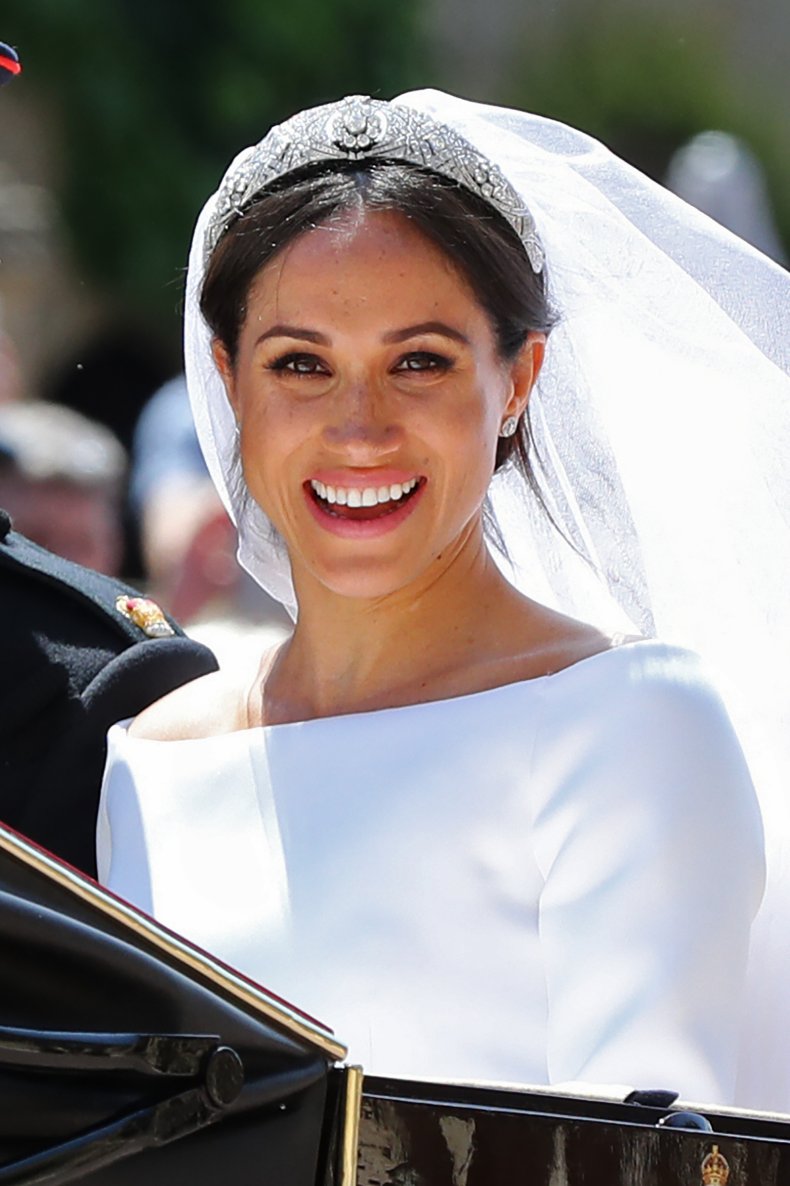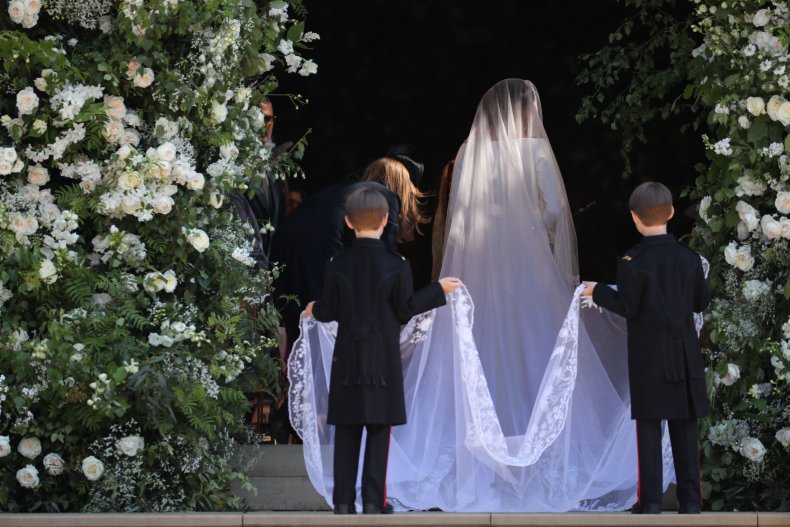 Kate Middleton
Kate Middleton's 2011 wedding to Prince William was a national celebration for the Britain, with a public holiday and street parties.
The Duchess of Cambridge wore a gown by Sarah Burton, of iconic British fashion house Alexander McQueen, to the ceremony at Westminster Abbey.
Her train was nearly 9ft long and the lace work on the dress was handmade by the Royal School of Needlework, at Hampton Court Palace, Town & Country reported.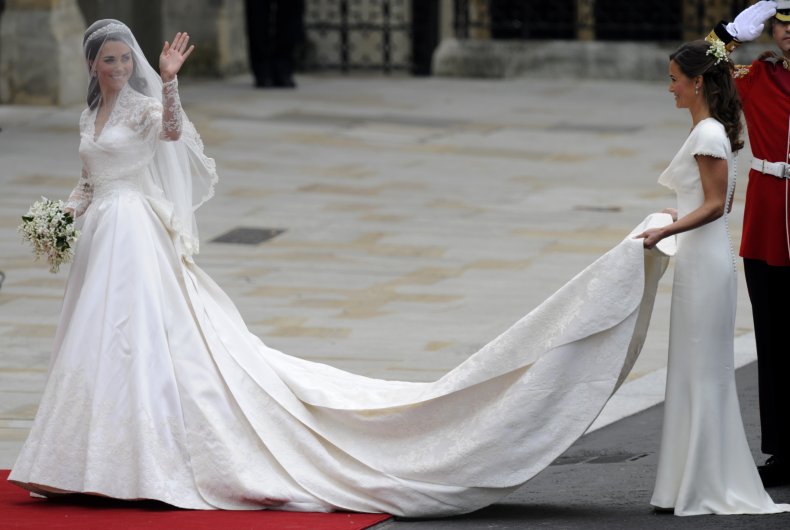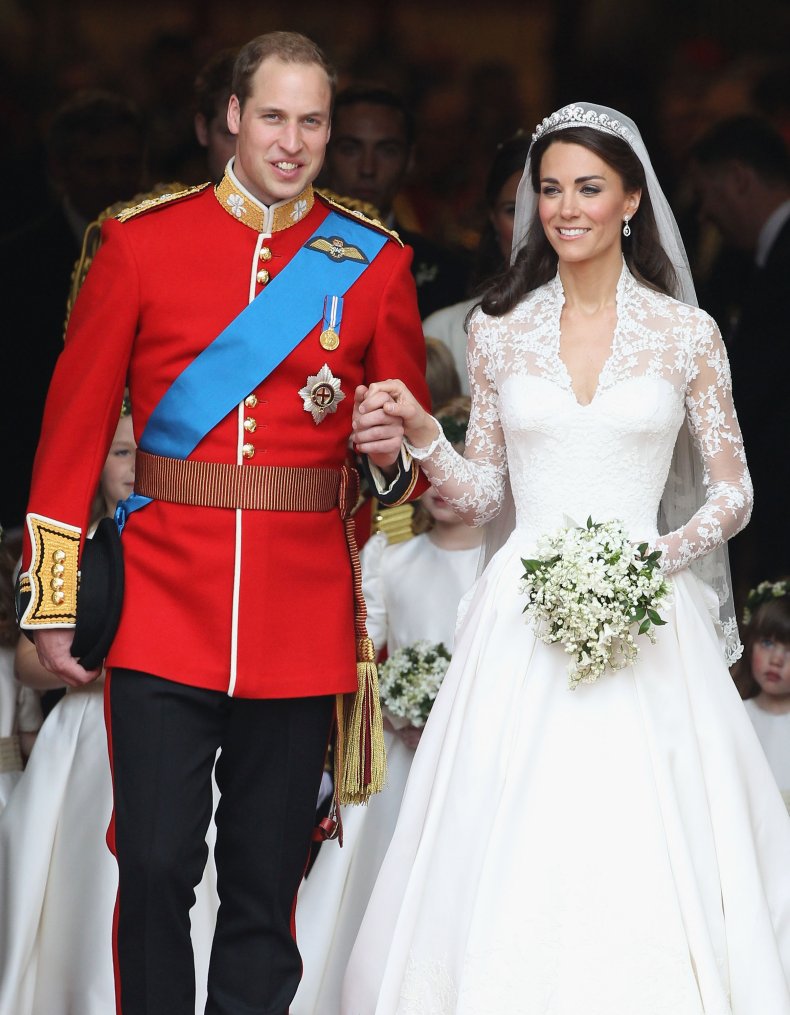 A palace statement at the time read: "Miss Middleton chose British brand Alexander McQueen for the beauty of its craftsmanship and its respect for traditional workmanship and the technical construction of clothing.
"Miss Middleton wished for her dress to combine tradition and modernity with the artistic vision that characterizes Alexander McQueen's work. "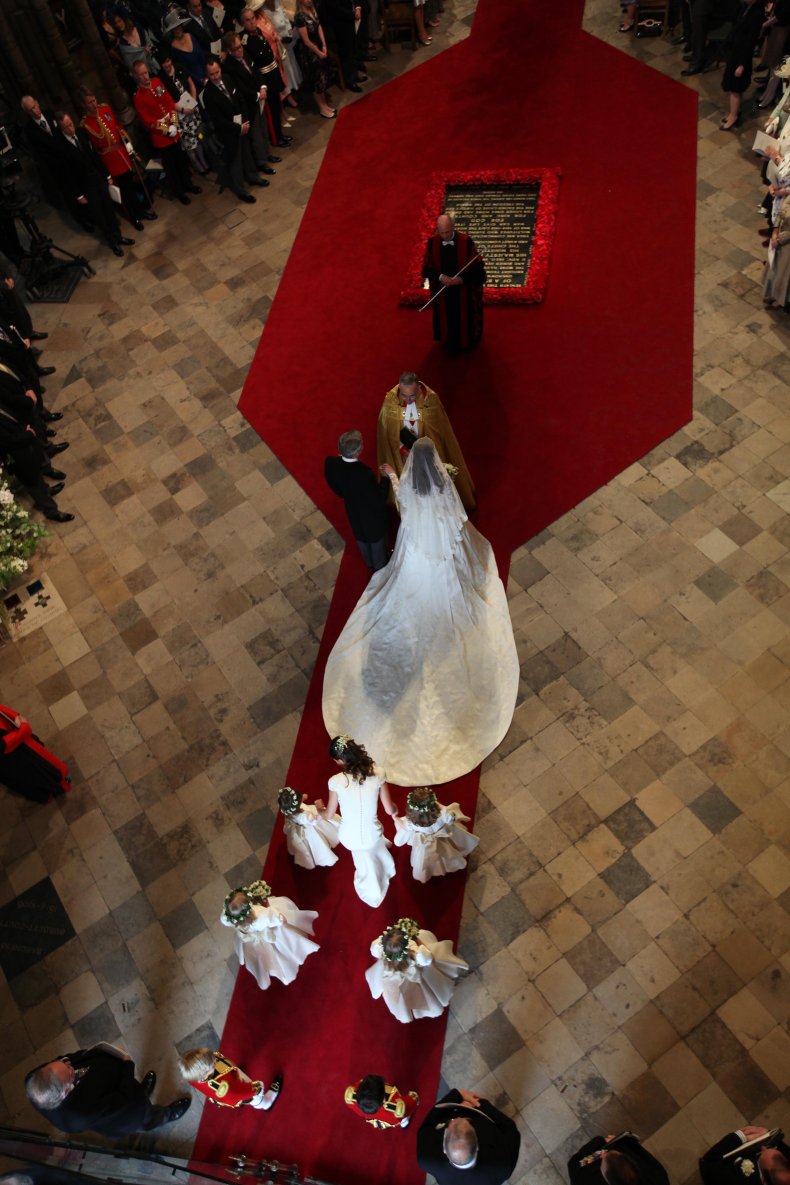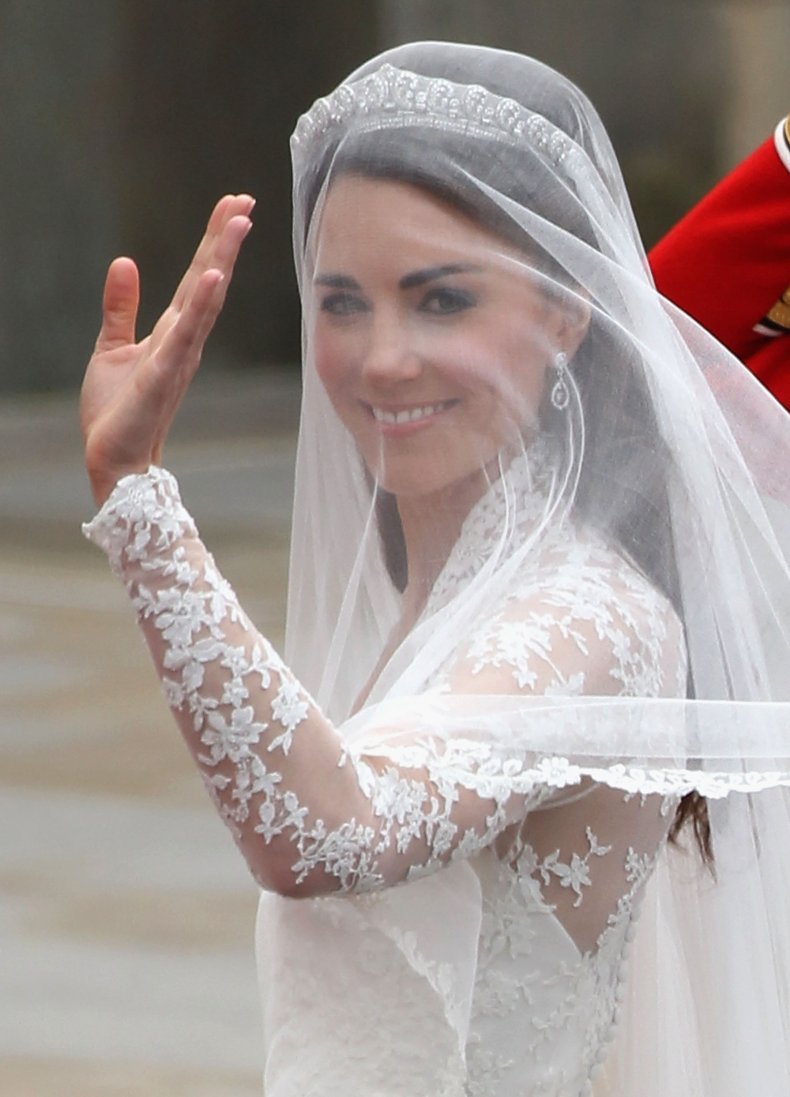 Princess Beatrice
Princess Beatrice had something borrowed from a very special place during her lockdown wedding last summer—her dress.
The royal, Prince Andrew's eldest daughter, borrowed the gown from the queen when she married Edoardo Mapelli Mozzi at The Royal Chapel of All Saints, in Windsor Lodge.
Princess Beatrice wrote on Twitter: "It was an honour to wear my grandmother's beautiful dress on my wedding day, I hope many of you are able to visit the exhibition which is still open at Windsor Castle."
The July 2020 wedding was not a public event with a grand guest list like most royal weddings as coronavirus rules limited numbers.
Also, there was one notable absence from the publicly released pictures—her disgraced father Prince Andrew.
The Duke of York stepped down from royal duties in November 2019 after a car crash interview in which he failed to say he regretted his friendship with convicted abuser Jeffrey Epstein.
Princess Eugenie
Princess Eugenie married Jack Brooksbank at St George's Chapel, Windsor Castle, the same venue as Prince Harry and Meghan Markle's wedding.
Eugenie's ceremony in October 2018 was just five months after theirs and saw the bride wear a dress by Peter Pilotto and Christopher de Vos.
The royal family's website reads: "The design of the dress features a neckline which folds around the shoulders and a flowing full-length train."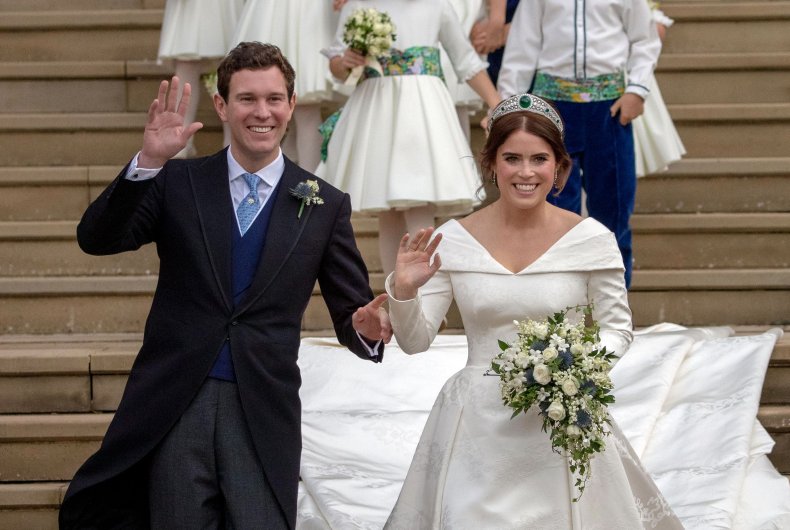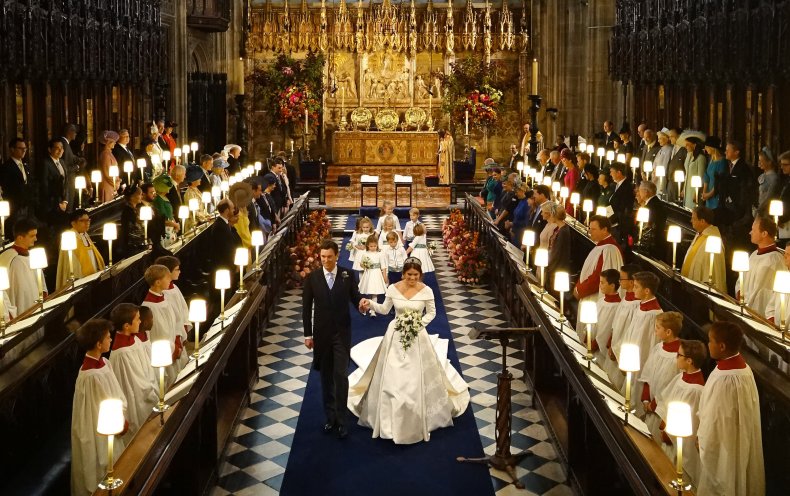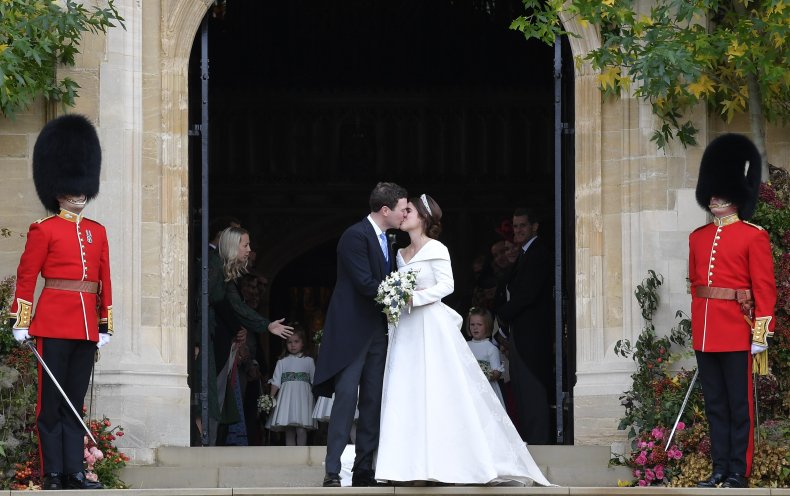 Sarah Ferguson
Sarah Ferguson married Prince Andrew in a gown by Lindka Cierach at Westminster Abbey on July 23, 1986.
The dress had bees and thistles in a nod to her coat of arms and the 17.5ft train was embroidered with anchors and waves in acknowledgement of Andrew's time in the Royal Navy, Harper's Bazaar reported.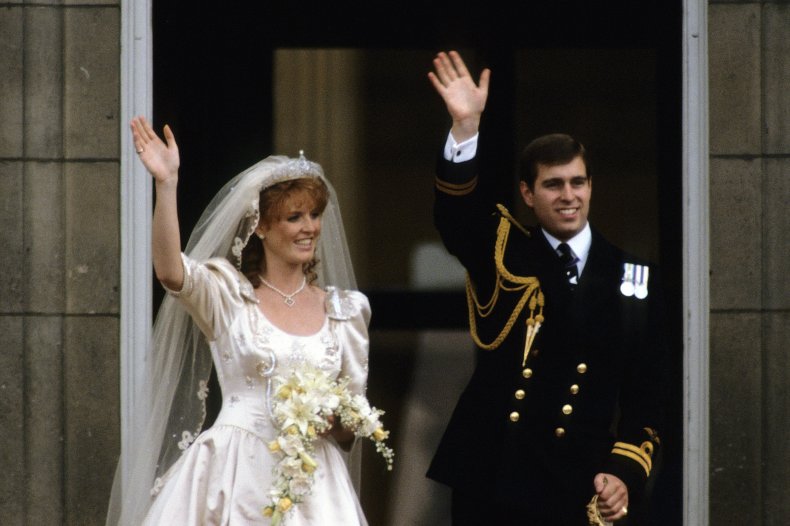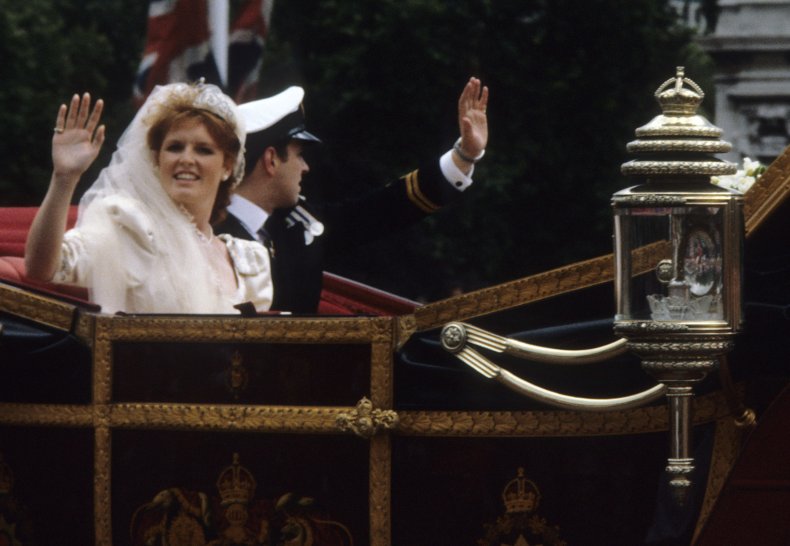 Camilla, Duchess of Cornwall
Prince Charles and Camilla's wedding day came against the backdrop of a fairy tale gone wrong.
Prince Charles and Princess Diana separated in 1992 after a bombshell biography revealed his affair with Camilla and they divorced in 1996 a year after Princess Diana discussed it on national TV.
After Diana's death in 1997 the nation was plunged into unprecedented public mourning, with a sea of flowers left at the gates to Kensington Palace.
However, Charles did eventually remarry on April 9, 2005, with a civil ceremony at Windsor Guildhall and a blessing at St George's Chapel, Windsor Castle.
Camilla wore a blue chiffon dress designed by Anna Valentine and Antonia Robinson underneath a gold-embroidered coat dress with a gold-feathered fascinator by Philip Treacy.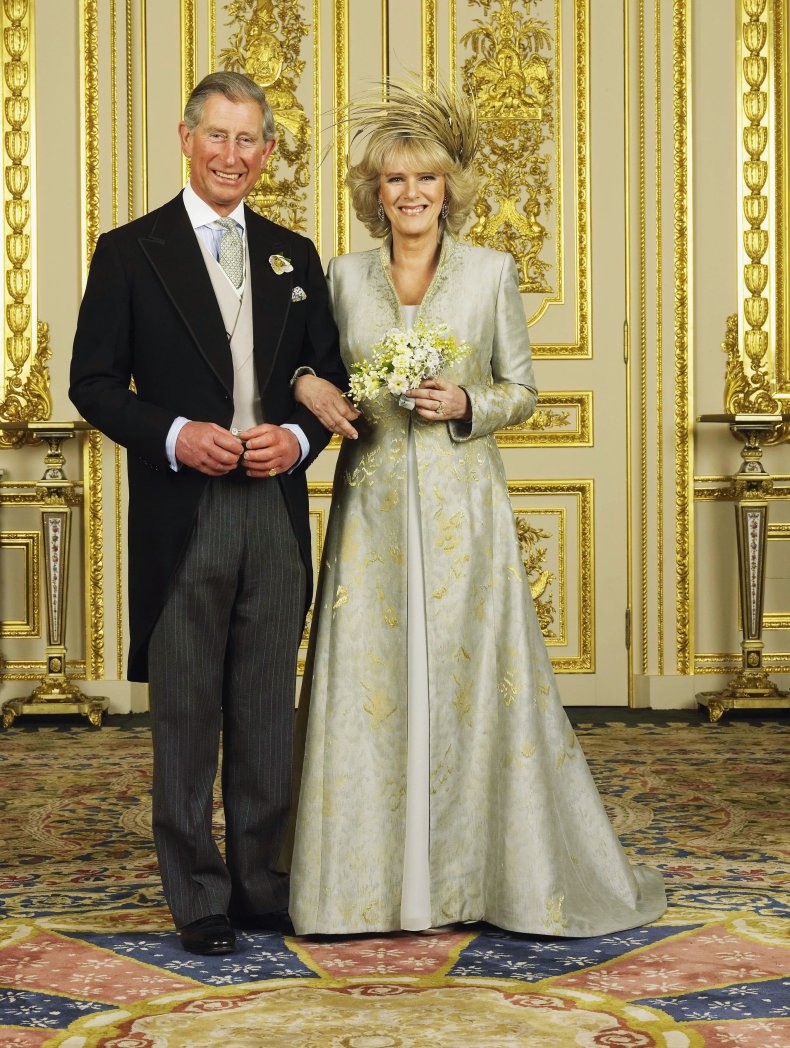 Sophie, Countess of Wessex
Prince Edward married Sophie Rhys-Jones at St George's Chapel, in Windsor Castle, on 19 June 1999.
According to Tatler, the Countess of Wessex wore a silk and organza dress decorated with 325,000 crystals and pearls which was designed by Samantha Keswick.
Sohpie wore the Anthemion tiara from the queen's private jewellery collection.