Ruben Gallego Cranks Up Pressure on Kyrsten Sinema After End of Roe v. Wade
After the U.S. Supreme Court struck down Roe v. Wade last month, eliminating federal abortion protections, many Democrats turned to the thorny issue of amending filibuster rules, which deny them the 60 votes needed to move legislation like codifying abortion protections into law.
After President Joe Biden said, "we have to codify Roe v. Wade in the law" at a NATO summit last week, he added that "if the filibuster gets in the way, it's like voting rights, it should be 'we provide an exception for this'—require an exception to the filibuster for this action to deal with the Supreme Court decision."
This exception, or filibuster "carve-out," does not have the support of Democratic Senators Kyrsten Sinema of Arizona or Joe Manchin of West Virginia.
"Senator Sinema's position on the filibuster has not changed," her office said in a statement—a position that has caught the attention of one of the lawmakers who could challenge her in the Democratic primary in 2024 and could make a decision to do so as early as the beginning of next year.
Representative Ruben Gallego has occasionally taken shots at Sinema by name, most notably in January when she sided with Manchin in torpedoing Democratic voting rights legislation by again refusing to do away with the filibuster.
But Gallego has been outraged on Twitter since the overturning of Roe v. Wade, calling out Sinema by name and making clear his support to "break" the filibuster.
Gallego tagged her on Twitter when Biden made his statements on codifying Roe v. Wade, responded with "Really?" to a Salon article that said Sinema was fundraising off women's rights after declining to alter the filibuster, and said she and Manchin "empower" Senate Majority Leader Mitch McConnell "by not neutering the filibuster."
Tagging her again on Saturday, he asked Sinema, "why don't you have a town hall in Arizona and explain your choice to protect an old Senate Rule instead of a woman's right to an abortion? You haven't had a town hall in awhile, I will cohost one of [sic] it helps."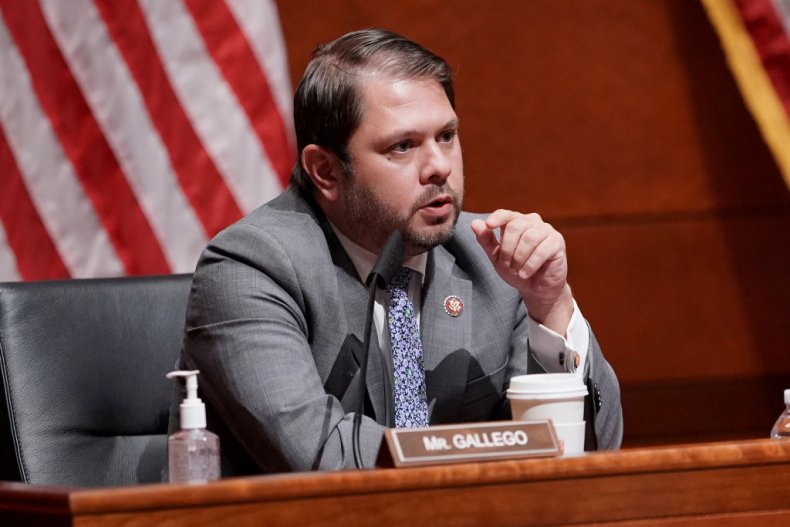 Democrats and Gallego allies say there was always an argument and theoretical contrast for the former Marine and Iraq combat veteran to make if he chooses to run against her, but now the contrast is evident for everyone to see.
"This significantly increases the chance that he'll run against Sinema and makes it more likely he beats her," a veteran Arizona Democrat and friend of Gallego told Newsweek.
The source added that the base of the party is "pretty disillusioned" and "disappointed" that Democratic leadership hasn't done more beyond encouraging people to vote for Democrats and there is a "hunger for action," one that Gallego is tapping into.
Newsweek reached out to Gallego for comment.
But Arizona Democrats say another reason Sinema's political position has worsened are the facts on the ground in Arizona, where Republican Attorney General Mark Brnovich said last Thursday that a 1901 territorial law banning all abortions, which existed 11 years before Arizona became a state, is enforceable.
The old law, which says that anyone who helps a woman obtain an abortion could be sentenced to two to five years in prison, has an exception only if the life of the mother is in danger, but not for rape or incest.
Arizona Governor Doug Ducey passed a 15-week abortion ban in March, hoping to supersede the 1901 law, but Brnovich and others note it includes a provision saying it does not override the older law.
"If you're a Democratic senator for that state, are you just going to let that happen without any change?" the Gallego ally asked.
Ian Danley, the former executive director of Arizona Wins, a coalition of more than 30 progressive groups that knocked on 2 million doors for Sinema, and spent $20 million during the last cycle, said he has seen soon-to-be-released Arizona polling showing two-thirds of independent women support reproductive rights.
"These are women voters who Sinema takes very seriously with her communication and agenda," Danley told Newsweek, arguing that it shows the senior senator for Arizona is actually "not for anybody—she's for Kyrsten Sinema."
Beyond women voters Sinema needs in her corner, Latino voters could be an opportunity for Gallego should he challenge her, likely to be energized by the run of a candidate who is the son of Mexican and Colombian immigrants.
Even before the voting rights and abortion fights, Arizona activists blasted Sinema for refusing to meet with them to discuss their concerns on stalled immigration legislation.
Kristian Ramos, a Democratic consultant and Latino vote expert, cited Future Majority polling after the threat to Roe v. Wade was made public, but before it was struck down, to show that Hispanics, particularly younger Latinos, support legalized abortion.
In Arizona, 62 percent of Latinos said they believed abortion should be legal, compared to 32 percent who said it should be illegal.
"It's very clear that Latinos in Arizona strongly support a Democrat that will fight for abortion rights," he said. "It would be baffling for Sinema to not support a carve-out of the filibuster to support abortion rights for women."
But Chuck Coughlin, who served as a campaign manager and adviser for former Republican Governor Jan Brewer and is the president of HighGround, which conducts polls in Arizona, told Newsweek that Sinema is playing the "long game" ahead of a challenging midterm election cycle in which Republicans are predicting a red wave that would wipe out slim Democratic majorities in Congress.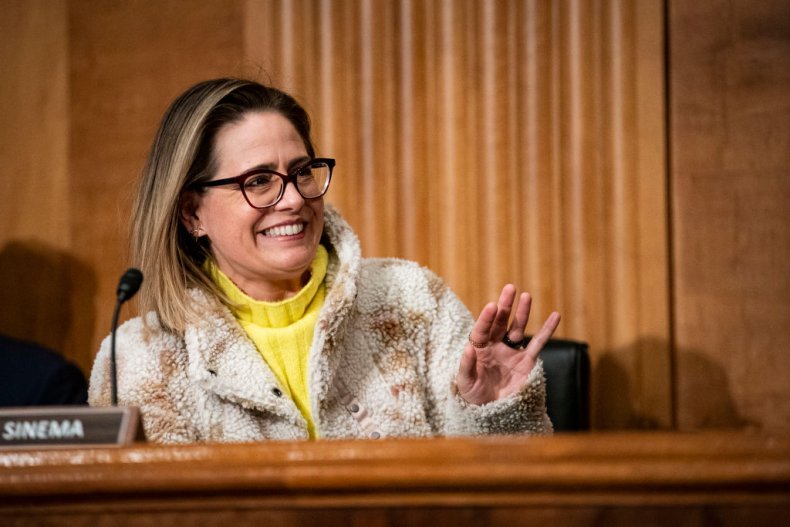 "She'll be a hero two years from now with a Republican majority," Coughlin said. "She will have saved the filibuster, which will have saved them from their debacle. So Gallego can attack her all he wants, but for that, she'll be a hero. They'll have to respect her."
An Arizona Democratic operative said that if Democrats can hold the Senate, Sinema will retain her power and influence, but if a Republican wave leads to defeat for Arizona Senator Mark Kelly in November, a successful challenge from Sinema's left will be more difficult.
"If Kelly loses, then I don't see how Ruben can primary Sinema," the source said.
Coughlin echoed Democrats who said a knockdown, drag-out primary fight was already going to be difficult for Sinema, calling it a "titanic task" because of how "underwater" her numbers are with Democrats.
Though he called whether Gallego ultimately runs a "big question," Coughlin said slamming Sinema on inaction with respect to Roe v. Wade helps him in other ways.
"There's a lot of noise in the wind right now, but he's trying to raise money and that will be a very effective fundraising tool," he said.
The Gallego ally said that anyone that takes on Sinema must be able to compete with her huge "war chest" but said their belief in his ability to raise large amounts of money has changed in recent months.
"Because of Roe v. Wade, Ruben will have a small-dollar, grassroots base of donors in Arizona and his national support will be significant," the source said, noting that Sinema has run afoul of organized labor and lost the endorsements of EMILY's List and the abortion advocacy group NARAL Pro-Choice America.
Arizona Democrats contend that the end of abortion protections provide an electoral opportunity for the party in November.
"This is hands-down the most important issue for Democratic primary voters this cycle," Danley said, "and they're as angry about this as they are about anything."
He said it's hard to overstate the importance of reproductive rights to the Democratic base.
"It's a fundamental issue, it's a fundamental protection," he said.
While Democrats want to see the party fight back, Sinema refusing to budge on the filibuster could cause her too big an obstacle in a future primary.
"She's going to have a tough time in 2024 and Ruben's the candidate that can raise a bunch of money," Danley said. "If a candidate can raise money against the Sinema machine, the electoral path is there."