Ruben Gallego Set to Launch Senate Campaign Against Kyrsten Sinema
Arizona Representative Ruben Gallego, a former Marine combat veteran who was critical of Senator Kyrsten Sinema's leadership and fidelity to the Democratic Party long before she announced she was leaving it to become an independent, will announce his 2024 Senate campaign to challenge her on Monday, Newsweek has learned first.
Gallego, the chair of BOLD PAC, the political arm of the Congressional Hispanic Caucus, plans to make the announcement via a video in English and Spanish that was shot in his home district, which includes parts of Phoenix, according to three sources briefed by the campaign.
Gallego has made no secret of both his frustration with Sinema's brand of politics and his flirtation with running for her seat, and Democrats expected a possible intra-party clash between them to be explosive and expensive.
But Sinema's abandonment of the party has thrown the shape of the race into uncertainty, including who would be able to raise enough money to challenge Gallego on the Democratic side, whether Sinema has enough of a political base to thread the two-party needle and win, and who will face both of them on the Republican side.
After his announcement, Gallego is set to begin a media blitz before returning to Arizona for an in-state tour of events for which the campaign is presently nailing down logistics. Along with consultants, the campaign has also hired some initial staff.
Alejandra Gomez, the co-executive director of LUCHA Arizona, a grassroots group that plays a pivotal role in representing the Latino and immigrant community in the state, praised Gallego in comments to Newsweek.
While her group has often complained about Sinema's lack of engagement, she had no such complaints about the Arizona congressman.
"Gallego has time and again demonstrated that he's ready to govern and ready to move forward an agenda for communities by granting them meetings and giving them access," Gomez said.
"At LUCHA what we have experienced with him as congressman is negotiating with us on core issues that matter to our constituencies," she added, "and having those conversations face-to-face to do good work."
There has been a consistent drip of news regarding Gallego muscling up his campaign with veterans of Senator John Fetterman's campaign, including top strategist Rebecca Katz, who helped spearhead his victory, and finance director Danny Carroll, who worked for Senator Mark Kelly's campaign in 2022.
Earlier, Gallego brought on pollster GBAO Strategies, which worked on both the Fetterman and Warnock winning senatorial campaigns. Both initial campaign updates were first reported by POLITICO.
"Everyone he's brought on is experienced with winning Senate campaigns," a source briefed on campaign rollout plans told Newsweek.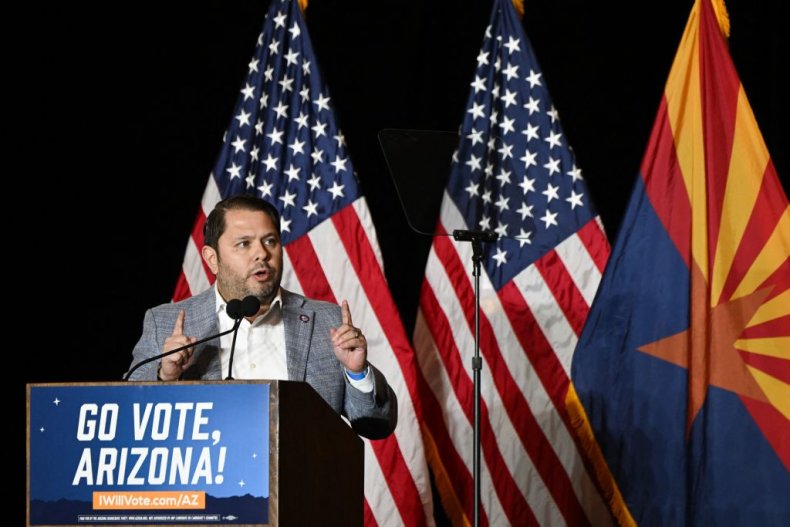 Sinema has been making news this week of the sort she seems to attract and may relish.
Serving as a featured speaker at the World Economic Forum in Davos this week, she gave a high-five to Senator Joe Manchin over their derailing of Democratic efforts to get rid of the filibuster last year. Speaking in Switzerland, she also decried "a deeply broken two-party system," while calling House Majority Leader Kevin McCarthy a "dear friend."
While her remarks may have played well in Davos, people posted on Twitter that her comments might appear in future campaign ads against her. Gallego pounced, tweeting on Tuesday that Sinema hasn't held a town hall in Arizona for years.
"Instead, she flies to Switzerland for a town hall with the rich and powerful," he tweeted. "Not a joke!"
Gallego ended the tweet with a fundraising plea, saying he hadn't made a decision on running but was "one step closer today."
Arizona political observers alternate between excitement at the prospect of a Democrat vs. independent vs. Republican next year and fear that Gallego and Sinema could ultimately split Democratic-leaning voters and gift a crucial Senate seat to Republicans.
But his allies point to a Public Policy Poll on behalf of Gallego in December that showed Sinema floundering with 13% support in a three-way general election race, while Gallego and Kari Lake, a possible Republican opponent, were essentially tied 41% to 40%.
In a two-way matchup—should Sinema not run for re-election as some Democrats hope—Gallego had 48% support and Lake was at 47%.
On Thursday night, another congressman, Greg Stanton, a former Phoenix mayor who was considered a challenger in the Democratic primary, decided not to run, saying in a statement on Twitter "now is not the right time for me to run."
If the election unfolds as a three-way race, Gallego's campaign is looking to make a strong push to activate the Latino vote in Arizona, where one-third of the state is Hispanic. The campaign has brought on Chuck Rocha as a senior advisor, the architect of Bernie Sanders' insurgent Latino vote effort that worked particularly well in the neighboring southwest state of Nevada, along with other consultants with experience engaging Hispanic voters.
Asked about this aspect of the race, one of the sources briefed on the rollout said Gallego himself drives that strategy.
"This has been a goal of Gallego for a very long time, to galvanize Latinos like never before," the source said. "He has a focus on it more than any other candidate I've known, he has a good track record in this space, and he's got several consultants that know how to do it."