Rudy Giuliani Accuses Terry McAuliffe of 'Pay For Play Scheme' in Abe Lincoln Filter Video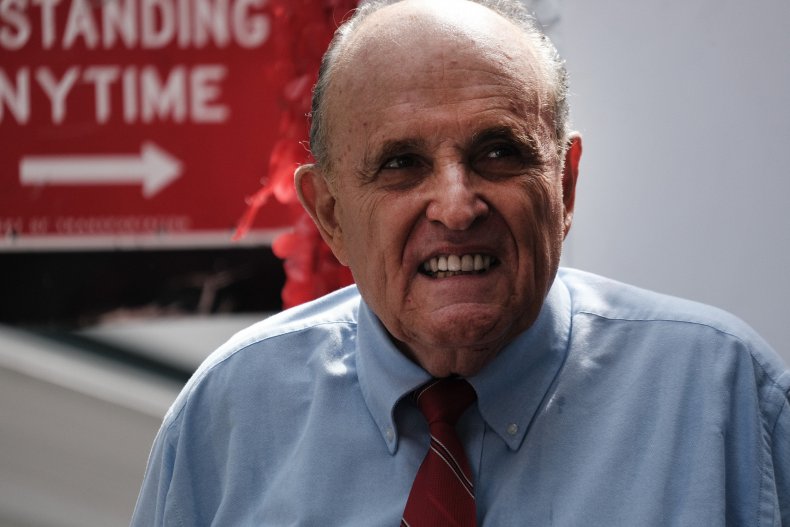 Ex-Trump lawyer Rudy Giuliani, in a video altered to make him appear as former President Abraham Lincoln, has accused Democratic Virginia gubernatorial candidate Terry McAuliffe of orchestrating a "pay for play scheme."
McAuliffe, who previously served as Virginia governor from 2014 to 2018, is facing off against Republican candidate Glenn Youngkin in this year's election. Giuliani's video was posted to Twitter on Tuesday and refers to a largely debunked 1990s scandal that alleged McAuliffe, then a prominent fundraiser for the Democratic Party, sold the party's top donors overnight stays in the White House's Lincoln Bedroom during the administration of former President Bill Clinton.
"Virginia, vote against the man who dishonored our past by selling my bedroom hundreds and hundreds of times to scoundrels in a pay for play scheme," Giuliani says in the video while apparently attempting to replicate the unknown sound of Lincoln's voice. "In my time, we had a name for men who sold bedrooms for one night. In your time, the name is Terry McAuliffe. End the Clinton sleaze once and for all."
McAuliffe was accused of selling access to the Lincoln Bedroom due to a 1995 memo he wrote to a White House official that suggested ways for Clinton to spend time with the party's top donors. McAuliffe did not write any mentions of overnight stays in the memo, although a different person wrote "overnights" on the memo after the fact and Clinton also wrote that he was "ready to start overnights right away" in his own note.
It is unclear how many Clinton donors may have stayed overnight in the Lincoln Bedroom, although there is no evidence that confirms Giuliani's claim that "hundreds and hundreds" paid for access. There also does not appear to be evidence that McAuliffe orchestrated a pay for play scheme.
Regardless of the veracity of the scandal, the Lincoln Bedroom claim has been repeated by Republicans opposed to McAuliffe on more than one occasion. Ken Cuccinelli, a former Trump administration official who was also once the Republican Attorney General of Virginia, claimed that McAuliffe was "the person who invented the scheme to rent out the Lincoln Bedroom" while running an unsuccessful campaign against him in the 2013 gubernatorial election.
McAuliffe is hoping to succeed current Virginia Governor Ralph Northam, the Democrat who replaced him in 2018. He was ineligible to be a candidate in the last election because Virginia law does not allow governors to serve multiple consecutive terms.
McAuliffe is a slight polling favorite in the current election, with Youngkin mounting a strong challenge two weeks before Election Day. An average of polls compiled by polling analysis site FiveThirtyEight showed McAuliffe with a 3 point lead over Youngkin as of Tuesday evening.
Newsweek reached out to the McAuliffe campaign for comment.