A video of Rudy Giuliani being assaulted while in a supermarket in New York has gone viral on social media.
The former Donald Trump adviser was slapped on the back in ShopRite on Staten Island on Sunday while campaigning for his son, Andrew Giuliani, who is running for the Republican nomination for NY governor.
The video has been viewed over 2 million times on Twitter and was shared by commentator Ron Filipkowski.
"Video of the 'assault' on Rudy at ShopRight, where Rudy had the person arrested, and said if he wasn't in better shape he would've fallen, cracked his skull, and died." Filipkowski captioned the video.
In the clip, Giuliani can be seen surrounded by people when a ShopRite employee walks from behind him and slaps him on the back.
The person can be seen speaking to the group and Giuliani while walking off.
Giuliani spoke to the New York Post and explained the altercation. He claims that the man who attacked him did so in response to the Roe v Wade abortion ruling being overturned by the Supreme Court.
"All of a sudden, I feel this, 'Bam!' on my back. I don't know if they helped me not fall down, but I just about fell down, but I didn't," he said.
"I feel this tremendous pain in my back, and I'm thinking, 'what the,' I didn't even know what it was.
"All of a sudden, I hear this guy say, 'You're a f**king scumbag," then he moves away so nobody can grab him."
"He says, 'You , you're one of the people that's gonna kill women. Your'e gonna kill women."
"You and your f**king friend are gonna kill women.' Then he starts yelling out all kinds of, just curses, and every once in a while, he puts in that woman thing."
After the incident, the 39-year-old ShopRite employee was detained and charged with second-degree assault involving a person over age 65, according to a report by The Hill.
Rudy Giuliani also said he felt it was important to have the man arrested and condemned his reaction in regards to the Supreme Court decision.
"The Supreme Court made a decision. You don't go around [and] attack people because of it. I mean, go get it changed," he said.
"I say to myself, 'You know something? I gotta get this guy arrested," I talk about broken windows' theory all the time. You can't let the little thing go.
"I'm like, ' I'm gonna get this guy arrested as an example that you can't do this, And I said, also, in New York, we don't prosecute people anymore and one of the reasons I brought crime down is I didn't ignore stuff like this.'"
The ex-mayor also called into the Curtis Sliwa Show on 77 WABC talk radio and said the slap felt like "somebody shot me," and added: "I'm a 78-year-old who is in pretty good shape. If I wasn't, I would have hit the ground and probably cracked my skull."
Andrew Giuliani released a statement following the attack on his father and said he would not be intimidated by attacks by the left-wing.
"Innocent people are attacked in today's New York all of the time. This particular incident hit very close to home.
"The assault on my father, America's Mayor was over politics.
"We will not be intimidated by left-wing attacks. As governor, I will stand up for law and order so that New Yorkers feel safe again.
"This message has resonated with voters throughout my campaign, leading up to Tuesday's primary."
Newsweek has contacted Rudy Giuliani and the New York Police Department for comment.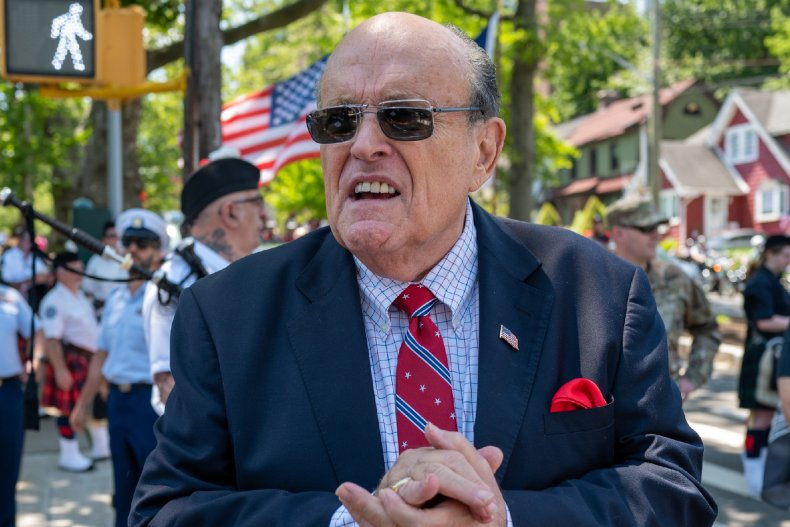 Correction 06/27/22, 09:06 a.m. ET: Corrects to Curtis Sliwa Show on 77 WABC talk radio