Rudy Giuliani Mocks Fox News Judge Andrew Napolitano, Claims He's 'Bitter' at Trump About SCOTUS Job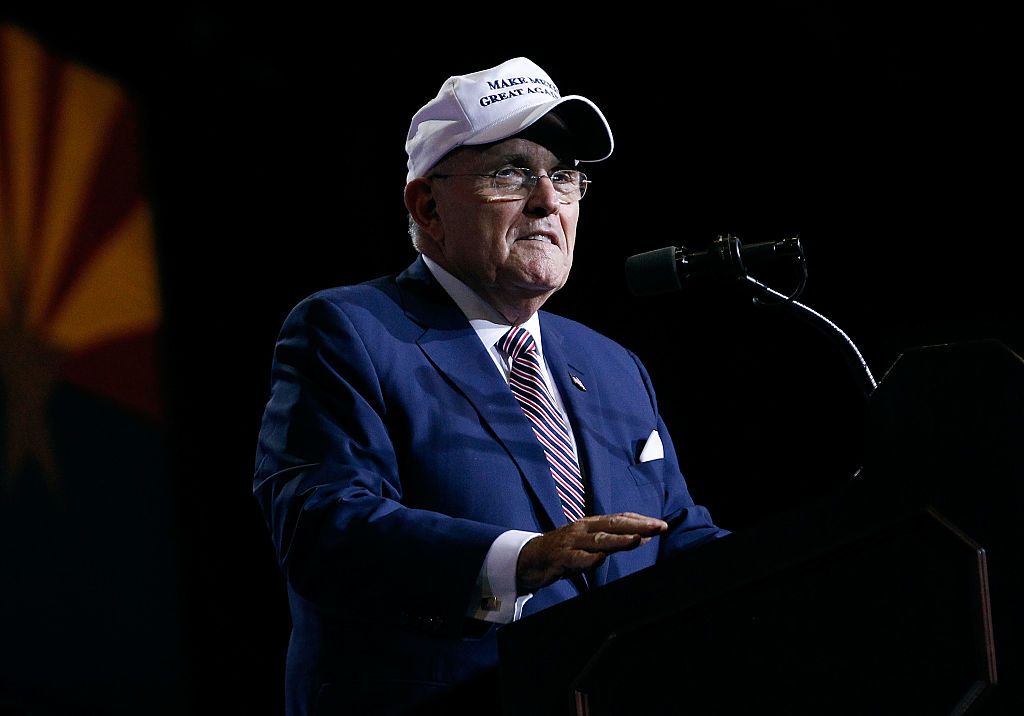 President Donald Trump's personal attorney Rudy Giuliani echoed his client's criticisms of Fox News senior judicial analyst Andrew Napolitano Thursday, claiming the former judge is "bitter" Trump never gave him a U.S. Supreme Court appointment years ago.
Giuliani, the former Republican mayor of New York City, quote tweeted an odd video reply from an unnamed pro-Trump Twitter account appearing to deride Napolitano for giving any legitimacy to Trump impeachment claims arising from special counsel Robert Mueller's report. Last month, former New Jersey Superior Court Judge Napolitano refuted Trump's claim he only became "hostile" toward the president on Fox News after he allegedly asked—and was denied—an appointment to the Supreme Court.
Giuliani's claim is only the latest effort by Trump administration officials to write off critics by saying they begged for jobs in the past. Napolitano called Trump a "friend" last month despite the insult.
"There's something wrong with Napolitano and his now bitter attitude @realDonaldTrump. Maybe he never understood why POTUS didn't appoint him to Supreme Court. He's too smart to confuse communications with conspiracy," Giuliani tweeted, linking to the @ugly_faced_mary tweet.
The video, sent in a random Twitter user's reply to Fox & Friends host Brian Kilmeade. shows the longtime Fox News contributor detailing how Trump had 127 communications with Russians
Napolitano responded to Trump's claim in April, calling it a "brilliant" deflection from Mueller's report and ongoing investigations into potential 2016 campaign collusion with Russian operatives. Napolitano acknowledged to Fox Busines Network's Maria Bartiromo that Trump had hypothetically asked him to describe a good SCOTUS job applicant before turning the question on him.
"Who would turn that down? I gave him the spiel, so-to-speak, and somebody else in the room said 'that's pretty interesting, but the judge is a little long in the tooth,'" Napolitano recalled. "To which the president said 'blank you' to the person and said, 'I'm four years older than the judge, and I'm about to become president.'"
Several Trump critics immediately called out Giuliani's comments about Napolitano, with one reply accusing him of being yet another sycophant in Trump's close circle: "Look at Giuliani adopting Trump's favorite lie. . . 'He begged for a job and I said No. That's why he hates me now.'"
On Thursday, Napolitano appeared on Fox News predicting Democrats will almost certainly subpoena Mueller to testify before the House Judiciary Committee in the near future.
Last month, Napolitano became the latest Fox News personality to become a Trump target, when the president lashed out at the contributor for not agreeing with his agenda and touting Harvard University professor Alan Dershowitz as "destroying" Napolitano.
Trump tweeted a personal attack against Napolitano on April 27, while simultaneously criticizing several Fox News anchor and hosts: "Ever since Andrew came to my office to ask that I appoint him to the U.S. Supreme Court, and I said NO, he has been very hostile! Also asked for pardon for his friend. A good "pal" of low ratings Shepard Smith."