Rudy Giuliani Did What He 'Had to Do' During Grand Jury Testimony: Lawyer
Rudy Giuliani and his lawyers were relatively speechless Wednesday upon leaving a Fulton County courthouse following six hours of questioning before a special grand jury about Georgia's 2020 election results.
Donald Trump's former personal attorney was subpoenaed to testify following the June testimony of Cassidy Hutchinson, an aide to former White House Chief of Staff Mark Meadows, during a January 6 committee hearing. The Atlanta Journal-Constitution reported that the 23-person jury assembled in May has interviewed "dozens" of witnesses in association with Trump and confidants allegedly attempting to overturn Georgia's election numbers.
"I can tell you that we were ordered to be here, we showed up, we did what we had to do," Bill Thomas, Giuliani's local attorney, said following the hearing. "The grand jury process is a secret process and we're going to respect that."
The investigation kicked off in February 2021 at the hands of Fulton County District Attorney Fani Willis, who along with other Georgia prosecutors has looked into whether Trump's request to Georgia Secretary of State Brad Raffensperger to "find" 11,800 votes was unlawful. Biden ultimately won the key swing state's 16 electoral votes by a margin of approximately .23 percent.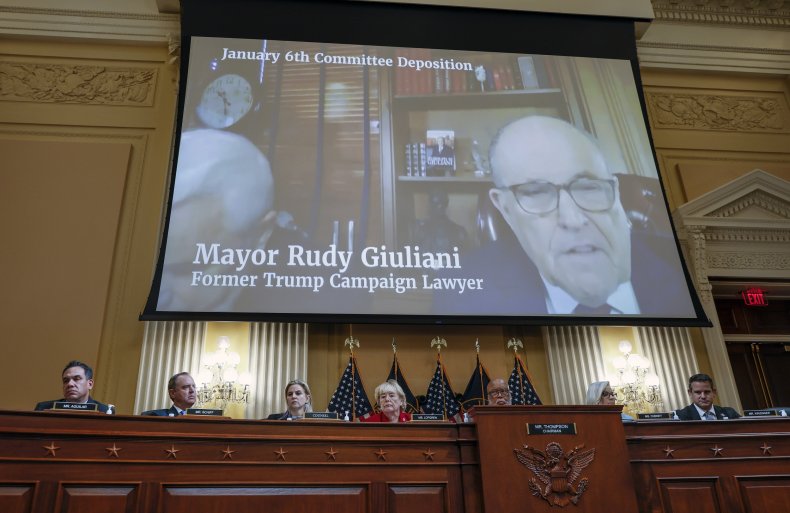 Others besides the former New York City mayor who have been subpoenaed in relation to the 2020 election have included Trump legal team members John Eastman, Kenneth Chesebro, Jenna Ellis and Cleta Mitchell, according to the Atlanta Journal-Constitution, as well as Senator Lindsey Graham of South Carolina—who is alleged to have urged Raffensperger to discard legal ballots.
On Monday, Giuliani, who was recently sued by his ex-wife, Judith, for $262,000 due to a bounced check, appeared on Newsmax and called the Fulton County probe a "desecration of the Sixth Amendment."
"I was [Trump's] lawyer of record in that case," Giuliani said on the network's Spicer and Co. program. "The statements that I made are either attorney-client privileged, because they would between me and him, or they were being made on his behalf in order to defend them. When you start turning lawyers into defendants when they're defending their clients, we're starting to live in a fascist state."
Another of Giuliani's attorneys, Robert Costello, told Newsweek that his client's comment regarding the Sixth Amendment "relates to the statement filed in court in New York that they want to talk to Giuliani about his conversations with his client President Trump"—even though Giuliani made the reference in response to a question about being "a target in the investigation into the 2020 presidential election in Georgia."
Giuliani on Newsmax also referred to the FBI's search of Trump's Mar-a-Lago residence, saying the FBI agents involved in the search "aren't lawyers" and are "not Americans."