Rudy Giuliani risked fresh legal trouble on Wednesday when he accused two Georgia election workers, whom a judge had concluded he had defamed, of having "thrown people out and counted the ballots in private" during the 2020 presidential election.
The former New York mayor was part of Donald Trump's legal team as he allegedly sought to overturn the 2020 election outcome, based on discredited conspiracy theories claiming the vote was rigged. In August, Giuliani was one of 18 Trump associates charged alongside the former president over claims they broke the law trying to block Joe Biden's election win in Georgia. He has pled not guilty to 13 counts, describing the case as an "attack on the American people."
On August 30, Judge Beryl Howell found that Giuliani had defamed two Georgia election workers, Ruby Freeman and Shaye Moss, with a ruling on potential damages expected shortly. Giuliani had admitted to making "false" statements about the two women, who were employed by the Fulton County Board of Elections in 2020, but insisted he was "constitutionally protected" under the First Amendment. Following the election, Giuliani shared a video which incorrectly suggested Freeman and Moss had been altering ballots.
Despite the ruling, during a Newsmax appearance, Giuliani renewed his attack on Freeman and Moss after claiming legal cases against Trump's associates are "funded very very amply."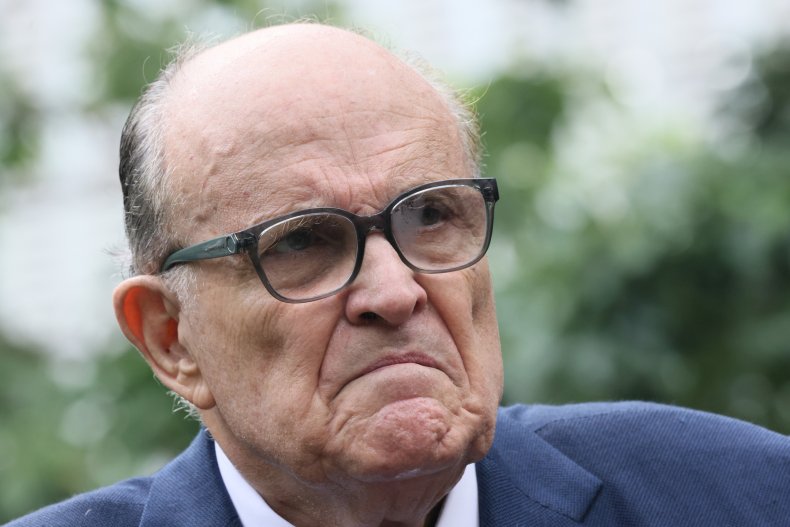 He said: "For example, the case brought by those two women in Atlanta that threw people out and counted the ballots in private, in violation of Georgia law, they're being represented by a Wall Street law firm called Willkie Farr that is a multibillion-dollar law firm. And I don't think you get out of that law firm without paying a million-dollar legal fee."
Newsweek has approached Willkie Farr & Gallagher LLP, which represents Freeman and Moss, for comment by telephone and via the contact form on their official website. A legal representative for Rudy Giuliani has also been contacted by email.
"They've probably run up about 8-10 million dollars of legal fees. I doubt that these two defendants are paying it, in fact, I have every reason to believe it's being paid for by organizations that are paying for similar cases against Trump lawyers. Their interest is not the case, their interest is the process. In other words, they want to punish you by process."
In 2022, Freeman and Moss testified to the House Select Committee which was investigating the Capitol Hill riot and associated attempts to block Biden's election victory. The mother and daughter claimed false allegations linking them to electoral fraud resulted in them fearing for their lives.
Michael J. Gottlieb, a lawyer representing the two election workers, said they "honorably performed their civic duties in the 2020 presidential election in full compliance with the law; and the allegations of election fraud he [Giuliani] and former President Trump made against them have been false since day one."
On Monday, Giuliani left the 9/11 memorial commemoration at Ground Zero in New York, held to mark the 22nd anniversary of the attacks, early later stating: "I almost felt like I wasn't being true to the memory of the people who died on that day."
During a separate appearance on Real America's Voice network, Giuliani alleged he heard Vice-President Kamala Harris "giggle" during the ceremony.