Rudy Giuliani Mocks 'Idiot' Robert Mueller, Performs Unflattering Impression of Special Counsel
A fired up Rudy Giuliani railed against former Special Counsel Robert Mueller just prior to his testimony before Congress on Wednesday, describing him as a bumbling "idiot" and even performing a Frankenstein-like impression of the Trump investigation leader.
Giuliani, speaking on Fox & Friends Wednesday morning, said today's Mueller testimony is purely a Democratic Party-led charade for "sound bites" that make his client, President Donald Trump, look corrupt. Giuliani demanded to hear Mueller testify about his convoluted ties to Hillary Clinton campaign figures rather than any part of the Russia investigation. Giuliani painted Mueller as an "idiot" and repeatedly did an unflattering impression of him saying "no collusion" for the Fox News co-hosts.
Fox & Friends co-host Steve Doocy described Mueller as a "hands off" member of the probe, suggesting he "doesn't know a lot" about his own namesake report's findings. Responding, Giuliani remarked of Mueller's role in previously presenting the findings, "He showed up once. Kinda made an idiot of himself. Didn't know...stuff. I was shocked. I called John Dowd later. I said, 'I remember this guy 20, 30 years ago. What's happened to him?'"
"What do you want the Republicans to ask? We already know what the Democrats are going to ask him," co-host Ainsley Earhardt asked Giuliani.
"I want them to ask fairly detailed questions about what he knew, when he knew it, when did he find out that there was no collusion how come we had another year of investigation after that?" Giuliani said. He then condemned Mueller hiring controversial prosecutor Andrew Weissman, who left the investigation in March, and who Giuliani and right-wing media figures have accused of being "so out of his mind in love with Hillary Clinton that he cried at her loss party."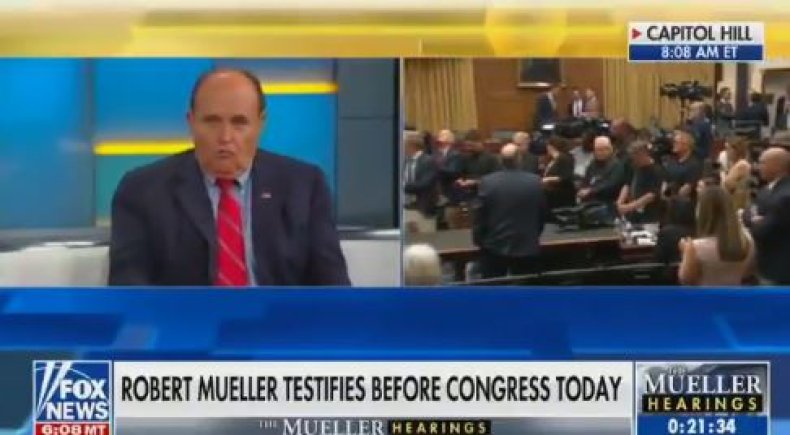 "Did you supervise Weissman?" Giuliani asked Mueller hypothetically. "Did you know that Manafort was in solitary confinement?"
Weissman was the lead prosecutor behind the case against former Trump campaign chairman Paul Manafort, who was sentenced to 7-and-a-half years in federal prison earlier this year in two cases unrelated to the Russian collusion investigation.
Giuliani performed his Frankenstein-like impression of Mueller testifying before Congress, pulling back his face and repeating "obstruction of justice." Giuliani predicted that a member of Mueller's counsel at today's testimony will lean into his ear and whisper "obstruction of justice" for him to repeat into the microphone. Giuliani suggested the entire point was to enable Democrats to acquire a media "sound bite" to use against Trump in 2020.
Giuliani then suggested Mueller didn't perform his due diligence in the investigation and there may be an even wider conspiracy behind the Mueller investigation altogether.
"You know what's going to happen in the next 2 to 3 months? We're going to find out that there is a crime that was committed. It's called conspiracy. With Ukranians, with people in the UK, Italy ... organized by somebody. Mueller never even bothered to find out," Giuliani said.
Giuliani frequently appears on Fox News in order to offer rebukes of the Mueller investigation as well as offering spirited and often dramatic defenses of his client, Trump. In April, Giuliani appeared on the cable news network asking Mueller, "Who made you God?"