Rudy Giuliani said when he was slapped on the back on Sunday, it at first felt like somebody had shot him.
While campaigning for his son Andrew Giuliani's gubernatorial campaign in Staten Island, the former New York City mayor stopped at a ShopRite grocery store to use the restroom. However, once he came out, an alleged grocery store employee appeared to walk up behind him and slap him on the back.
Giuliani recounted the alleged assault while appearing on The Curtis Sliwa Show.
"I come out of the men's room. A group of people are around me, hugging me, kissing me, telling me Andrew's great," he said. "All the sudden, I feel a shot on my back, like somebody shot me. I went forward, but luckily I didn't fall down."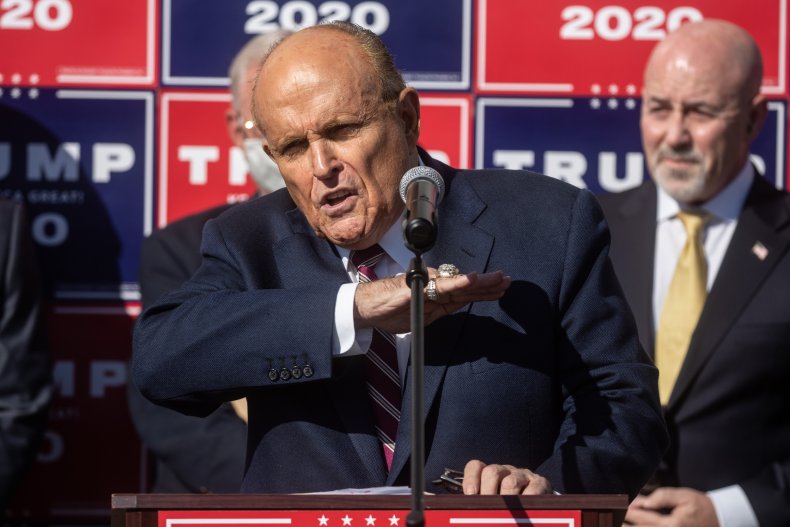 The former mayor added that he is "lucky" he is in "pretty good shape," because if he were not, he could have "hit the ground and probably crack my skull."
After the alleged assault, the suspected attacker who has been identified as 39-year-old Daniel Gill, allegedly began yelling at Giuliani, accusing him of "going to kill women," remarks he told The New York Times he understood to be about the Supreme Court's overturning of Roe v. Wade, the 1973 landmark case that protected a pregnant woman's right to choose to have an abortion.
Video of the incident, which has been viewed more than 2.5 million times on Twitter, showed Gill slap Giuliani on the back, with Giuliani appearing to be surprised. He then appeared to confront Giuliani before others walked him away from the former mayor.
Giuliani was not hospitalized and did not appear to suffer any serious injuries, though he told The New York Post on Monday that he plans to see a doctor to ensure he was not hurt.
Gill was arrested inside the ShopRite and has been charged with second-degree assault involving a person over the age of 65, according to the Post. He is set to be arraigned in Staten Island Criminal Court on Monday.
The former mayor has said prosecuting Gill is the correct move by law enforcement, warning he could have suffered serious injuries if he had been knocked down by the employee.
"It was a very, very heavy shot. He could have easily hit me, knocked me to the ground and killed me," he said. "He's lucky he didn't knock me down. Falling is extremely dangerous for an elderly person."
Andrew Giuliani wrote in a statement on Twitter Sunday: "Innocent people are attacked in today's New York all of the time. This particular incident hit very close to home. The assault on my father, America's Mayor, was over politics. We will not be intimidated by left wing attacks."
Newsweek reached out to Giuliani for comment.