Rudy Giuliani Says Biden DOJ Investigating Trump Would Lead to 'Banana Republic' After Pushing Biden Corruption Probe
Rudy Giuliani insisted the U.S. would "become a banana republic" if a Joe Biden administration pursued a criminal investigation of the current president. His comments, made to former Arkansas Governor Mike Huckabee during a Fox News interview on Wednesday night, came despite Giuliani's previous advocacy of a federal corruption probe into the presumptive Democratic nominee.
"How unprecedented and damaging would it be for a Biden administration to criminally prosecute a former president?" Huckabee asked during the interview.
"Well, we would become a banana republic, Governor. And that's where we're headed," Giuliani responded.
The former New York City mayor and personal attorney to President Donald Trump went on to criticize Biden and his recently named running mate, California Senator Kamala Harris. Before entering Congress, Harris served as San Francisco's district attorney and, later, California's attorney general.
"I mean, Biden...Biden has nothing left," Giuliani said. He described Harris as "a very mean woman" and claimed "she was a phony prosecutor."
Giuliani and Huckabee discussed the possibility that a Biden administration would sanction a Department of Justice (DOJ) inquiry into Trump's actions while in office. In 2019, as Harris led her own presidential campaign, the senator told The NPR Politics Podcast she would likely direct the Justice Department to criminally investigate Trump if elected.
"I believe that they would have no choice, and that they should, yes," Harris said at the time. She referred to findings included in special counsel Robert Mueller's report on his investigation into Russian election interference, which indicated possible obstruction of justice on Trump's part. Trump was later impeached by the House on abuse of power and obstruction of Congress charges in connection with the Ukraine scandal, then acquitted in the Senate.
During the impeachment inquiry, Trump openly acknowledged that he instructed Giuliani to investigate accusations against Biden and his son Hunter in connection with Ukraine. In February, Giuliani encouraged Trump to launch a federal probe into Biden over unsubstantiated corruption claims.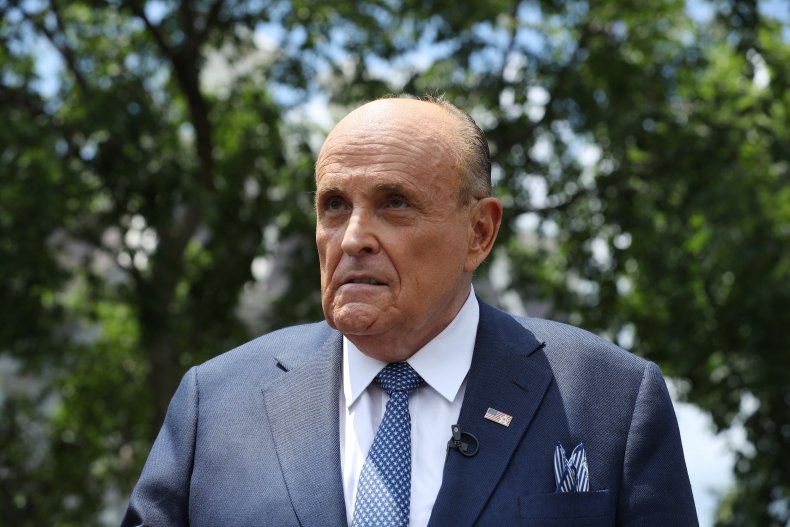 Speaking last week about a Justice Department inquiry into Trump, Biden told NPR that a federal prosecution of a former president would be "very unusual" and "probably not very...good for democracy." However, he said he would not "interfere" should the department decide to move forward with an investigation.
"Look, the Justice Department is not the president's private law firm. The attorney general is not the president's private lawyer," Biden said. "I will not interfere with the Justice Department's judgment of whether or not they think they should pursue the prosecution of anyone that they think has violated the law."
Newsweek reached out to the Biden campaign and White House for comments but did not receive replies in time for publication.
Rudy Giuliani Says Biden DOJ Investigating Trump Would Lead to 'Banana Republic' After Pushing Biden Corruption Probe | U.S.