Rudy Giuliani Says Police Have a 'Hard Time' Because They 'Can't Punch You'
Rudy Giuliani lamented that police officers can no longer "punch" civilians in an interview over the weekend.
"You can't touch anybody," the former New York City Mayor and Donald Trump ally said in a radio interview with host Joe Pags on Friday, joining to discuss crime in the city. A clip from the show has circulated on social media.
"One of the reasons the cops are having a hard time...they're not allowed to touch you between here and here," Giuliani said, gesturing from his chin to his waistline, adding, "they can't punch you."
It is unclear where Giuliani sourced this claim, as law enforcement officers are permitted the use of force in circumstances including self-defense and defense of another person or group, according to the National Institute of Justice.
Just this month, viral footage showed three Arkansas police officers repeatedly punching and kneeing a suspect. Another video from October captured Florida police officers tackling, punching and taunting a man who attempted to film the arrest of another man, despite evidence that he complied with their orders prior to being attacked.
Giuliani also suggested that if police punched more, they would shoot less. He recalled that his uncle, a decorated police officer, could "put you down with one punch."
"Think of the people he didn't have to shoot because of that," he said.
The number of people shot to death by police in the United States has steadily increased since 2017, with a rate much higher among Black Americans than for any other ethnicity, according to data from Statista. In 2021, there were 1,055 fatal police shootings.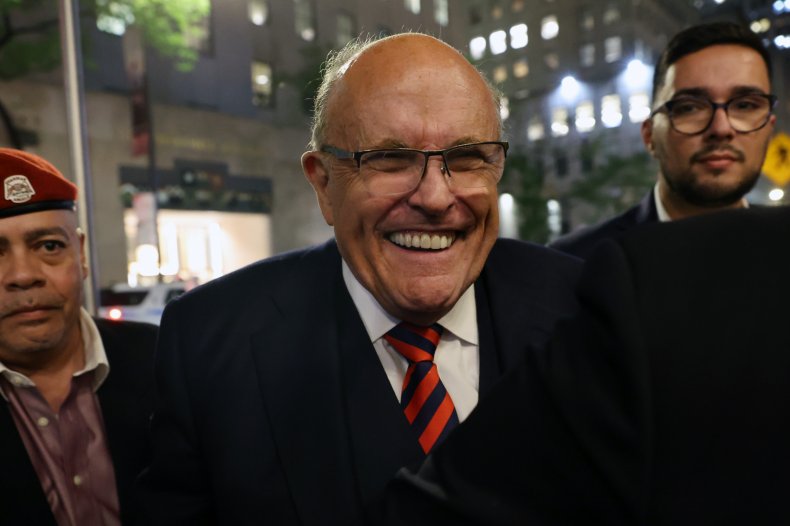 As mayor in the 1990s, Giuliani famously oversaw "broken windows" policing, a campaign based on the theory that small crimes such as vandalism, loitering and fare evasion create a climate leading to larger crimes. Together with police commissioner William Bratton, he ran a crackdown on petty crime.
This paradigm has been criticized by a range of activists for disproportionately targeting minority groups, particularly low-income Black communities. Policing of minor crimes has ended in the killings of numerous Black people whose names became rallying cries of the Black Lives Matter movement.
George Floyd, whose 2020 murder catalyzed global protests, was killed by Minneapolis police officer Derek Chauvin after a store clerk suspected that he may have used a counterfeit $20 bill. Eric Garner, killed by a New York City police officer in 2014, was suspected of selling loose cigarettes.
Nationwide, less than 5 percent of the 10 million arrests made each year are for violent crimes, according to the Vera Institute of Justice. A News York Times analysis found that police departments in New Orleans, Montgomery County and Sacramento spent about 4 percent of their time handling violent crime in 2020.
Newsweek reached out to Rudy Giuliani for comment.