Rudy Giuliani Set To Speak at QAnon Event As 'Trump Pardon' Claims Surface
Former New York City mayor Rudy Giuliani has been listed as a speaker at an upcoming QAnon-linked conference amid claims an associate of his asked Donald Trump to give the politician a pardon.
Giuliani, formerly Trump's personal lawyer, is listed as a "keynote" speaker at the upcoming For God and Country: Victory Roundup scheduled to be held in Dallas between November 18 and 20.
The convention is organized by John Sabal, who previously went by the moniker QAnon John, and his partner Amy, who continue to push the false claim Trump won the 2020 presidential election.
Sabal had downplayed his QAnon-related rhetoric following the inauguration of Joe Biden, a catastrophe for its followers, but re-shared his oath to the movement in a June 25 Telegram post following the supposed re-emergence of the "Q" account that spread the conspiracy online.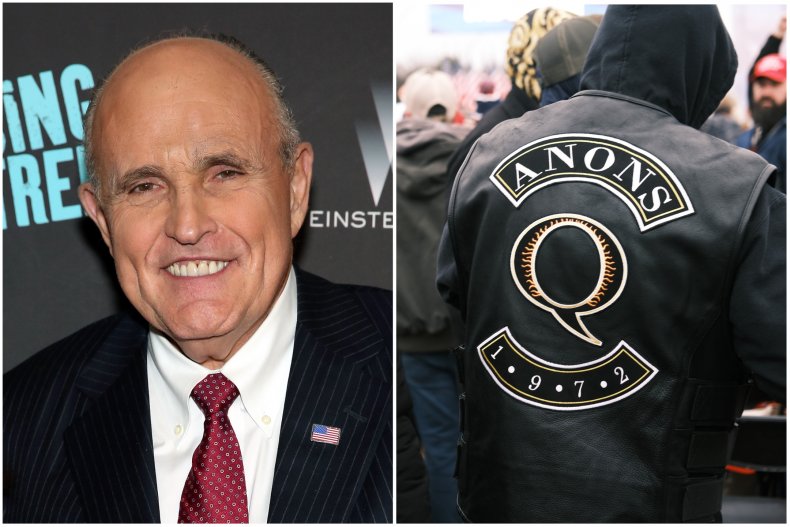 Giuliani has a top-billing for the event and would join 2020 presidential election conspiracy theorist Dinesh D'Souza, whose 2,000 Mules film claimed to have proof of widespread voter fraud, should he attend.
Multiple fact checks by the Associated Press, PolitiFact and Reuters said the film was misleading, flawed or lacked concrete evidence.
Those wanting to attend the conference will have to pay $650 for an all-weekend pass, or $1,300 for a VIP all-weekend pass.
While the former New York City mayor is listed as attending the event, it is unknown at this time whether he will ultimately go or has knowledge of Sabal's affiliation with QAnon.
The Patriot Voice, a moniker now used by Sabal, is a group that has organized events that have featured people who have promoted the QAnon and 2020 presidential election conspiracy theories.
Previous events held by Sabal featured Republican politicians who have shared the false claim the 2020 election was stolen, Ron Watkins—who has been accused of being behind the "Q" account—and actor Jim Caviezel. The Passion of the Christ star has previously pushed QAnon conspiracy theories.
Giuliani's scheduled appearance at the upcoming QAnon-linked event comes amid claims that one of his associates requested a pardon on his behalf.
According to a forthcoming book Giuliani: The Rise and Tragic Fall of America's Mayor, by Andrew Kirtzman, Maria Ryan requested that he receive the Presidential Medal of Freedom as well as a "general pardon."
The New York Times reported the book featured a letter written by Ryan to Trump on January 10, 2021, which read: "Mr. Giuiliani rarely asks for anything for himself. He is praying you present him with this on Friday, January 15, or Monday the 19."
According to the publication, the letter to Trump referenced the presidential pardon.
Robert Costello, an attorney who is representing Giuliani, told The Hill that "Mayor Giuliani was unaware of those notes if they exist."
He added: "The Mayor did not authorize or request the notes. The Mayor has been consistent that he never asked for a pardon and told President Trump that if he was offered a pardon he would decline it because he didn't do anything wrong."
Newsweek has contacted Giuliani's representative, the Patriot Voice and Mike Rothschild, author of The Storm is Upon Us: How QAnon Became a Movement, Cult and Conspiracy Theory of Everything for comment.