Rudy Giuliani's Son Says His Father Did 'Nothing Illegal' After FBI Raid
Rudy Giuliani's son defended his father and insisted he had done "nothing illegal" after FBI agents raided the home of former President Donald Trump's attorney earlier this week as part of a probe into his dealings in Ukraine.
Andrew Giuliani backed his father in an interview with CNN, and said he was confident the former New York City mayor had done everything "on the up and up."
He tried to deflect attention onto Hunter Biden, the son of President Joe Biden, who is also facing a federal probe into his foreign business dealings and finances.
Giuliani told CNN: "My father represented the president in good faith, and... this is all theoretical, if there was something illegal that happened. There's nothing illegal that happened."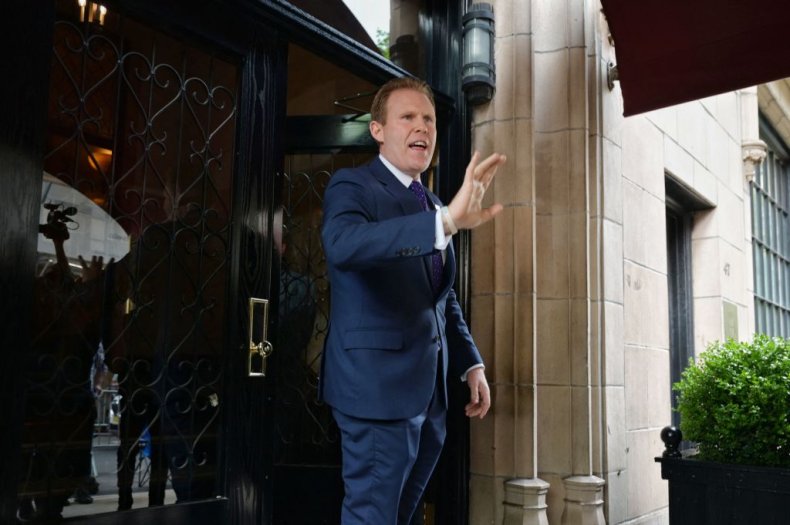 Pressed on whether his father would divulge details about former President Trump in a hypothetical plea bargain, Giuliani added: "Well what I would say is, I do wonder if Hunter Biden's going to be charged with the [Foreign Agents Registration Act] allegations that are out there against him.
"In terms of that, that's where I wonder. I'm confident my dad did everything he did on the up and up. That's where I'll leave it there. I trust him. I trust his relationship with the president."
Investigators are probing whether Giuliani violated a federal law governing lobbying on behalf of foreign countries while he was working as Trump's personal lawyer.
FBI agents searched Rudy Giuliani's Manhattan apartment on Wednesday after securing search warrants they were unable to obtain for around two years under the Trump administration. Several electronic devices were among the items seized.
The New York Times reported that agents also searched his Manhattan office in a dawn raid, and seized electronic devices from that location as well. In an interview with Fox News on Thursday, Giuliani said agents took around "seven or eight" of his electronic devices.
"The DOJ in late 2019 covertly obtained access to my iCloud and never notified me," the former mayor tweeted last night. "They invaded the attorney client relationship as we were defending against the phony impeachment. These prosecutors violated the laws, not me. If again, nothing is done, you could be next."
In a statement, Giuliani's attorney Robert J. Costello said his client denied any wrongdoing in his Ukraine dealings, and said federal investigators had run "roughshod" over the constitutional rights of former President Trump's allies.
He also said his client was the victim of a "corrupt double standard" and he tried to direct attention to Hunter Biden, a tactic replicated by Giuliani and his son during broadcast interviews yesterday.
The former New York City mayor has repeatedly denied wrongdoing, and the raid on his apartment does not confirm that a crime was committed.