Rudy Giuliani Tells Tucker Carlson DOJ Wants to 'Put Him In Jail' to Protect Hunter Biden
Rudy Giuliani, former President Donald Trump's personal lawyer, told Fox News host Tucker Carlson on Thursday that the Department of Justice (DOJ) hoped to put him "in jail" over his investigation of President Joe Biden's son Hunter Biden.
On Wednesday, Giuliani's New York City apartment was raided by federal agents serving a search warrant for his electronic devices. The warrant had been issued more than two years earlier but the DOJ was blocked from executing it during the Trump administration.
During an appearance on the Thursday edition of Fox News' Tucker Carlson Tonight, Giuliani insisted that the Biden administration hoped to imprison him over hard drives he possessed that had allegedly been owned by Hunter Biden, although agents refused to take the drives during the raid.
"When they had taken about, I'd say, seven or eight electronic items of mine... they weren't taking the three hard drives," Giuliani told Carlson after being asked about the raid. "I said those are Hunter Biden's hard drives. And they said no, no, no, no! ... Hunter Biden's hard drives fall within the scope of the subpoena. The subpoena required them to take all electronics, but they decided to leave that behind."
"Thirty years of the Biden crime family violating our laws—that is what is on the hard drive that they have censored," he added. "And that's why they want to put me in jail."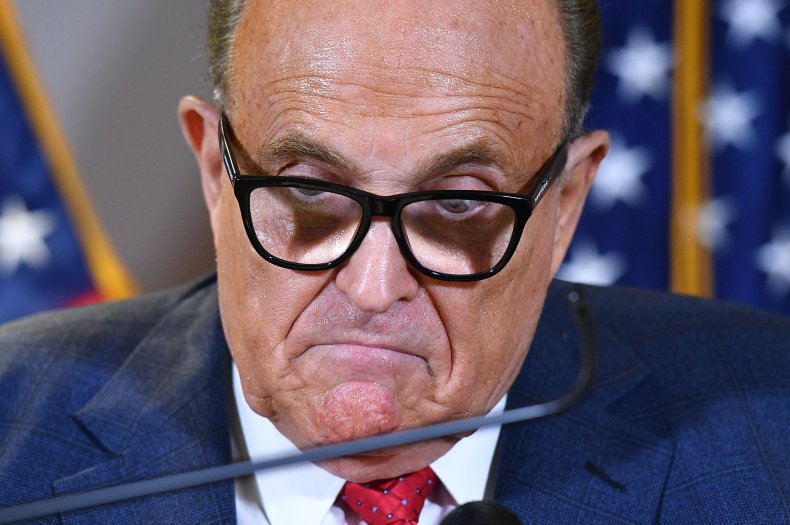 Giuliani claimed that the hard drives that purportedly belonged to Hunter Biden contain proof of multiple illegal activities by the president's son, including failure to register as a foreign agent—something that has been alleged about Giuliani as well.
The warrant was issued in 2019 amid an investigation into alleged ties between Giuliani and Ukrainian officials. Giuliani told Carlson that he had "never ever represented a foreign national," saying that he has "a refusal to do it" written into his contracts. The majority of the interview was focused on Hunter Biden to such an extent that Giuliani referred to Carlson as "Hunter" at one point.
On Wednesday, Giuliani's attorney Robert J. Costello also maintained in a statement that the raid was about "the Biden Crime family," adding that by refusing to take the drives that allegedly belonged to Biden "the FBI left behind the only electronics that contain evidence of crimes."
In multiple interviews promoting the release of his memoir earlier this month, Hunter Biden said that he was unsure that Giuliani's hard drives had belonged to him. Biden described the issue as a "red herring" during an appearance on Jimmy Kimmel Live, saying that he was "within my rights to question anything that comes from the desk of Rudy Giuliani."
Newsweek reached out to Costello for comment.