Rudy Giuliani urged Eminem to "go to another country" after the rapper decided to take a knee during Sunday's Super Bowl halftime show performance.
"Let's get right to Eminem taking a knee," Giuliani said during his radio program, Rudy Guiliani Show, on Monday. "Why doesn't he go to another country? I mean, go take a knee someplace else. You know how many cops were defending him and protecting him at that game yesterday? I mean crime is way out of control in Los Angeles."
"He thinks that all happened because everybody loves Eminem?" the former New York City mayor continued. "The simple reality is the NFL has made a mockery of law enforcement, particularly with its support for the cop-killing Black Lives Matter."
Eminem knelt at the Super Bowl after performing his Oscar-winning song "Lose Yourself" while his co-headliner, Dr. Dre, played the piano. Taking a knee has become a symbolic gesture against racial injustice and police brutality, as well as a culture war flashpoint since former San Francisco 49ers quarterback Colin Kaepernick first knelt as the national anthem played before a game in 2016.
A short video clip of Eminem taking a knee had been viewed on Twitter at least 2.5 million times as of Tuesday. While some praised Eminem for the moment, Giuliani was not alone in his criticism. Other prominent conservatives who lashed out at the rapper included Donald Trump Jr. who mockingly said he looked like Ellen DeGeneres.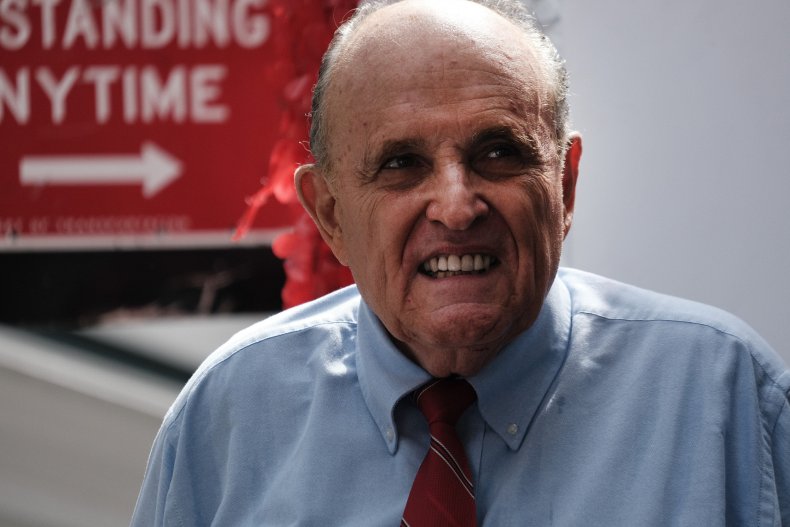 In addition to urging Eminem to leave the country, Giuliani also took aim at Super Bowl halftime performer Snoop Dogg on Monday, mocking his rapping style and referring to him as "Snoop 'kill police' Doggy Dogg."
"Just a few days ago he put out a song if that's what he does," Giuliani said. "To me, he's kind of like [unintelligible grumbling sound]... ere's a good thing: you know, he uses the n-word and dirty...I don't even understand him, so you know, it doesn't have a big effect on me."
"The only way I knew the lyrics of his song kept using the n-word and kept encouraging people to kill police officers was because somebody gave me the lyrics," he continued. "I would not have been able to understand a word that he said."
Giuliani was likely referring to a song that Snoop Dogg released with fellow rap artist J5 Slap last month titled "Police." The track inspired a New York police group to boycott the Super Bowl and has been controversial for encouraging listeners to "start shooting" police, although the offending lyrics were not delivered by Snoop Dogg himself.
Newsweek reached out to Eminem's representative and Giuliani for comment.