Rudy Giuliani Wants Protections From Jan. 6 Committee Before Testifying
Rudy Giuliani is expected to speak in the upcoming weeks with the House Select Committee investigating the January 6 attack, although the scope of what he will discuss may be limited.
Giuliani, who was among four members of Donald Trump's legal team subpoenaed by the panel on January 18, is said to have agreed to meet with the committee investigating the Capitol attack sometime in May, reported CNN.
The agreement follows months of negotiations between both parties for Giuliani to come forward and provide testimony about the events leading up to January 6, including whether he should give an informal interview or a formal deposition.
However, CNN previously reported that while Giuliani is willing to discuss the false claims of voter fraud in the 2020 election with the committee, the lawyer for the former president would not waive executive or attorney-client privilege.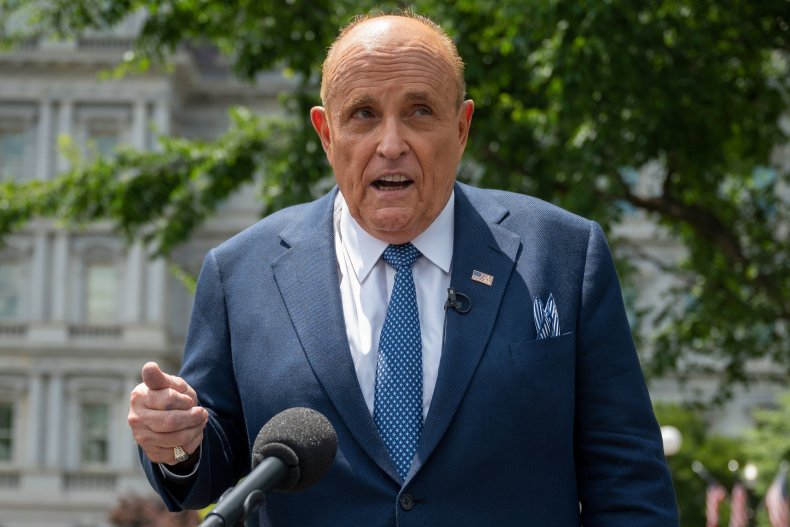 Neama Rahmani, a former federal prosecutor, previously told Newsweek that trying to force Giuliani to fully testify would prove fruitless as he can invoke attorney-client, which is the "most sacred privilege" under law.
"Attorney-client privilege—confidential communication between attorney and client providing the legal advice, is absolutely protected," Rahmani said. "That's not something that law enforcement, courts, Congress, can delve into."
Giuliani is said to be willing to testify under oath about his false election fraud claims, which are not covered by privilege.
Giuliani is accused by the January 6 panel, which is not a criminal probe, of actively promoting claims of election fraud on Trump and seeking to "convince state legislators to take steps to overturn the election results."
The panel said while announcing the subpoena against Giuliani that the lawyer was also in contact with Trump and members of Congress "regarding strategies for delaying or overturning the results of the 2020 election."
A number of Trump's inner circle, such as former White House advisers Steve Bannon and Peter Navarro and ex-Deputy Chief of Staff for Communications Dan Scavino, have cited executive privilege—a protection for a president to make sure official conversations stay private—for their reasons to not comply with their subpoenas issued by the January 6 panel.
Bannon has since been charged with contempt after his arguments for not complying were thrown out, with Navarro and Scavino facing criminal charges after the House voted to hold them in contempt for defying their subpoenas.
Trump also invoked executive privilege in his attempts to withhold hundreds of documents from the National Archives being released to the committee, but his attempts were thrown out by the Supreme Court in January.
The House Select Committee previously said they expect Giuliani to "cooperate fully."
Giuliani's lawyer, Robert Costello, has been contacted for comment.