Rudy Giuliani, Sidney Powell Subpoenaed by 1/6 Committee—Will They Comply?
The House committee investigating the Jan. 6 Capitol riot has subpoenaed Rudy Giuliani, Jenna Ellis, Sidney Powell and Boris Epshteyn, all attorneys in the 2020 re-election campaign of then-President Donald Trump.
It's unclear whether any of the former Trump attorneys will comply with the committee subpoenas. Many of Trump's former associates—like former White House advisor Steve Bannon and former White House chief of staff Mark Meadows—haven't. Some have invoked the Fifth Amendment to avoid testifying.
"The four individuals advanced unsupported theories about election fraud, pushed efforts to overturn election results, or were in direct contact with the former President," the committee wrote in a Tuesday evening tweet.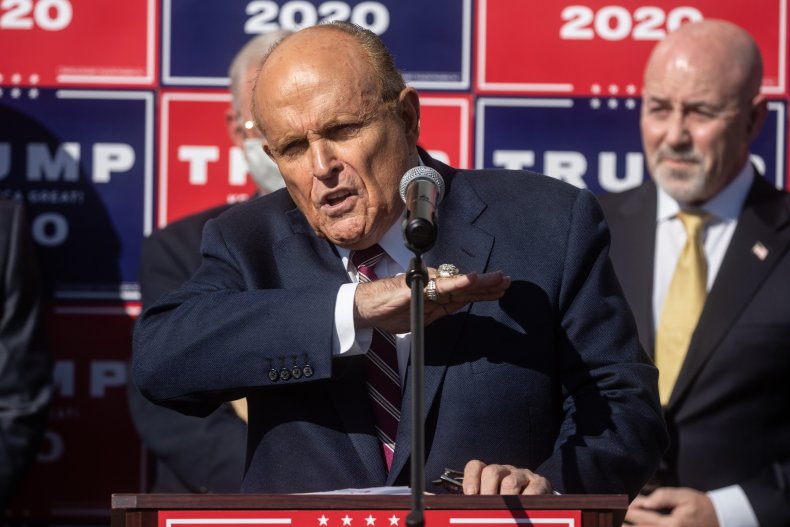 After the 2020 election, Giuliani and Powell both claimed that voting machines had been rigged to "steal" the election from Trump—Giuliani has since said he didn't have time to make sure the claims were true. He and Powell are being sued by voting machine manufacturers for their baseless claims.
Also following the election, Ellis claimed that enough evidence existed to "decertify" the 2020 election results in at least five states.
Epshteyn—who served as senior advisor for Trump's 2016 campaign and assistant communications director for surrogate operations in Trump's White House—was also a member of a D.C.-based "command center" team that sought to prevent Congress from certifying Trump's election loss, The Washington Post reported.
Democrats fear that if Trump's associates don't face legal consequences for stonewalling the committee before the 2022 midterm elections, Republicans could regain control of the House and end the committee's attempts to pressure them into testifying.
Congress has the power to sue those who have ignored subpoenas, but has yet to take this action against any Trump associate. Regarding Bannon and Meadows, the committee handed its contempt citation to the Department of Justice (DOJ) for prosecution.
In November 2021, the DOJ indicted Bannon on two counts of contempt of Congress for defying the committee's subpoenas and refusing to answer its questions. Bannon's defense team has attempted to delay the resulting court proceedings until near the 2022 midterms.
Meadows hasn't been indicted yet. He has sued the committee and claimed that his conversations while working in the White House are protected by "executive privilege."
Other Republican Congress members may soon face their own pressure to comply with the committee's orders. Illinois Republican Representative and committee member Adam Kinzinger has said that the committee would "absolutely" subpoena his Republican colleagues to testify if necessary.