Attorney Sidney Powell, who filed multiple failed lawsuits in an effort to overturn former President Donald Trump's 2020 election loss, filed a countersuit against Dominion Voting Systems late Friday—seeking $10 million in damages.
Powell, like a number of other Trump allies, promoted bizarre conspiracy theories about the 2020 election. She alleged that Dominion Voting had conspired with deceased Venezuelan President Hugo Chavez, the Chinese Communist Party and foreign hackers to rig the election in favor of President Joe Biden. The pro-Trump lawyer did not provide evidence to substantiate the claims.
Dominion Voting filed a defamation lawsuit against Powell seeking $1.3 billion in damages. Thus far, Powell's efforts to get that suit dismissed have failed, and on Friday she filed a countersuit against the company.
In the new court filing, Powell alleged Dominion was "diverting attention from the failings of its election equipment, trying to change the 'narrative' that was exposing Dominion's serious flaws and wrongdoing, and avoiding post-election inquiry into voting irregularities in the 2020 election" by suing her.
Despite her claims, Powell has not provided evidence substantiating her allegations against the voting systems company.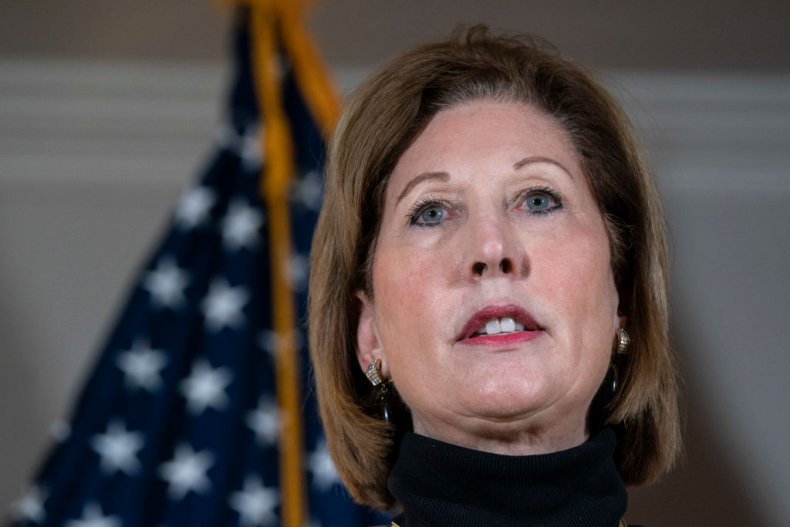 Powell alleged that the $1.3 billion suit against her is a "public-relations campaign to change the narrative, to hide the truth, and to discourage future challenges and negative reporting." She called the amount of damages sought by Dominion "ludicrous" and an "abuse" of the legal system.
The new lawsuit filed by Powell appears at odds with an effort to dismiss Dominion's case against her back in March. At that time, her attorneys argued that "no reasonable person" would believe her conspiracy theories and she should not be liable.
The pro-Trump attorney—who initially represented the former president's campaign—was widely panned by liberals and conservatives alike for her bizarre claims. After a November press conference by Trump's attorney Rudy Giuliani and Powell, former New Jersey Governor Chris Christie, a Republican, slammed the lawyers.
"And what's happened here is, quite frankly, the content of the president's legal team has been a national embarrassment," Christie said on ABC News at the time.
Although Trump and his allies continue to baselessly claim that the 2020 election was "rigged" in favor of Biden, The Washington Post reported an internal Trump campaign memo this week that debunked the allegations back in November. However, it's not clear that Trump himself ever reviewed that document.
Nonetheless, after more than 10 months of promoting election misinformation—no evidence has emerged to substantiate Trump's and Powell's extraordinary allegations. Dozens of election challenge lawsuits filed by the former president and his supporters have been dismissed in state and federal courts. Even judges appointed by Trump and other Republicans have rejected the lawsuits.
Meanwhile, audits and recounts in key battleground states—including in places where the election was overseen by pro-Trump Republicans—have reaffirmed Biden's victory. Former U.S. Attorney General William Barr, who was widely viewed as one of Trump's most loyal Cabinet officials, has asserted that there is "no evidence" to support claims of widespread voter fraud.
Newsweek reached out to Dominion Voting for comment, but did not immediately receive a response.