Trump 'Succeeded' Where Russia Failed With Attacks on Election Integrity, Says Ex-GOP Arizona AG
Arizona's former Attorney General Grant Wood slammed the election misinformation spread by former President Donald Trump and his right-wing allies, saying they have "succeeded" where Russia and other enemies of the U.S. have previously failed.
Wood served as Arizona's attorney general from 1991 to 1999 when he identified as a Republican, and later became a Democrat in 2018. The former GOP official's remarks came in response to the results of the controversial Cyber Ninjas audit of Arizona's Maricopa County's 2020 election results—which reaffirmed President Joe Biden's victory over Trump. The Cyber Ninjas audit had been launched by Arizona Senate Republicans due to Trump's baseless claims of widespread voter fraud.
"Part of the irony here from these so-called true blue—red, white and blue Americans—is that this has always been the goal of Russia and of our enemies abroad who couldn't defeat us in any other way. They wanted us to try to fall from within when we as a people no longer had confidence in our democratic institutions," the ex-Republican told MSNBC on Saturday morning.
"So through all of this nonsense, through trying to support autocrats, trying to stay in power no matter what ... They've succeeded where our enemies have failed," Wood asserted.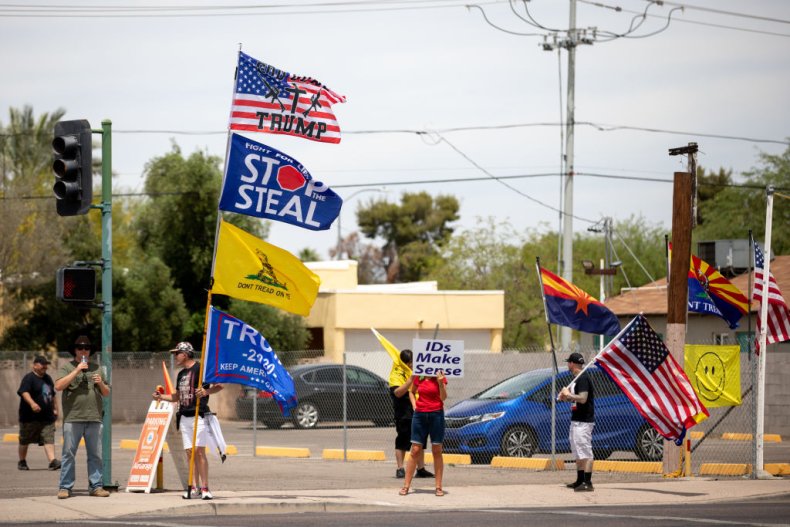 The former Arizona official said that "all we can do is tell the truth" to push back against the misinformation. Wood said he and others "would be happy" to tell voters if there was actually widespread fraud.
"It's not the case. We do a pretty good job [with elections] in this country, and actually we do a really good job," he said.
The Trump-backed audit of Maricopa County found that the former president won 45,469 fewer votes than Biden, whereas earlier county results showed he lost by 45,109—a minor discrepancy of 360 votes in favor of Biden. The recount gave Biden an extra 99 votes—up from 1,040,774 to 1,040,873.
Despite the findings, Trump and many of his GOP allies have doubled down on claims of widespread fraud.
"Massive fraud was found in the Arizona Forensic Audit, sometimes referred to as 'Fraudit.' The numbers are Election Changing!" the former president falsely claimed in a Friday statement.
Arizona's GOP chair Kelli Ward called for further audits of the results and continued to claim the results were illegitimate.
"Anyone telling you that the Maricopa County 2020 election was legitimate is lying to you. So basically, turn off the #FakeNews if you haven't already. It's time to think for yourself and help the lions save America," Ward tweeted on Saturday.
Some of Maricopa County's Republican leaders—who have long been highly critical of the overtly partisan audit—called for Ward's resignation on Friday due to the misinformation she continues to spread.
"The @AZGOP's done nothing but push lies about our electoral system, ignore down ballot races, & lose federal & state elections under her leadership. We must choose a new direction rooted in truth & good politics," Bill Gates, a Republican who serves on the Maricopa County Board of Supervisors, tweeted.
Although Trump and many of his allies have called on Arizona to decertify its election results, the southwestern state's GOP governor, Doug Ducey, rejected the idea on Friday.
"When it comes to the audit, like the three audits that preceded it, it's now over. The outcome stands and the 2020 election in Arizona is over," the GOP governor tweeted.
"There will be no decertification of the 2020 election — the audit does not call for one, and even if it had, there is no lawful way to decertify," the Arizona leader asserted. "As we have every step of the way, Arizona will follow the law."
Trump and his supporters have not provided evidence to substantiate their claims of widespread fraud in the 2020 election. On the contrary, dozens of election challenges filed by the former president and his allies have failed in state and federal courts. Even judges appointed by Trump and other Republicans have dismissed the often bizarre allegations.
Meanwhile, audits and recounts in key battleground states—including in areas where the election was overseen by pro-Trump Republicans—have consistently reaffirmed Biden's victory. Former U.S. Attorney General William Barr, who was widely viewed as one of Trump's most loyal Cabinet members, has said that there is "no evidence" to corroborate claims of widespread fraud.
Newsweek reached out to Trump and Ward for comment, but did not immediately receive responses.