Representative Adam Kinzinger, an Illinois Republican, said that fellow GOP members of Congress could be targeted by the House select committee investigating the January attack against the U.S. Capitol—saying "it's possible" some of them are directly responsible for the violence.
Kinzinger and Representative Liz Cheney, a Wyoming Republican, have drawn the ire of fellow GOP lawmakers and former President Donald Trump due to their involvement with the House select committee. The committee's investigation aims to determine the facts of the pro-Trump January 6 assault, when hundreds of supporters of the former president violently stormed Congress in an apparent effort to prevent the formal certification of President Joe Biden's electoral college victory.
In an interview with ABC News' This Week, Kinzinger was asked on Sunday: "Do you think that some of your Republican colleagues bear direct responsibility for that riot [on January 6]?"
"It's possible," Kinzinger responded. "I'm not ready to kind of go to that point yet because I want to let the facts dictate it. But I will tell you, yes there are more texts out there that we haven't released."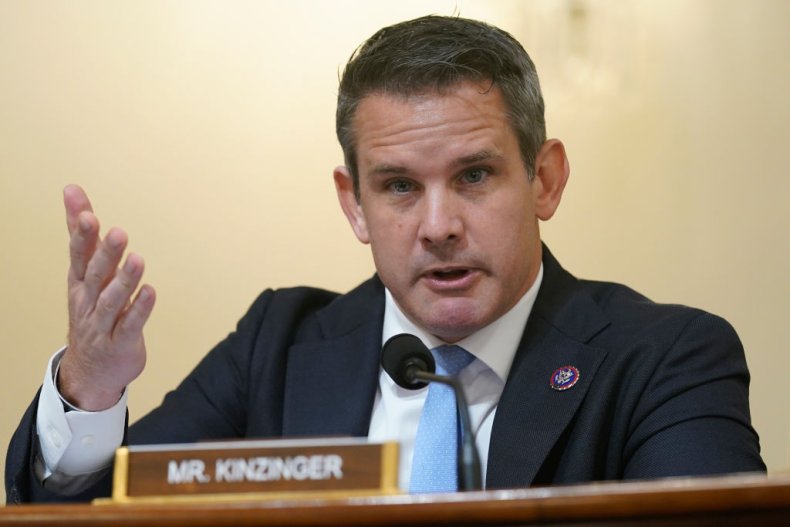 The GOP congressman asserted that the committee is "going to pursue doggedly everything to the ends of the earth, and that includes—and we don't like necessarily having to go here—but that includes members of Congress that had any involvement."
On Monday, the House select committee released a number of text messages sent from various Republicans and conservative pundits to Trump's then-White House Chief of Staff Mark Meadows on and before the violence of January 6. While some of the text messages urged Meadows to convince Trump to condemn the attack as it took place, others floated strategies for the former president to remain unconstitutionally in power despite Biden's win in the 2020 election.
Representative Jim Jordan, an Ohio Republican, forwarded one particularly controversial text message that laid out a strategy for then-Vice President Mike Pence to unconstitutionally reject electoral college votes for Biden coming from several key battleground states. Pence declined to overturn the will of the voters, notifying Trump on January 6 that doing so would be counter to the Constitution.
Representative Ruben Gallego, an Arizona Democrat, has condemned Jordan directly for forwarding the strategy to Meadows. The congressman said his Republican colleague is "a traitor to the constitution" for sending it. Attorney and former Army prosecutor Glenn Kirschner concurred with Gallego's assessment, arguing that Jordan revealed himself to be a "a traitor."
Kinzinger told ABC News on Sunday that the House select committee would "absolutely" subpoena some of his Republican colleagues to testify if necessary. He also asserted that the committee may call on Trump to testify as well.
"Nobody—member of Congress, former president—nobody in America is above the law," the GOP congressman said.
Kinzinger does not plan to seek re-election in 2022 after facing substantial backlash from Trump and fellow GOP lawmakers. The Illinois Republican has consistently criticized Trump and other GOP members of Congress who continue to support the former president in the wake of the January 6 attack.
Just ahead of the violence targeting the U.S. Capitol, Trump urged his supporters to march to the legislative building and "fight like hell" during a speech at a nearby rally. The attackers were largely animated by the former president's claims that the 2020 election was "rigged" or "stolen" in Biden's favor.
Although Trump and his allies continue to promote misinformation and conspiracy theories about Biden's election win, they have not provided evidence substantiating their extraordinary allegations. More than 60 election challenge lawsuits filed by the former president and his supporters have failed in state and federal courts. Even judges appointed by Trump and other Republicans have dismissed the legal challenges.
Former Attorney General William Barr, who was widely viewed as one of Trump's most loyal Cabinet members, said in December 2020 that there was "no evidence" of widespread voter fraud that would change the election results. Audits and recounts in key battleground states—including in areas where the election was overseen by pro-Trump Republicans—have consistently reaffirmed Biden's win.