Attorney and former U.S. Army prosecutor Glenn Kirschner agrees with Representative Ruben Gallego, asserting that Representative Jim Jordan is "a traitor" based off of a text message he sent to former President Donald Trump's then-Chief of Staff Mark Meadows about rejecting Electoral College votes on January 6.
Jordan, an Ohio Republican, confirmed this week that he forwarded the text message to Meadows—outlining a strategy to reject some of then-President-elect Joe Biden's Electoral College votes in an effort to keep Trump unconstitutionally in power. Gallego, an Arizona Democrat, responded to the news of the text message by telling MSNBC on Wednesday that his Republican colleague is "a traitor to the Constitution."
On Friday, Kirschner appeared with Gallego during a segment of MSNBC host Joy Reid's program and said he agreed with the Democratic representative's assessment of the GOP lawmaker's text message.
"I agree with the congressman that Jim Jordan is a traitor to the Constitution," said Kirschner, an MSNBC legal analyst. "I also believe that there's probable cause that Jordan committed a crime by forwarding that text to Mark Meadows."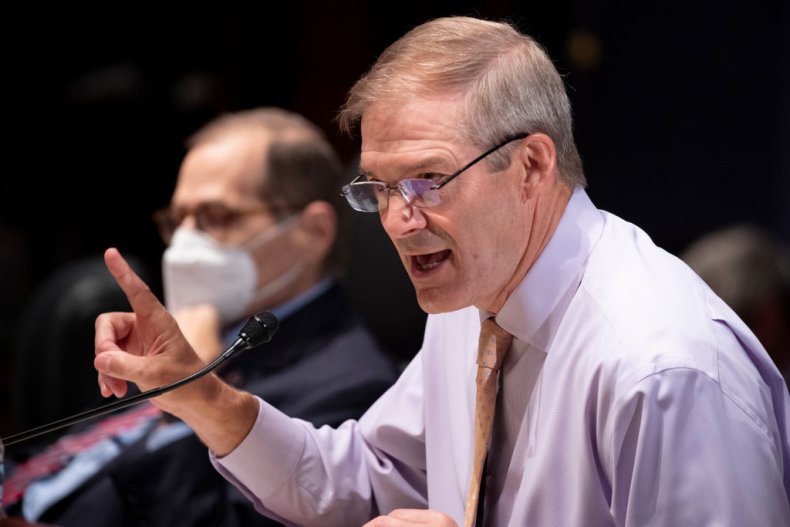 Kirschner went on to say that Jordan chose to forward the text message in a bid to undermine Biden's election win after top Trump administration officials had already asserted there was no evidence to back the then-president's claims of widespread voter fraud.
"What Jim Jordan did by forwarding that text was obstruct an official proceeding," Kirschner said. "And that statute—which is a 20-year felony—says if you actually obstruct or you attempt to obstruct or you endeavor to impede an official congressional proceeding—like the electoral vote count—you've committed the federal felony of obstructing an official proceeding," he explained.
"That is what Jim Jordan did," Kirschner concluded.
Jordan's text message was one of thousands of texts, emails and documents that Meadows handed over to the House select committee investigating the January 6 attack against the U.S. Capitol. The Ohio Republican confirmed that he had forwarded the text message on Wednesday.
The full text message forwarded by Jordan stated:
"On January 6, 2021, Vice President Mike Pence, as President of the Senate, should call out all electoral votes that he believes are unconstitutional as no electoral votes at all—in accordance with guidance from founding father Alexander Hamilton and judicial precedence. 'No legislative act,' wrote Alexander Hamilton in Federalist No. 78, 'contrary to the Constitution, can be valid.' The court in Hubbard v. Lowe reinforced this truth: 'That an unconstitutional statute is not a law at all is a proposition no longer open to discussion.' 226 F. 135, 137 (SDNY 1915), appeal dismissed, 242 U.S. 654 (1916). Following this rationale, an unconstitutionally appointed elector, like an unconstitutionally enacted statute, is no elector at all.'"
Trump repeatedly urged Pence publicly and privately to take action to prevent the formal certification of Biden's Electoral College victory. The then-vice president declined, asserting that he did not have the constitutional authority to do so. The former president and his allies pushed for Pence to act after promoting the conspiracy theory that the 2020 election was "rigged" or "stolen" in Biden's favor.
Although Trump and his supporters continue to claim that the presidential election was fraudulent, they have not provided evidence substantiating the extraordinary allegation. Dozens of election challenge lawsuits filed by the former president and his allies have failed in state and federal courts. Even judges appointed by Trump and other Republicans have dismissed the legal challenges.
Former Attorney General William Barr, who was widely viewed as one of Trump's most loyal Cabinet members, explained in early December 2020 that there was "no evidence" of fraud that would change the election results. Multiple audits and recounts in key battleground state have consistently reaffirmed Biden's election win as well.
Newsweek reached out to Jordan's press representatives for comment but did not immediately receive responses.