Trump Will Throw Mark Meadows, Trump Jr. 'Under the Bus,' Predicts Michael Cohen
Former President Donald Trump's ex-lawyer and so-called "fixer" Michael Cohen predicted that his former boss will throw Mark Meadows and Donald Trump Jr. "under the bus" next.
Cohen turned against Trump and was given a three-year sentence in December 2018 for lying to Congress, tax evasion and campaign finance violations. He has consistently criticized and condemned his former boss since then. In a Saturday morning interview with MSNBC, he gave his assessment of some of the current drama occurring within Trump's "inner circle," specifically discussing Trump's former chief of staff, Meadows.
"I've been very vocal about Mark Meadows for a multitude of reasons," Cohen said. "First and foremost, as I continue to say, I think Mark Meadows is the dumbest a-hole on the [Capitol] Hill, to be very honest with you."
Prior to serving as Trump's White House chief of staff, Meadows served as a congressman for North Carolina.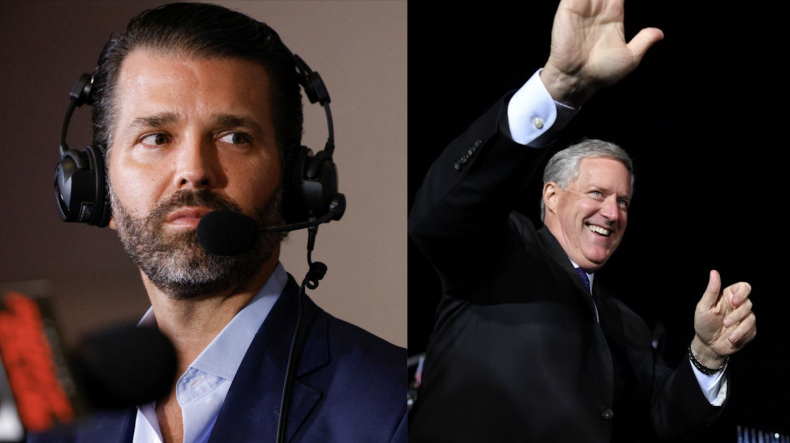 The House voted on Tuesday to hold Meadows in contempt after he declined to comply with a subpoena to testify before the House select committee investigating the pro-Trump January 6 attack against the U.S. Capitol. Meadows did, however, turn over thousands of text messages and other documents to the committee for review.
"This is something that I constantly look at and I think about when I see the nonsense that goes on in the inner circle, considering I was there at one point and at the top of the heap. I'm watching and I'm seeing these 9,000 texts, emails from who to who to who, and I wonder, I know for a fact that there are more, but what I wonder is why these 9,000?" Cohen said.
The former Trump attorney then speculated about which member of Trump's inner circle would be next to be sacrificed for the former president's benefit.
"Who is the next one to be thrown under the bus?" Cohen said. "And the way it looks like to me, it looks like a few people—and Mark Meadows is certainly going to be one of them and I think Don Jr. [Donald Trump Jr.] is potentially another."
Newsweek reached out to Trump's press office for comment but did not immediately receive a response.
On Monday, the House select committee investigating the pro-Trump January 6 attack against the U.S. Capitol publicly released text messages shared by Meadows. The messages showed a number of conservative figures pleading with the then-White House chief of staff to urge Trump to bring a stop to the violence of that day.
"He's got to condemn this ... Asap," Trump Jr., the president's eldest son, wrote in one message. "The Capitol Police tweet is not enough."
"I'm pushing it hard. I agree," Meadows responded.