Rudy Giuliani Says He Would 'Love to Have a Trial' To Prove Donald Trump's Innocence on Obstruction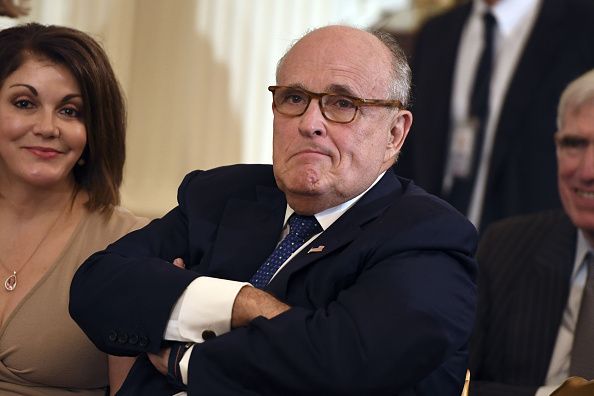 Donald Trump's personal attorney Rudy Giuliani said he would "love to have a trial" to prove the president's innocence on obstruction of justice following the release of Special Counsel Robert Mueller's report on Russian election interference and allegations of obstruction of justice by the Trump White House.
"The narrative is written as if it's all true and somebody proved it. Nobody proved it," Giuliani told The Washington Post on Friday, responding to concerns raised in the 448-page report, which neither accused nor exonerated the president on the question of whether Trump had tried to illegally impede Mueller's 22-month investigation.
"I'm frustrated by the report because in some ways I'd love to have a trial and prove that it's not true," Giuliani said.
The special counsel assessed ten particular episodes in connection to the obstruction investigation, all of which were clearly outlined in his report. Attorney General William Barr made the full document public, albeit in a redacted form, on Thursday.
While Mueller did not make a final determination of whether Trump obstructed justice — citing, in part, a longstanding Justice Department policy not to indict a sitting president — his report did not clear the president entirely.
"The evidence we obtained about the President's actions and intent presents difficult issues that would need to be resolved if we were making a traditional prosecutorial judgement," the report read. "At the same time, if we had confidence after a thorough investigation of the facts that the President clearly did not commit obstruction of justice, we would state so."
One revelation from the report was that Trump had indeed tried to fire the special counsel; a claim the White House had repeatedly denied. In June 2017, just a month after Mueller's appointment, the president called White House counsel Don McGahn at home and directed him to have Deputy Attorney General Rod Rosenstein remove the special counsel, claiming Mueller had a conflict of interest. McGahn refused, saying he would rather resign.
Later in 2018, when news reports surfaced about the president's first attempt to fire Mueller, Trump directed McGahn to publicly claim the stories were false. Once again, McGahn refused the president's request.
McGahn's refusal may have saved the president from obstruction charges, as the report noted that Trump's "efforts to influence the investigation were mostly unsuccessful, but that is largely because the persons who surrounded the President declined to carry out orders or accede to his requests."
Giuliani slammed McGahn — who did not leave the administration until October 2018 — in his interview with the Post, asking why the White House counsel decided to stay in the Trump administration if he thought the president had acted illegally.
"If McGahn thought any of those things were crimes, why did he stay there?" Giuliani said. "They're trying to make it out as if there's something illegal about what happened with McGahn. The guy is a very good lawyer. If he believed that there was something illegal, he wouldn't have stayed in his job."
Ken Starr, the independent counsel who investigated former President Bill Clinton, said during an appearance on Fox News on Friday that the law only "cares about what is done, not what is thought or what is said."
"The president's instincts are very aggressive, he knows how to fire people and he fires people but guess what: He may have come to the brink but he didn't walk across that red line," Starr added.