Rudy Giuliani Wants To Testify About Jan. 6 on Key Condition, Lawyer Says
Former New York Mayor Rudy Giuliani will testify before the House of Representatives' Select Committee investigating the events of January 6, 2021 if he can record the interview.
Giuliani, who was former President Donald Trump's personal lawyer, pulled out of an interview with the committee that was scheduled for Friday and was willing to speak about matters that weren't subject to attorney-client privilege, according to his attorney, Robert Costello.
Costello reportedly told the committee that Giuliani intended to record the interview but the committee's lawyer refused to allow him to do so. The former mayor pulled out of the interview as a result.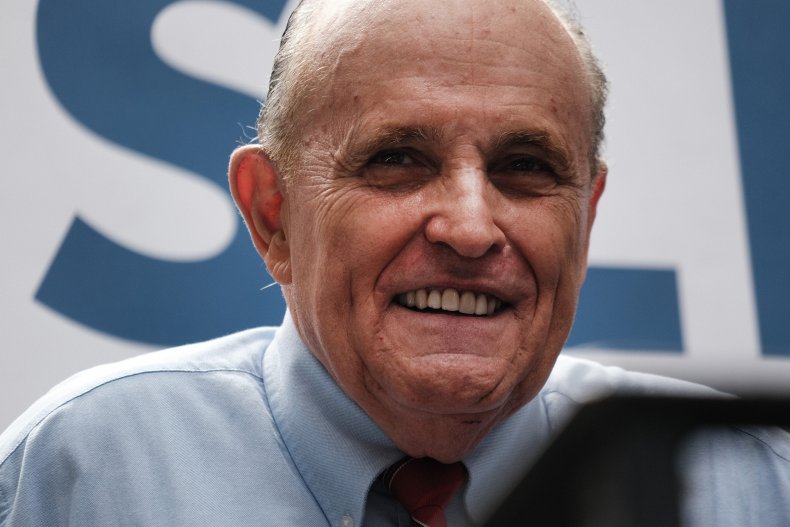 "He's willing to talk about anything that is not privileged," Costello said.
"The only sticking point we've had is recording the interview. Now, that tells me they're more interested in keeping things secret than getting to the so-called truth. If you're interested in the person's testimony, why would you not agree to this?" Costello said.
Costello said he was continuing to negotiate with the committee but that Giuliani "simply doesn't trust" members of the committee, singling out Democratic Representative Adam Schiff of California's 28th congressional district.
Giuliani is reportedly concerned that the committee could selectively edit his testimony.
"If they changed their mind and they said, 'Listen, we'll jointly record the interview,' then we would participate," Costello said.
Giuliani's Twitter account shared an article from right-wing site The Gateway Pundit on Thursday that reported Giuliani wanted live coverage of his testimony before the committee.
"I want to cooperate. I've always done the right thing," Giuliani said, according to The Gateway Pundit's article.
That article also quoted a "source close to the Giuliani camp" as saying: "Why should America's Mayor be subjected to angry, misguided politically corrupt people? They would probably doctor his testimonies, transcripts, or his words. They are so untrustworthy, if polled today the committee may be lower than the frail Joe Biden."
Giuliani has been issued with a subpoena to appear before the select committee and committee spokesperson Tim Mulvey indicated on Thursday that they may seek to compel his testimony.
"Mr. Giuliani had agreed to participate in a transcribed interview with the select committee. Today, he informed committee investigators that he wouldn't show up unless he was permitted to record the interview, which was never an agreed-upon condition," Mulvey said in a statement.
"Mr. Giuliani is an important witness to the conspiracy to overthrow the government, and he remains under subpoena. If he refuses to comply, the committee will consider all enforcement options," Mulvey said.
Giuliani was a leading figure in the legal effort to challenge the results of the 2020 presidential election and his attorney indicated that his testimony could have covered his interactions with members of Congress and others who were involved in the effort to overturn the election results.
Newsweek has asked Rudy Giuliani's attorney for comment.