Jan. 6 Committee Considering 'Options' as Rudy Giuliani Says He Won't Show
The House Select Committee to Investigate the January 6th Attack on the U.S. Capitol is considering "enforcement options" after Rudy Giuliani, former lawyer to ex-President Donald Trump, indicated that he may refuse to testify.
Multiple associates of Trump have been held in contempt of Congress for refusing to comply with subpoenas from the committee, with former Trump adviser Steve Bannon having been criminally indicted. On Thursday, committee spokesperson Tim Mulvey suggested that a similar fate could await Giuliani due to his refusal to appear over a last-minute demand that he be allowed to record his interview.
"Mr. Giuliani had agreed to participate in a transcribed interview with the Select Committee," Mulvey said in a statement. "Today, he informed committee investigators that he wouldn't show up unless he was permitted to record the interview, which was never an agreed-upon condition."
"Mr. Giuliani is an important witness to the conspiracy to overthrow the government and he remains under subpoena," he added. "If he refuses to comply the committee will consider all enforcement options."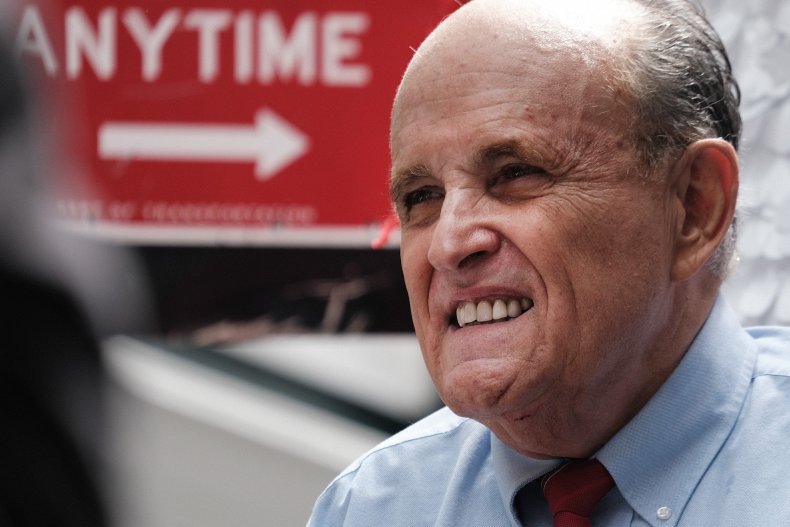 Over 900 people have been interviewed during the committee's investigation, according to Reuters. Giuliani had been negotiating with the committee for months and withdrew only one day before he was expected to deliver his testimony on Friday, according to The New York Times.
Previously agreed-upon conditions for Giuliani's cooperation included him not discussing his conversations with the former president, due to attorney-client privilege and Trump's claims of executive privilege.
Giuliani's attorney Robert Costello told the Times that his client would have been willing to discuss his communications with members of Congress and others who were not his clients in the days leading up the January 6 riot, which took place as Congress was meeting to certify President Joe Biden's 2020 election victory.
"He's willing to talk about anything that is not privileged," Costello told the paper. "The only sticking point we've had is recording the interview. Now, that tells me they're more interested in keeping things secret than getting to the so-called truth. If you're interested in the person's testimony, why would you not agree to this?"
Costello added that Giuliani was continuing the negotiate with the committee over his potential testimony but "simply doesn't trust" its members. He said that Giuliani would agree to participate if the committee offered to "jointly record the interview."
In a tweet on Thursday, Giuliani shared an article from right-wing misinformation website The Gateway Pundit that claimed the "sham" committee had refused Giuliani's request that his testimony be broadcast live on national television.
Newsweek reached out to Costello for comment.